Do you possess pre-loved furniture pieces lying at your disposal? Or have your own line of stylish pieces that can add a certain oomph to every room's decor? Our detailed guide on how to sell furniture online encapsulates all the tactics you need to use to move your stock from your store to your clients' home.
Statista estimates that the global furniture market will be worth US$499,216 million by 2022. Furthermore, it is anticipated that 1,788 million consumers will be present in this market by 2025. It demonstrates that the industry is growing, and it makes sense that eCommerce is a significant factor in this expansion.
Additionally, opening an online furniture business is less expensive and time-consuming than opening a physical store. Given that the pandemic's impact has altered consumer behavior, it is expected that more consumers will favor ordering furniture online and doing it from the convenience of their homes.
To showcase products to customers at an offline furniture store, you'll need a sizable measure of space. On the other side, since there is no issue with space constraints, you can add many more things to your website or app. With an estimated $116 billion in revenue in 2018, the US is the most significant furniture market in the world, and getting started in this industry is surprisingly simple!
You only need to understand what to do; selling furniture online is not a complex process. Let's get started and explore the seven simple procedures for selling furniture online.
Where & How to Sell Furniture Online in 2023
1. Choose a niche
Remember that many well-known brands compete in the furniture market, so you'll need to find a niche and establish yourself as the preferred choice for a particular clientele. For instance, some furniture dealers prefer to design and market one-of-a-kind, handmade goods manufactured specially for their clients' needs.
Some people might create their furniture entirely from recycled wood and green resources. Your decision on a niche will be influenced by things like:
Use: Home accents, office furniture, outdoor furniture, and interior furnishings
Products: Bed frames, couch beds, lounge chairs, dining tables, and chairs
Styles include shabby, chic, rustic, modern, and minimal
Make: Recycled materials, smart furniture, and modular pieces of furniture
Customer: Families, rent-paying families, condominium owners, and college students
Cause: Ethical sourcing, locally created products, and sustainable furniture
The less competition there is, the less of a concern it is for you. However, try to avoid making your niche so limited that you only attract a small number of clients.
To sell furniture online, you can select from the following categories:
Recliners and chairs
Divans and beds
Wardrobes and dressers
Couches, sofa sets, and futons
Dining tables
You may also provide your customers the option of renting out furniture, which is popular with urban millennials. Similarly, there is a sizable market for used furniture, so you can also sell old furniture online.
Additionally, it's a good idea to pause, reflect, and research the competitors before selling furniture online through a mobile app or website. You may want to enquire about the following:
Who are the market's current businesses selling furniture online?
Who are their targeted customers?
What is their market share at the moment?
When choosing the appropriate niche or sub-niche to start selling furniture online, the answers to these questions will help give a realistic picture of the competition. It will also assist you in developing your business's unique selling proposition (USP) compared to mass-market rivals.
2. Decide your business model
There are numerous methods to enter the furniture industry. The following are some of the well-liked business models you can use to sell furniture online:
1. Self-manufacturing
It entails designing and building furniture in your own workshop or retail space. It would be best if you had a dedicated workspace, specialized equipment, and technical know-how to work as a furniture maker. You can decide to create and market a well-liked design by maintaining stock on hand, or you can provide personalized services and let customers select particular kinds and features.
2. Self-designing
In this model, you produce the designs for another manufacturer to use instead of making the furniture products. You will need specific drafting abilities and equipment to create furniture blueprints.
You can market a variety of furniture pieces made by various companies or brands using this business model. Some curators specialize in particular types of furniture, such as pieces from a particular design era or manufactured by a specific company. Curators must be masters in finding premium furniture pieces they can market profitably.
The items must be photographed, safely stored until they sell, and shipped to buyers. Being a vintage reseller with this model is a fantastic choice. Here, you concentrate primarily on vintage furniture pieces.
To compete in this market, you'll need an extensive understanding of vintage furniture and a sizable inventory space.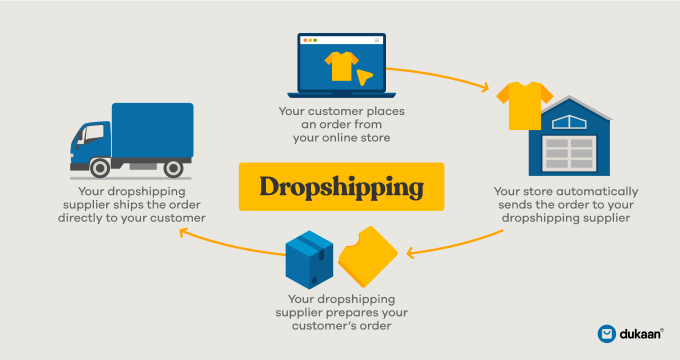 With this model, you don't have to store or transport the furniture products you choose to sell online. To avoid the trouble of managing your own inventory, packaging, and shipping, you can collaborate with makers and brands who are eager to ship straight to your clients. If you are starting your business, this approach is ideal.
3. Find a manufacturer
If you decide to start reselling furniture rather than creating your own line of goods, it's crucial to find a skilled manufacturer to accomplish it for you. You must confirm that the manufacturer you choose:
Possesses in-depth knowledge of the market and the numerous product categories
Can help you stay more closely connected to the manufacturing and supply chain cycles
Is capable of timely product delivery
Is able to create furnishings for your internet shop at a cost that is affordable for you
You must do a market study to find suppliers and producers who can give you high-quality furnishings for this. As you search for inventory to buy, you can also look in the following places:
Auctions: Furniture from the past and collectible pieces are frequently offered at regional auctions. Join your local social media networks to find out about local auctions. You can also research online auction sites such as eBay that allow you to explore and place bids at your convenience.
Flea markets: Flea markets occasionally include undiscovered gems for furniture resellers. You have a better chance of finding a great deal the earlier you show up at the sale.
Collectors: Private collectors might be willing to part with their possessions. But you might have to spend a bit more. You will naturally come into contact with furniture collectors as you begin to establish your reputation as a furniture merchant.
Wholesale markets: You might find some great furniture pieces on websites like Handshake. US retailers sell distinctive, fashionable furniture at discount rates on this website. The best thing is that you don't have to spend a large minimum amount of money to purchase their goods.
There are a lot of trustworthy wholesalers and drop shippers available today, but there are also many con artists posing as reliable businesses. Conduct thorough research on potential partners and choose those with reliable ratings, affordable prices, and high-quality products.
4. Prepare a location for inventory
You must consider the space needed to store your furniture when you are building or buying new or old furniture to sell online. When choosing how and where to keep your furniture, remember to consider your region's temperature and other conditions.
For instance, severe temperatures, bugs, and changes in humidity can harm furniture materials, especially wood and organic textiles. If you're just getting started, you can set aside a space in your house to store furniture. The option of renting a climate-controlled storage area is available if you intend to sell a lot of furniture products.
Your furniture storage and warehousing options include:
Acquiring a rented climate-controlled storage space
Utilizing a business's warehouse for huge, heavy things like dining tables and beds
Purchasing a personal, dedicated warehouse or storage area
5. Price your furniture
Whether you're selling furniture offline or online, you should set prices that are reasonable enough to get offers yet high enough for you to earn a significant profit. This is a difficult task and requires a lot of research and market understanding.
Start by looking for similar products being sold online to get an idea of their prices. Consider seeking an estimate from a vintage or antique merchant if your item is unique (such as a priceless antique).
Also, you should consider any additional expenses in addition to the item's value: Do you have to package and send the item? If so, will you provide free shipment (and absorb the expense)? Will the transport of your goods require insurance? Will you provide delivery for a nearby purchase? In that case, is it free? Everything affects the price you decide on.
6. Choose where to sell to sell furniture online
Given the variety of approaches, the topic of "where to sell furniture online" may seem overwhelming. The most effective platform relies on how much and frequently you want to sell furniture.
Online markets are a fantastic option if you only need to eliminate one or two unwanted items. However, an eCommerce store is the best option if you want to sell furniture as a hobby or as a small business.
The three most efficient ways to sell furniture online are social media, online marketplaces, and eCommerce stores. We'll go through each in this section so you can decide which is ideal for your needs:
1. Social Media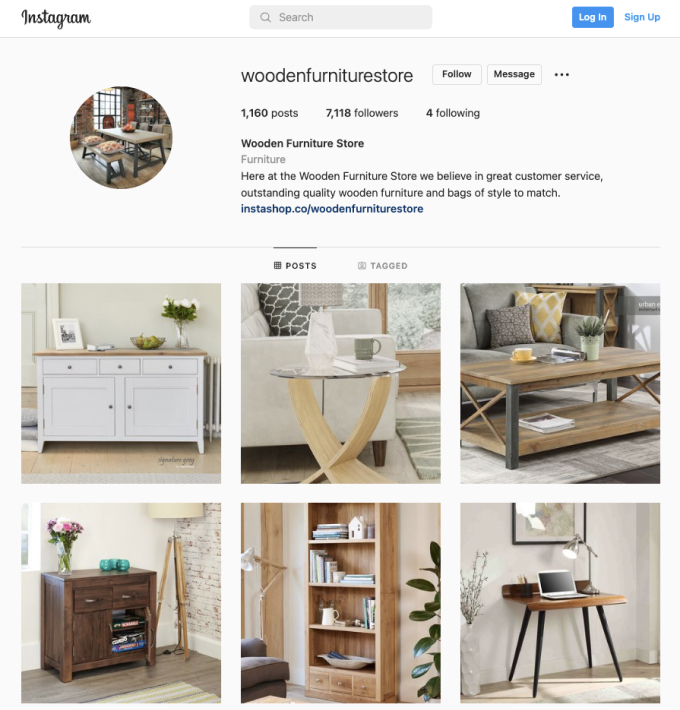 The notion of conducting business on well-known social media platforms like Instagram, Pinterest, or Facebook has become common. These platforms offer all the tools necessary to complete transactions without a hitch and interact with the ideal client at the perfect time.
Additionally, a cheap access point is provided by social media platforms. You may interact with various people on social media. You can even use the advertisements these platforms offer to create a campaign that mainly targets a group of individuals already interested in buying your items.
And an excellent thing about selling on social media is that you get to promote your furniture on a platform that the customers are already accustomed to and confident in using.
2. Online Marketplaces
Online marketplaces are well-known eCommerce platforms where you can register and list any product for sale, including furniture.
Online markets are the best sites to sell a few pieces of used furniture. They allow you to start selling immediately because no setup is required; you only need to create an account and list your products to start selling.
Online marketplaces are advantageous because they already have a lot of traffic. However, because there are so many other vendors on marketplaces, your furniture pieces could quickly become a drop in the virtual ocean. To put it another way, a fierce rivalry exists in online marketplaces.
Additionally, most online businesses charge transaction fees for a particular percentage of every sale you make on the platform rather than flat monthly fees. Every platform has a different set of transaction costs, and some also impose extra charges.
Online marketplaces may initially seem alluring because there are no monthly subscription fees. However, transaction fees and other costs can quickly eat away at your earnings (or even reduce the profit you earn on a single used item)!
3. Online Store (best way to sell furniture online)
Remember that running an online store is similar to selling furniture in a physical location. You will need to recruit staff to monitor your online store's inventory or approve or reject orders.
For individuals who prefer to sell on their own terms, free from the competition of online marketplaces, eCommerce store builders like Dukaan are an ideal option. Instead of blending in with millions of other merchants elsewhere, Dukaan enables you to design a distinctive home for your products. Each component will bear your unique brand imprint, from product listings to checkout pages.
Since you can design your own store with no technical knowledge required, Dukaan is perfect for anyone with a creative approach. Dukaan provides dozens of plugins to make it easier for you to sell products online. It has an easy setup procedure for everything from choosing a domain to adding new products and receiving payments.
Launching an online furniture store with Dukaan only takes a few minutes. It is a straightforward and mobile-friendly software solution, which is appropriate given that most customers now make purchases using their smartphones.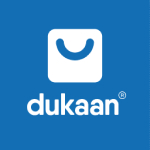 Launch, scale and manage your online business with just $14.99 on Dukaan. Annual plans start at $149.99 only.
7. List your furniture
What you highlight on your online store is crucial because clients cannot personally visit your store and inspect the furniture. Customers are greatly influenced by the aesthetics of your store while deciding whether or not to buy furniture. The different types of content you should provide for your online furniture store are listed below.
Product Images
Your furniture should appear good if you intend to sell your furniture quickly. Set up the furniture inside a room of your home to show off its potential to capture the finest photograph for your furniture listing.
This also gives the purchaser a better idea of how the furniture might fit in their house (mainly how much space it takes up). Additionally, use decent lighting and snap pictures from different perspectives. The entire item is easier to see and looks better online in excellent lighting. Photos taken in low light might make your furniture appear filthy and possibly unpleasant. This also applies to various angles.
It is easier for potential purchasers to view every element of the furniture when it is displayed from the front, sides, and back with detailed photographs. Likewise, take close-up pictures. Your customer will benefit from a close-up by getting a sense of the product's quality and details.
Capture the details in the metalwork on a bed frame or the texture in the fabrics of a sofa. Always take crystal-clear, high-definition pictures of your furniture.
Product Description
Compared to clothing or books, furniture is not as convenient to buy. People want to think everything through carefully before choosing to purchase a piece of furniture.
As a result, before uploading the furniture goods to the store or website, you should take the time to explain it in depth. Make sure to include the following:
Furniture measurements
Guarantee details
Estimated delivery period
Maintenance guidelines
8. Shipping
No matter how big or small, furniture must be shipped with extreme caution and care. Customers anticipate their purchases to arrive sooner than expected and in immaculate condition, which can make the challenges of shipping and delivery even more complex and challenging.
Some particular furniture models can occupy a significant amount of space on a truck, raising the associated logistics costs. As a result, you should be careful while choosing your delivery partners or companies.
They must have the means to transport large, heavy objects across long distances and the dedication to protect the things from damage while in transit using suitable packaging.
9. Market your business
You can sell furniture online once you've completed the steps listed above. However, you would have to make people aware of your furniture items in order to sell them. For the marketplace, you can get going by making sure you're using relevant and well-liked keywords and that you're giving your customers what they asked for. More ratings lead to better rankings, which increase sales. If you run your own eCommerce, the following techniques can be used to market and sell furniture online.
Social Media
Social media marketing is an excellent way to engage with and educate your potential customers and drive them to your online store. Social media sites like Instagram, Facebook, Twitter, LinkedIn, and others have a broad audience reach.
Select the option that best fits your target demographic, and then continuously post on the platform to draw their attention to your brand.
SEO
Increasing your SEO rank is another crucial marketing strategy. Getting a better position for your target keywords in the search results is essential for your business. The chances of people coming to your store increase manifold if your store appears in the top 5 search results, and you need strong SEO for that.
Make sure you adhere to all the SEO guidelines set forth by Google, such as using keywords in the page's title, heading, meta description, URL, and alt image tag. Additionally, pay attention to building quality backlinks for your store- this means getting other websites to endorse you by linking to your website.
PPC (Pay-Per-Click) Ads
In order to increase the number of people who notice you in search results, you may also run PPC advertising. You can run these ads in the marketplace and your Google search results to sell furniture online. Targeted advertisements can also be created for Facebook and Instagram, and these sites will run them for a certain amount of time and money.
The best thing about these ads is that you'll only be charged when someone clicks on one of your adverts. You can hire a professional PPC expert if you don't know how to run paid ads.
Email Marketing
Email marketing is a wonderful strategy to keep your brand at the top of your customers minds. Create a mailing list for email recipients and send regular updates for everything from trivia contests to special discounts.
This aids in developing a solid brand image and building customer relationships. You can also send email newsletters on a regular basis to keep clients up to date on upcoming promotions, product offerings, and other news.
But you should only send out newsletters occasionally. After all, you don't want to bombard your consumers, so once a month is typically sufficient. And they should be engaging and fun to read rather than pure advertisements.
Influencer Marketing
Influencer marketing is promoting your brand to audiences that are relevant to you and the influencers. Influencer marketing can either be a stand-alone strategy or a way to enhance existing marketing campaigns.
Influencers can originate from a variety of sources. Any person, team, organization, place, or entity that has the capacity to have an influence can be an influencer. The influencers have a loyal base of followers who can be motivated to buy your furniture pieces with strong messages from the influencers.
With influencer marketing, you can quickly broaden your reach, raise brand awareness, and produce new prospects for your sales funnel.
What is the Best Place to Sell Furniture Online?
Since Target + is an invitation-only internet retail platform, you must submit your products first and wait for their approval. Target takes great pride in working only with carefully vetted merchants and carefully chosen products for their clientele.
As a result, internet vendors that want to sell on Target Marketplace must pay a 5–15% commission or referral charge. Partners, in turn, have access to devoted Target consumers, little rivalry, cutting-edge marketing and advertising tools, safe market share, etc.
The first thing furniture makers want to understand when deciding where to sell furniture online is how many users a platform has. And one of the largest online marketplaces is Wayfair, which has more than 31 million customers.
The consumer base of this online company is diverse because it sells both expensive and inexpensive furniture. Wayfair uses a wholesale cost approach rather than taking a cut of their affiliates' sales. The wholesale price of their products is paid to their partner, but the retail price is established independently.
Goodee is a marketplace with a wide selection of unique home items from a range of fair-trade merchants and artisans. It was started by the brothers behind the famous accessory label WANT Les Essentiels.
According to its website, the things you'll find on its marketplace are only from companies and artisans who "have a meaningful social or environmental impact."
The biggest omni-channel retailer in the world, Walmart, is particular about its alliances. You must enter your goods and wait for their approval to sell furniture. You reap the rewards of collaborating with the eCommerce behemoth as soon as your brand is approved. Walmart does not charge a monthly or subscription fee.
However, they charge a 15% referral bonus on the kitchen, patio, and furniture purchases. Working with Walmart will expose your company to millions of consumers and give you access to their exclusive Walmart Fulfillment Services (WFS) scheme.
A lifestyle shop, Urban Outfitters has 245 locations across the United States, Canada, and Europe. Additionally, it is a curated digital marketplace, meaning only the top products are chosen for its platform.
However, breaking into the selected brands is somewhat challenging; in addition to applying, you must contact UO buyers directly and wait for their approval or disapproval of your products. Some firms hire intermediaries who propose for them and charge a 5% charge for each pitch because it's a lengthy process.
Best Expert Tips On Reselling Furniture
1. Offer Discounts
Many shoppers use discount codes when they shop. Discount codes bring additional customers to your online store, increasing the number of prospective clients for other products you sell.
To increase your furniture sales, keep an eye on seasonal marketing trends and give clients deals and discount codes.
2. Provide reliable customer support
Always ask for input or feedback from your customers. Offer free furniture assembly and post-purchase customer support to help consumers with any problems they might be experiencing with the products.
Give customers the option to email you, phone your customer service line, or direct message you on social networking sites. This stops negative comments from appearing on your website or social media accounts!
The most significant factor for a furniture brand is customer feedback. Customers' primary concern with furniture shopping online is that they cannot inspect the product's quality.
You might ask satisfied clients to leave reviews for you on social media, which you can incorporate into your marketing campaigns and online store.
4. Keep your inventory up-to-date
The most important aspect of selling furniture online is keeping your inventory updated. Many eCommerce businesses fail due to a lack of regular monitoring and updating of their product catalog in response to demand and client feedback. Make sure you keep your list of products updated in accordance with the demand of your customers.
Including products that have yet to be well-known but are gradually gaining popularity is another element. Keep these products updated in your inventory as well. If you discover comparable products that complement the popular ones, you can add them to your product list and check if customers are interested in purchasing them.
5. Restock popular pieces
Make sure you always have a supply of your best-selling items. Additionally, continue to experiment with releasing new varieties of popular products while keeping the ones that are already successful. This will help in determining if customers enjoy them.
If you currently have a customer base, consider adding another niche of furniture product to see what happens and whether there is room for expansion.
Conclusion
New industry trends indicate that eCommerce will lead the way forward in order volume and revenues as customers are back on a spending spree. With the help of this detailed guide, it is clear that in order to sell furniture online, you must be aware of your customers' needs.
And as we have discussed, you just need to perform a few things correctly to avoid making mistakes. While starting from scratch with a business could seem difficult, if you break it down into its component elements, you'll discover that it's doable and enjoyable.
It's crucial to keep learning along the way. You won't be flawless when you first start, but if you're willing to adjust and keep an open mind, you're already halfway to success. The only thing left is launching your new business by going all in!
Now that we've completed our nine stages of selling furniture online, you are aware of how to create your own online furniture store. We hope you have understood the instructions for selling furniture online and are now prepared to start or expand your eCommerce business.
Although they may not realize it, your customers are waiting for you. So don't wait; start building your furniture business right now, and you'll soon be selling a tonne of furniture.
FAQs
1. Is it a good idea to sell furniture online?
Starting an online furniture business is a smart move because of the growth trajectory for eCommerce in the upcoming years. Selling furniture online is a profitable business idea if done right. You can conveniently start your furniture business online with
Dukaan
in under a minute.
2. Are there restrictions on what type of furniture I can sell on my online store?
No! You can sell anything in your own eCommerce store, unlike marketplaces like Etsy, which has its own restrictions. For example, you can only sell handmade, vintage, or craft materials on Etsy but using a dedicated eCommerce platform like
Dukaan
enables you to sell both modern and vintage furniture as well as home accessories on an online store.
3. How can I safely sell furniture online?
You can guarantee a safe and secure customer experience by picking the right platform for your business website, posting clear product photographs and descriptions, and incorporating a dependable payment channel.
Dukaan
contains all eCommerce features you'll need to run a successful furniture business online.
4. Can my online furniture business turn profitable?
Of course! Selling furniture online is a highly lucrative business. To maximize your profits, invest in an eCommerce platform that is economical, doesn't charge high transaction fees and does not have essential eCommerce features hidden behind paywalls. For this reason, we recommend you try
Dukaan
to launch your furniture online.
5. What is the best way to sell furniture on the Internet?
The best way to sell furniture online is to sell using your own eCommerce store online, invest in marketing activities and create a good social media presence to increase the visibility and traffic to your store.