Starting an online food business is lucrative today. But how do you start? Here's the detailed guide on how to start an online food business.
In the last few years, there has been a lot of change in the food industry landscape. The number of people depending on outside food has consistently gone up. People now want the food to be delivered to their doorsteps. Given the pandemic situation and more people working from home, this trend has only increased steeply in the past one year.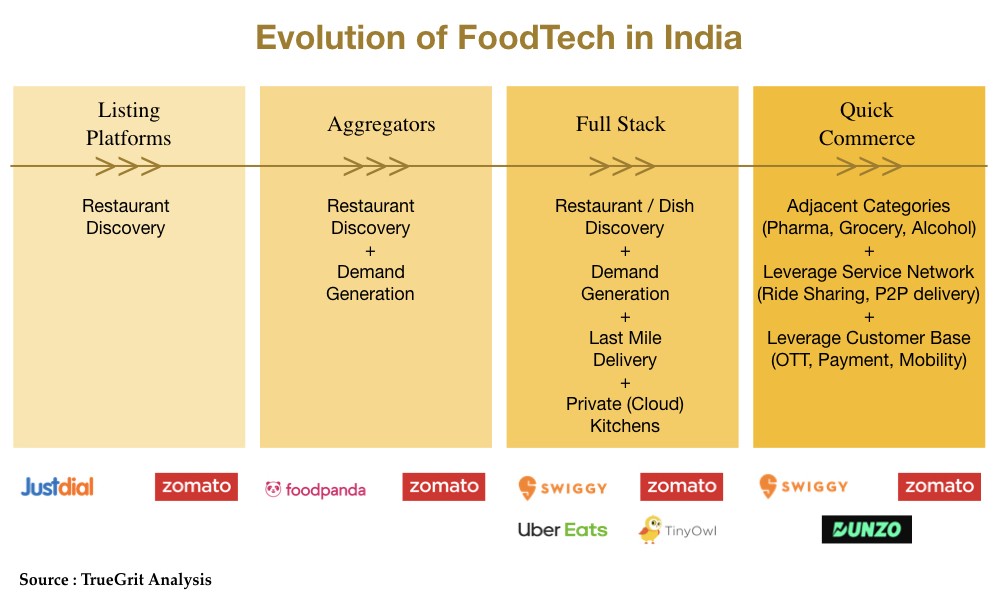 What is the result?
More and more restaurants are now focusing on food delivery online. And those who are not, are losing out on business. Food business and restaurant owners are forced to shift away from the conventional way of servicing walk-in and dine-in customers. They have all transformed their businesses to cater to their customers, at the click of a button and are ensuring that the food reaches them and not the other way round.
This has also made the size of the business obsolete. For instance, you may find a high-end fine dining restaurant and a small-time home-run food business offering their services on the same e-commerce platform.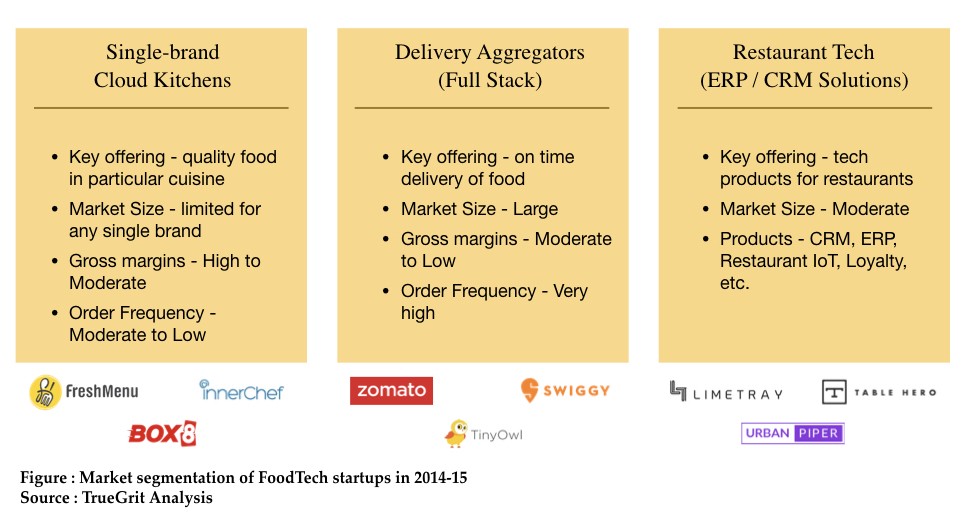 So, what is the opportunity?
With the demand for good, healthy, tasty food on the rise, the scope for food business owners has widened.
Today, to start your own food business online all you need is a functional kitchen and a smartphone! And of course, a flair for cooking. One doesn't need to think of high investments anymore.

Ten years back, if you'd thought of a food business – you would think of high rentals on a commercial space, setting up the place, staffing, quality chefs etc. But today, technology allows people like you and me to start a food business online at just 1/10th the investment (if not lesser).
How to Start an Online Food Business
If you are looking at starting an online food business, there is no better time than now. While starting your business online may seem to be an intimidating affair, it is also the need of the hour.
Let's look at some basic steps that will help you start an online food business.
1. Identify Your Unique Selling Point (USP)
The demand for your food depends on what you plan to offer the customers. Whether it is home-cooked meals or a specific cuisine; what you have on your menu will determine your customers. So, think of your strengths and identify your USP.
It could be offering regional delicacies – Maharashtrian/North Indian/Mughlai/South Indian or it could be home-cooked home-packed snacks. Always remember to capitalize on your strengths. Sticking to a certain cuisine or type of food you are skilled at, will only help your business.
Once you find that niche, it will be easier for you to target customers. Once you lock in on your USP, you have successfully crossed the first hurdle of taking your business online.
Gavran Misal
, is an excellent example of this. This store has successfully managed to identify its USP – Authentic Maharashtrian food in Bangalore. Powered by Dukaan, Gavran Misal is now a one-stop shop for all Maharashtrian food lovers in Bangalore. 🌶️😉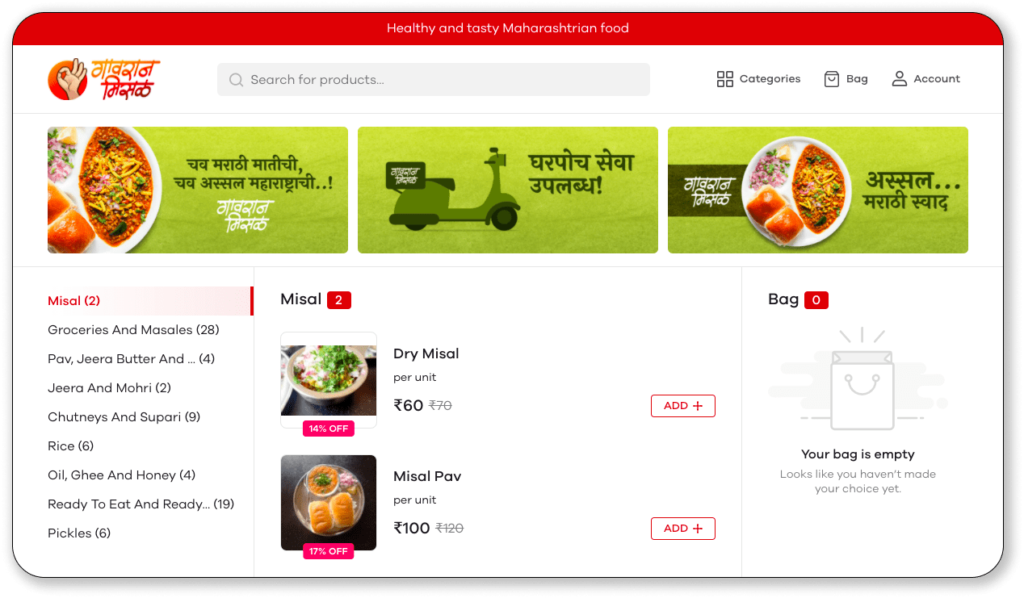 2. Find Your Target Audience
When it comes to food delivery, it is always good to have an idea about the kind of customers you want to target. If you are delivering food for corporate offices or singles or new families, you can customize your business to fit their specific needs.
For example, if you are catering to offices, you could add plans for meal boxes. Or you could even offer regional meals based on basic research on the kind of people living in the locality – for example, if you are operating in an area that has Gujrati residents/bachelors/students – you could look at offering pure veg/Jain food to cater to their needs and suit their demands and lifestyle.
Example: LocalBee India (Mr. Parshwa Mehta from Mumbai is selling Gujrati food with help of Dukaan)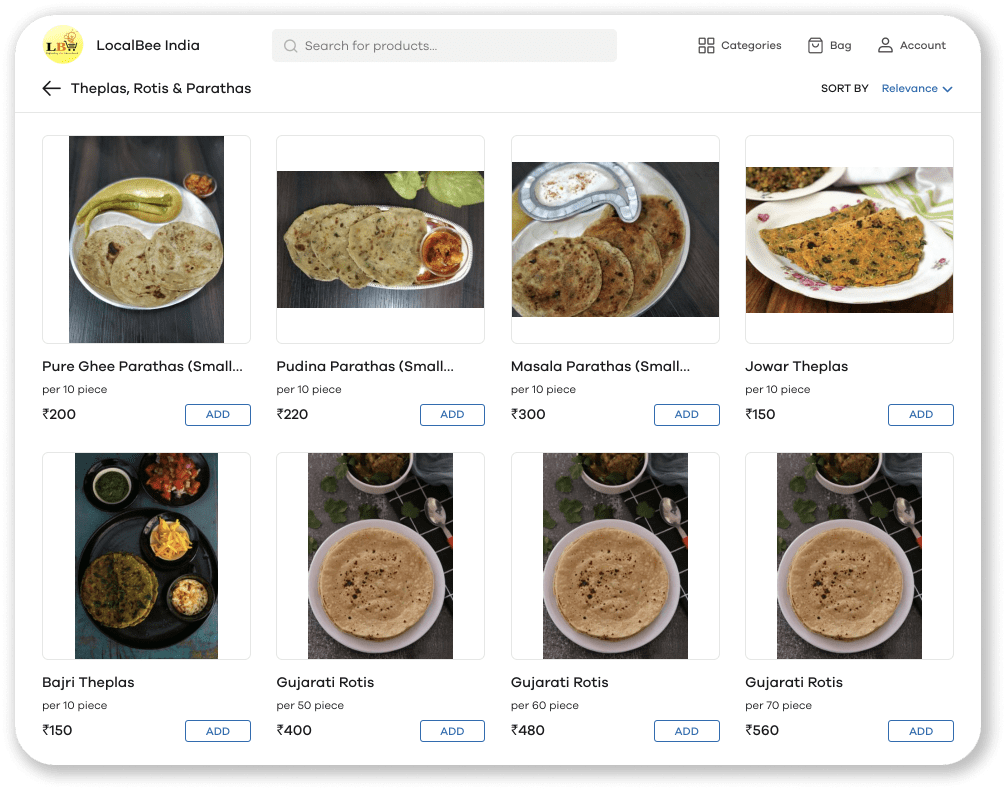 The one thing that you should keep in mind is to strike a balance between what you are offering based on your earlier defined USP and what the demand is for. There is an audience for all types of food. You need to find the ones that will suit your business and offerings.
3. Get The Required License
An important step to starting an online food delivery business is to get the required licenses. The necessary permissions should be taken to avoid any kind of legal issues in the future. To start food delivery services in India, licenses like FSSAI (for quality and safety), GST registration, health trade license, and trademark registration should be obtained. You can apply for these licenses locally. You may find the necessary information about this process at your local Municipal Corporation.
It might seem like an unnecessary investment initially, but it will be worth it and will save you a lot of trouble as the business scales.
There might be more information regarding starting a food delivery business, but these are some of the necessities that will help your delivery business take off.
Learn how to get FSSAI license in india.
4. Zero in On Your Servicing Areas
Set your boundaries when it comes to servicing areas unless you have enough resources to set up multiple kitchens to widen the servicing areas. You would want your food to be known for its taste and quality and naturally so.
Maintaining the quality and freshness of the food can be a tough task with the food delivery business. It is very important for you to define a specific area or locality within which you will operate/deliver.
If the areas are too far, the freshness of your food may be compromised. As a beginner in the food delivery business, it is a good idea to set specific areas to focus on. For example, if you offer home-cooked meals, you can pick the area closest to you with students or working professionals – whoever your target audience is. This will ensure a good customer base.
Establishing such specifics will improve the growth rate of your business consistently. It will help increase the number of customers in that particular area who will prefer your service for its taste and quality. Giving you word-of-mouth publicity will also work better in such situations. Over time, if you wish, you could slowly start expanding further. As a new business, it is a better idea to start small and to achieve a fixed customer base while building a good reputation.
5. Figure Out Logistics
For an online food delivery business, having reliable delivery staff is as important as the food you cook. There are established delivery networks you can choose from, or you can have your own little system in place – depending on the scale of your business.
You may have staff in-house by hiring a person or multiple people depending on your need. Just be sure to do a thorough background check before you hire them as they play an important role in your business.
Setting up a strong delivery process mechanism is as important as maintaining your food quality, as it has a direct impact on your business. Find people you can trust and rely on, to help your business do well.
Tip: On Dukaan, we have integrations with shipping and delivery companies like Dunzo and Shiprocket. Once your order is ready to be shipped, the representatives will come to your home/warehouse and pick up the order automatically.
6. Get Started Online with Dukaan
Venturing online may seem to be a cumbersome task but it is not as difficult as you might think. The food delivery business is booming, and this spike will possibly continue for years. If you love cooking and aspire to own a business related to food, this is the best time for you to kickstart.
While there are many factors one needs to consider while starting a business online, the good news is that technology enables it all, and quite seamlessly. Some of the factors that limit small business owners from going online are lack of technology know-how, setting up online properties like a website, payment gateway etc.
That said, setting up an online store is a necessity as it helps widen your customer base. One may choose to go with an online store aggregator as the features offered by an e-commerce platform cannot be matched by your independent social media channels or even your independent website.
In 4 easy-peasy steps, you can set you can take your business online. Even if you have a lack of sufficient know-how on making a website or adding payment gateways, fret not. We've got you covered.
Step 1 – Sign up for Dukaan – Web Version | Android App | iOS App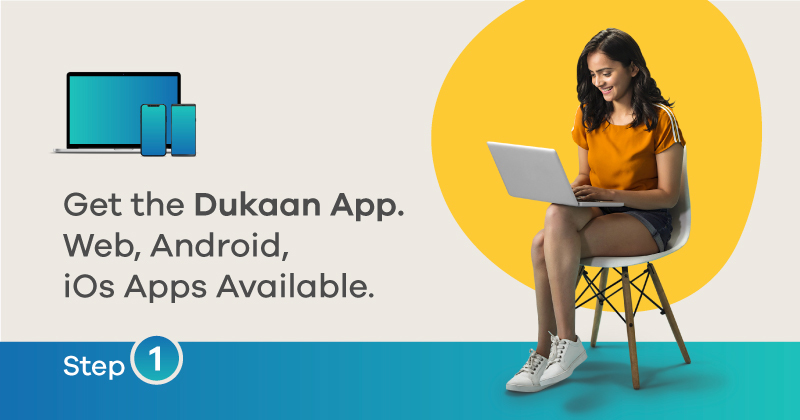 Just give your mobile number, verify OTP and you're in.
Step 2 – Choose your store name and category.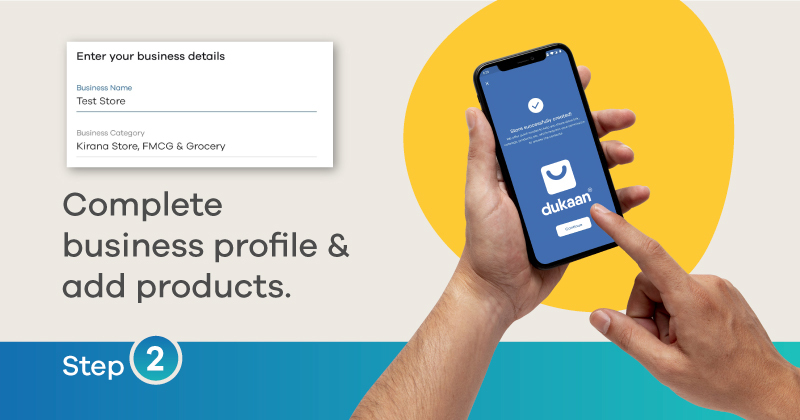 Step 3 – Upload your products.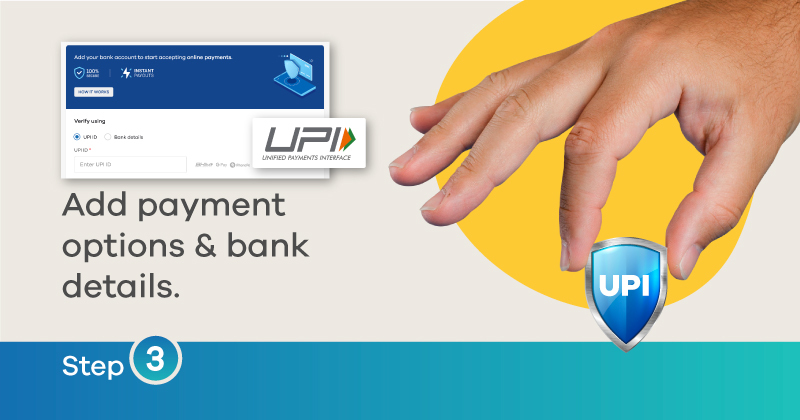 Step 4 – Promote your Dukaan store.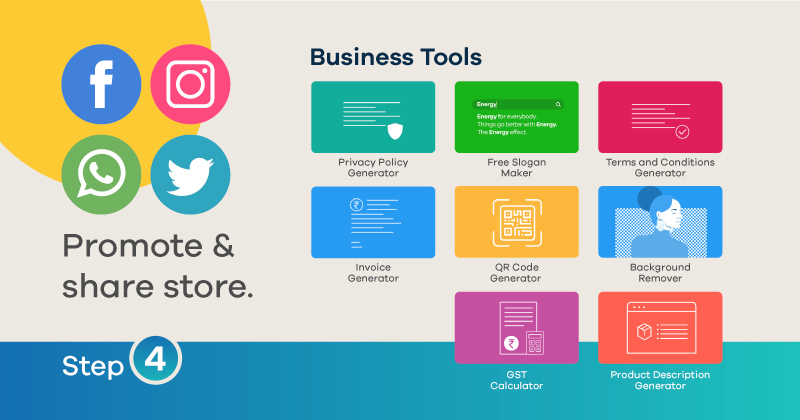 Simple! Isn't it?
7. Ensure A Good Social Media Presence
While having social media presence is a key aspect of establishing and amplifying your online business, it should not be the only one. Many make the mistake of starting off their business on social media channels and even WhatsApp.
While it may seem easy and hassle-free to start your business on social media platforms, it might not bring you genuine customers. It deprives you of due credibility and scaling up will not be possible. It is a must for you to have an online presence, whether it is on a website or an eCommerce platform. This way you are certain to reach a wider and more relevant audience bringing in meaningful business.
When starting online, keep it simple and precise. Showcase your menu and delivery areas in a neat and clean manner, keeping it minimalistic. Describing your products, adding attractive pictures, and keeping the content clutter-free will give your business a good boost. You may keep evolving but keeping it simple and to the point initially will be helpful.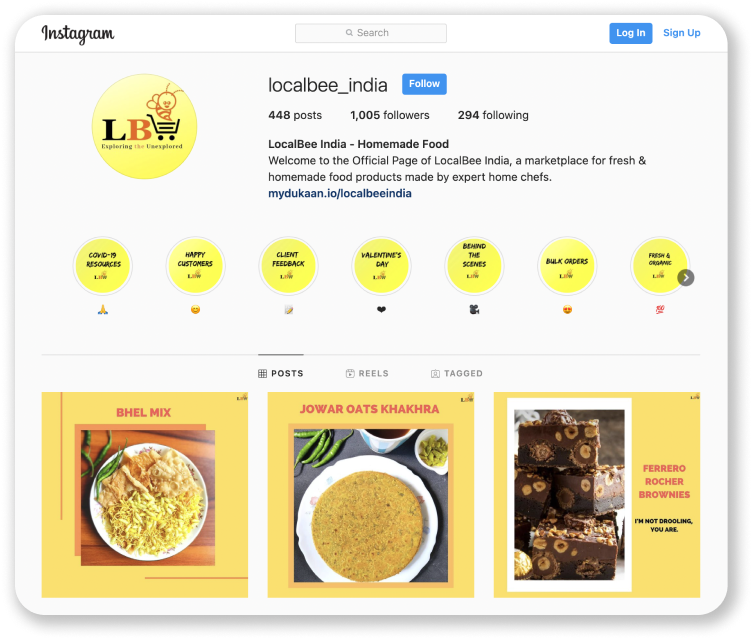 8. Marketing and Promotion
Gone are the days when quality alone defined the success of your business. In today's world of cut-throat competition, marketing and promotion are equally important. People need to be aware of your brand and services for them to approach you. Social media marketing, SMS services, WhatsApp marketing etc are some practices that are cost-effective, to a certain extent.
There is always an option to locally promote your business through pamphlets or small advertisements. As the business grows, you can always invest a little extra in paid ads. In any case, you have to start making people aware of your business in every small way you can. This is how you can communicate your USP and differentiate yourself from your competitors.
Don't feel like reading? Watch this instead!
Conclusion
Keeping in mind the fact that not everyone is well-versed with technology, Dukaan simplifies all the processes required for a business to go online – from having your own store to having your own payment gateway. Every step is simple, straightforward, and does not need you to go through time-consuming processes.
Many people are preferring to stay indoors and get food delivered to their doorsteps. In India, there is a growing market for food delivery services – not just in the cities, but the demand is rising in smaller towns as well. It might seem like an uphill climb to get your online business started, but there are means and technology available to make it easier for you.
Unlike popular belief, you do not need to be tech-savvy to start an online business. All you need to do is to choose the right platform that will do it all for you and help you transition smoothly.
FAQs
How do I start an online food business?
Starting a food business involves the following steps:
Identify your Unique Selling Point (USP
Find your target audience
Get the required license
Zero in on your servicing areas
Figure out logistics
Get started online
Set up a good social media presence
Take care of marketing and promotion
Which food business is most profitable?
Profitable food businesses include Ice cream shops, bakeries, pizza shops, food items for pets, etc.
Can you make food at home and sell it?
Absolutely. Decide what dishes you want to make and sell and list them on your store using Dukaan along with pictures.
What food can I sell to make money?
There are countless options out there, including French Fries, Potato Wedges, Burgers, Pizzas, Pasta, Chicken Wings, and so on.