Magento vs Shopify; a big question to tackle when you want to start an online business. Well, after you're done reading this article, you'll be able to put your doubts to rest once and for all.
It is important to find the best platform for selling your stuff online.
You need to think about what you want and how it fits your business. Also, what you choose needs to be easy and efficient, so you don't waste money.
Shopify and Magento are two of the leading companies in the eCommerce industry. They are very different, but businesses like them because they are both solid alternatives to WooCommerce Checkout.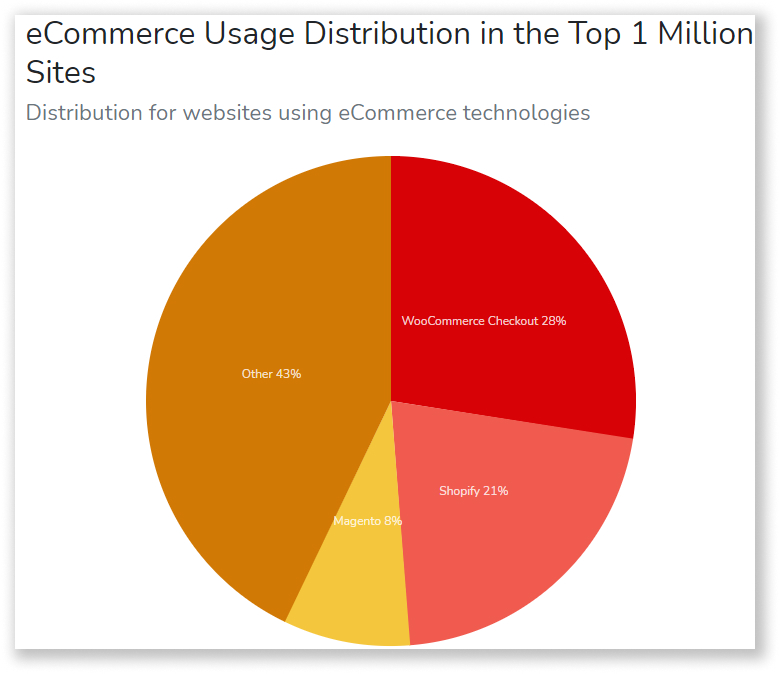 So if you want to make a shop online or mobile shopping app or move it somewhere else, here's a guide for you. This will help you make the smart choice between Magento and Shopify. Think of this post as a little cheat sheet to know which one works best for you.
Now, let's get started!
Overview: Magento vs Shopify
To help you decide, let's take a look at each platform. In terms of functionality, cost, and other factors, here are where they go differently.
What is Magento?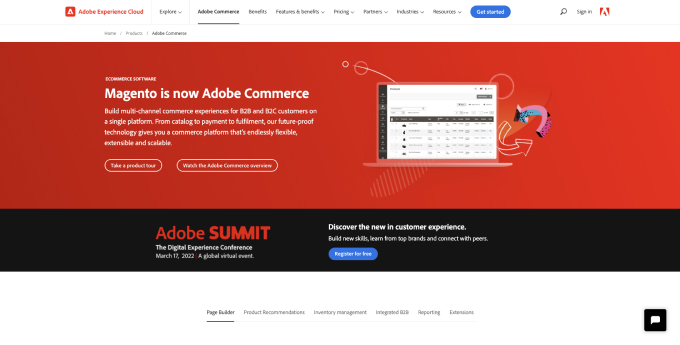 Magento (Adobe Commerce) is an open-source eCommerce platform that's built for more technically adept business owners. It requires you to buy your own Magento hosting and security so that you'll have somewhere to put it in.
You can customize it to your heart's content. That is if you know how to code. Or if you own a humongous company and can afford to hire a developer to do it for you.
Top features:
Rapid deployment of fully customizable and scalable online storefronts
Inventory and order management tools that support multiple brands, sites, stores, warehouses
Next-gen tech standard for app-like shopping experiences via mobile and desktop
What is Shopify?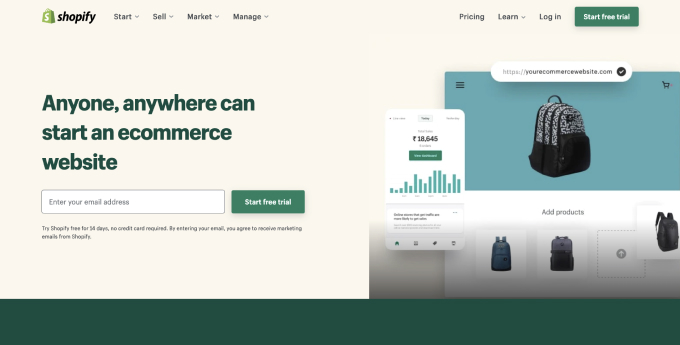 Shopify is also an eCommerce platform that many SMEs utilize to tap their target audiences. It is a paid hosted platform where beginners can easily navigate through in terms of building the social media presence of their businesses (on Facebook or Instagram).
Although they have to pay a monthly amount to stay afloat on the platform like how you do when you rent a space in the mall or someplace else, Shopify is eye-pleasing for others because of how it provides an all-in-one service.
Top features:
70+ themes and customizable, responsive themes that you can edit in drag-and-drop store builder
Ready-to-use widgets and powerful tools for finding customers, driving sales, and managing day-to-day
Quick way to offer customers personalized service, flexible shopping, and painless returns
Magento Vs Shopify: All your burning questions, answered
Cost 💰
Magento offers free-to-download software, Magento Open Source. It is available for free which is probably why most people will opt for it than others. However, it is a self-hosted platform, which means that it has underlying costs.
For instance, you need to get your own domain, which can cost you more than other eCommerce platforms. You'd also have to pay for web hosting, extensions, and even added security features. So although it is free to download, its full function is not free to use.
Shopify, on the other hand, offers three different plans depending on your scope.
For instance, the basic plan costs $29/mo which is ideal for small businesses that are still testing the waters. Meanwhile, there are plans which are best for growing your business and scaling it. Costs $79 and $299 a month, respectively.
| Shopify | Magento |
| --- | --- |
| Basic Shopify ($29/mo). | Magento Open Source (free) but has underlying costs such as web hosting, extensions, security, etc. |
| Shopify ($79/mo) | |
| Advanced Shopify ($299/mo) | |
Ease of use 😌
In terms of flexibility, Magento tops the list before Shopify because of how you can customize the way your shop will look only when you know how to tweak the coding. However, if you are not familiar with coding, this may be harder for you.
On the other hand, since Shopify offers an all-in-one service, you can simply drag and drop elements that you want to add or get rid of for your site. So depending on how you want your shop to look and how well you are at navigating through the settings, the two can be customizable.
Nonetheless, Shopify is far easier to use since you can simply drag and drop the elements. With Magento, you need to tap web developers first so that you can ensure that you are making the most out of the platform.
| Shopify | Magento |
| --- | --- |
| Simple. | Easily customizable. |
| Can drag and drop .elements | Flexible. |
| Doesn't necessarily need a developer. | May need web developers. |
Payment methods 💳
The transaction is the heart of eCommerce, where businesses can certainly close deals and get their ROIs. So, the more convenient it is for the users, the better the platform can be.
For Magento, there are different payment methods that users can find convenience from. They can pay through online banking via PayPal, transfer from their bank accounts, and even COD.
On the other hand, Shopify has its own payment gateway, such as its own Shopify Payments. However, Shopify Payments tend to be exclusive because of its restrictions. So, users may find more convenience with Magento due to its wide array of payment options.
Although the payment options for Magento are much more beneficial for those that are large scale, it is better in the sense that it is inclusive in many more ways. Besides, Shopify has over 2% transaction fees for every purchase.
| Shopify | Magento |
| --- | --- |
| Has over 100 payment methods. | Has over 150 payment methods. |
| Has their own payment gateway. | Does not have their own payment gateway. |
| Has transaction fees. | *No data |
Support options 🧑🏻‍💼
Magento, through SiteGround, offers excellent customer service that easily answers the needs of its users. So, it can definitely accommodate your concerns and clarifications. In terms of common concerns, they have user guides that provide a step-by-step process that can help you swiftly overcome them.
On the other hand, Shopify has a similar customer service that effectively caters to the demands of its users. May it be in fixing minor issues, to answering tailor-fitted concerns, they can answer that through their 24/7 phone and live chat support. Apart from that, they also have social media and email support, among others.
However, Magento at its heart is a community-based platform. So, it is a source of far easier resolutions to users' concerns may it be through their user guides or customer support services.
| Shopify | Magento |
| --- | --- |
| Has 24/7 live support. | Integrated with SiteGround for customer support. |
| *No data* | Has a user guide. |
Magento or Shopify: Which one is better for you?
As previously stated, it will boil down to your needs. They go differently at various points so it highly depends on how high you are willing to take that leap.
But, here is an overview of the points we tackled:
Shopify is the way to go if you want a straightforward monthly payment.
Magento is best in terms of its customer service because of its comprehensive user guides and swift customer support through SiteGround.
Shopify allows you to drag and drop elements as Wix does.
Magento has a far larger payment method that can be inclusive to customers all over the world
In terms of how it can be fully used to the extent of its functions, Magento and Shopify can take at least an hour to set up.
So if you are looking for something that can give you what you want in only seconds, then maybe these two platforms are not for you.
Enter Dukaan, the fastest eCommerce platform to set up
There are over hundreds of eCommerce platforms all over the world. Each has its own fair share of unique selling propositions.
Dukaan here goes way differently among other competitors because of how you can build your store in just 30 seconds!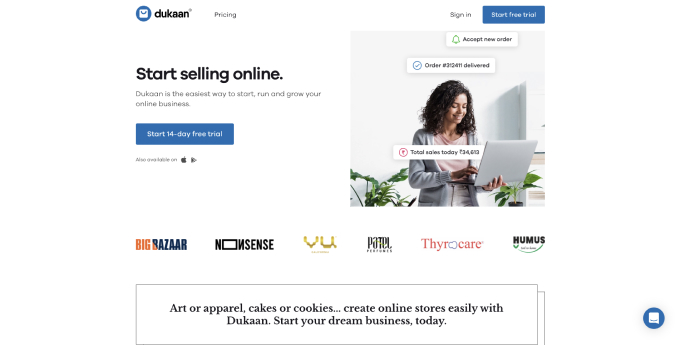 Dukaan is an eCommerce platform that allows you to sell on social media platforms like Instagram and Facebook where you have a far greater network.
Apart from that, it is not just fast to set up but also easy, because it does not require you any tech skills at all. It allows traditional businesses to keep up with today's trends. In fact, some sellers were able to set up their own shops without the help of their Gen Z relatives!
Now that many businesses have relied on online presence to generate more sales, Dukaan is perfect for keeping up with the behavior of customers.
It's easy and affordable with an easy-to-use user interface.
So do you want to see the same upward change in your business? Sign up for Dukaan today!