In today's tech-savvy world, you can never have too many gadgets. Every entrepreneur who seeks to run a successful business should learn how to sell electronics online. If you are one of them, continue reading to learn how to start and run your own electronics store online.
Technology is in high demand nowadays, which is why individuals are keen to learn how to sell electronics online. If you are one of them, you have come to the right place. Continue reading to learn how to establish your online store and produce listings that customers will like.
You have a good possibility of thriving in the electronics sector because consumer electronics are in extremely high demand. In 2021, the size of the worldwide consumer electronics market was estimated to be $724.48 billion.
The moment is right to launch an online electronics store, especially in light of Precedence Research's prediction that the consumer electronics market will reach US$ 1.13 trillion by 2030 and grow at a CAGR of 5.1% from 2022 to 2030.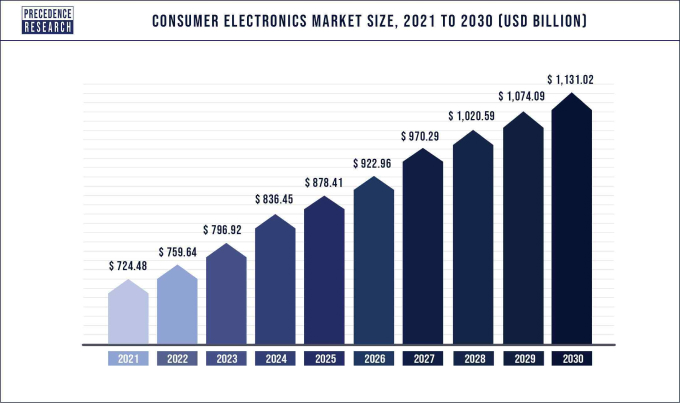 Following the eCommerce approach will significantly increase your networking because you will start to receive the necessary attention from all touch points. Whatever you sell—heavy appliances, accessories, or hardware—deserves to be shown in a feature-rich online store.
It's much easier now than it was before the advent of modern software. Anyone who has a working knowledge of the internet can start selling. There is a huge market waiting for you, thanks to the eCommerce boom of the last few decades.
Success is not always assured, though, and there are some things to take into account. But don't worry, as we have you covered with our comprehensive guide on selling electronics online. Read on to learn more!
Benefits of Selling Electronics Online
To help you understand the potential of online electronics selling, let's go through some of the benefits of selling electrical products online.
Customers adore browsing online for the best tech offers as electronics have quickly become commonplace commodities. Many electronic devices are easy to pack and ship, making them suitable for online sales.
High demand exists, particularly for cutting-edge new products and models.
Consumer electronics that are more common maintain a steady demand in the market despite not being quite as popular as their fashionable counterparts.
Thanks to manufacturers' continuous product development, you won't run out of new goods to offer.
End users will always be seeking assistance in making sense of things due to the high level of complexity involved and a large number of product options and alternatives accessible. It gives you the chance to have an ongoing conversation with them, which opens up more sales opportunities.
With no regional restrictions, customers can access your eCommerce store from just about anywhere. You'll be able to more effectively target your audience, provide pricing comparisons, combo offers, speedy shipping, and much more.
You can interact with more people through content, emails, social media, and affiliate marketing. It will undoubtedly increase revenue for your company.
Because you are always accessible to your customers through chat, emails, and other discussion forums, you are never too far away from them. Inquiries and problems are also resolved as soon as possible.
How To Sell Electronics Online Quickly
1. Select a niche
First of all, perform market research early on to find out what your competitors are up to and which industry segment would be best for you to target.
When determining which electronic gadgets to sell, there is a wide variety to pick from. The ideal strategy for entering the industry is to start small and gradually advance.
Instead of attempting to sell everything all at once, focus on a single area where you can excel. It becomes simpler to stand out with a more focused approach.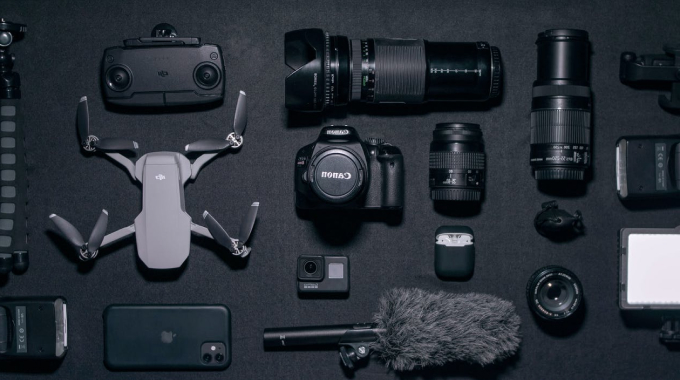 As you decide what to specialize in, let your enthusiasm, experience, and research serve as your guides. You can choose from a handful of the specialty electronic items listed here:
Laptops and smartphones
equipment and accessories for streaming
Smart speakers and Bluetooth
Smart speakers and Bluetooth
Surveillance and security cameras
Earbuds and headphones
Gaming consoles
Smart home gadgets
You can also sell used electronics online. With so many businesses out there who are willing to acquire used devices, there is undoubtedly money to be made. But the used products have their own challenges, which we'll discuss in the next section.
Once you have decided which electronic goods you will sell online, the next step is to choose your target market. The information you gather from audience research can assist you in understanding how to communicate with and meet the needs of your target market.
2. Sourcing the electronics
It will be essential to source gadgets before you can begin selling them online. Several options are available for sourcing your products, each with advantages and disadvantages and varying degrees of compatibility with your specific goals and situation.
Wholesalers
When seeking to source electronic products for your company, an electronics wholesaler will likely be the first place you'll think to look; this is how the majority of local and online electronics retailers get their products.
Wholesalers frequently provide fairly competitive prices on new electronics. They usually have a healthy amount of inventory, allowing you to get the items you require right away.
With wholesale buying, it also becomes crucial to decide where you'll store your electronics because certain wholesalers may have set minimum buying orders.
Dropshipping
Dropshipping can be an excellent choice if you don't want to spend time or money sourcing products and warehousing them. Your primary goal while dropshipping is to promote and sell as many electronic products as you can.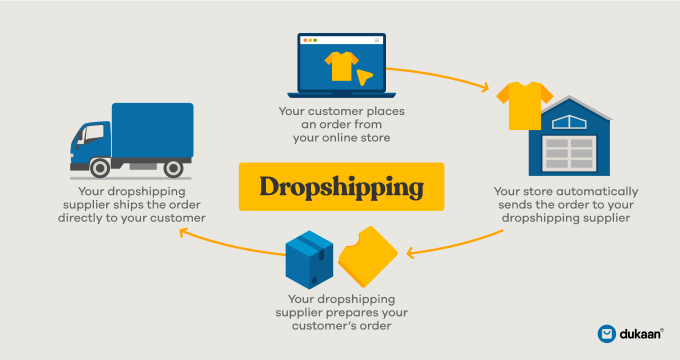 After an order is received, it is sent to another company (often the supplier) for fulfillment. As a result, there is less demand for storage and no longer any need to manage the usually intricate procedures of transportation and distribution.
Naturally, less effort will result in lower earnings. Using a drop shipping business may make it much more challenging to turn a profit on each item you sell. For this reason, it is best to concentrate on volume while using a dropshipping arrangement.
Used electronics from different sources
Selling used electronics can be a fascinating line of work. You can buy used devices from many sources, including yard sales, eBay, Facebook Marketplace, and Amazon. But it can take a long time as compared to purchasing electronics through a wholesaler or drop-shipping them.
Additionally, you will be unsure about future supply levels, which may make it difficult for you to meet client demand. But if you can pull it off, buying and reselling used devices may be both incredibly profitable and beneficial to the environment.
3. Price your electronic products
People tend to look for value when purchasing electronic products online. Therefore, it's critical to thoroughly evaluate pricing in a market with a large number of competitors.
If you're contemplating how to sell electronics while maintaining an alluring profit margin, the following elements should be taken into consideration when creating your pricing strategy.
How much did it cost you to manufacture or source the product?
The expenses related to the product's sale.
The level of consumer demand for the product.
How many rival businesses offer the same goods?
The suggested retail price (RRP), if one is offered for that particular product.
The costs of selling
Although your selling costs may differ, the following are some typical expenses that a seller might take into account when determining the final selling price of a product:
Costs of storage and delivery
Fees for referrals
Fees for fulfillment
Costs of shipping
Costs of marketing and advertising
When determining how much to charge for electronics, add up all the expenses related to taking your product to market, set your profit margin on top of these costs, and then list your prices. Price adjustments can also be made over time to boost revenue or profit margins.
4. Where to sell electronics online
There are several options available to you when determining where to sell. These range from more traditional strategies—like opening your own online stores—to trying to sell on social networking sites and marketplaces. Let's delve more into these options:
Social media
You can now sell directly to your customers on several major social media networks, like Facebook, Pinterest, and Instagram, without having to link to an external website. It is a fantastic approach to capitalize on the social media engagement of your audience as well as the following and buzz you generated on social media.
However, social media has drawbacks, such as a lack of control over the channel and how your business operates there. Most companies that sell on social networks typically connect them with their online store to extend their reach and make it easier for people to make purchases from them.
Marketplaces
You can sell electronics on a number of online markets; among the most well-known are Amazon and eBay. However, there are drawbacks to using an online marketplace.
You do not own the platform, unlike your website, so you have limited control over any modifications made to it, such as functional improvements or commission rate increases.
Online Store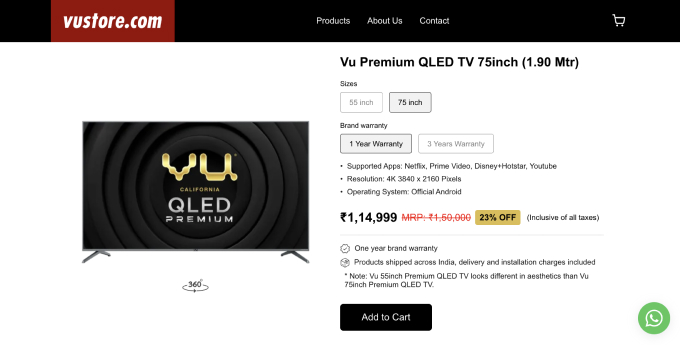 The easiest way to sell electronics online is to open your own online store. You make a real asset when you do this, one that you also have a lot of control over. A market-leading website builder, like Dukaan, will provide you with all the tools necessary to swiftly design a website that can be used to expand your business. Although each sort of online selling platform has advantages, having your own website gives you the most room for growth.
Utilizing the Dukaan platform has several advantages, such as:
It is easy to develop a website that is both practical and attractive without having any technological skills. There is no need for coding.
You can control orders, take payments, and do other things from a single dashboard.
It's simple to customize your store to suit your demands and brand.
Professional assistance. You can contact the Dukaan representatives by mail, phone, chat, or even through social media to get help whenever required.
Get a free, original domain name.
You get amazing designs to help you expand your businesses online. To assist businesses in getting the best, Dukaan releases new features regularly.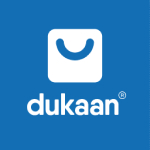 Launch, scale and manage your online business with just $14.99 on Dukaan. Annual plans start at $149.99 only.
With Dukaan, you can open a shop in a matter of minutes and sell electronics online.
5. Showcase electronic products
When you sell electronic products online, it's crucial to present them in a manner that encourages customers to make purchases. Videos can be a particularly effective way to emphasize the important aspects of the products you're selling, even though the majority of online businesses typically only use photographs and product descriptions.
Product Photos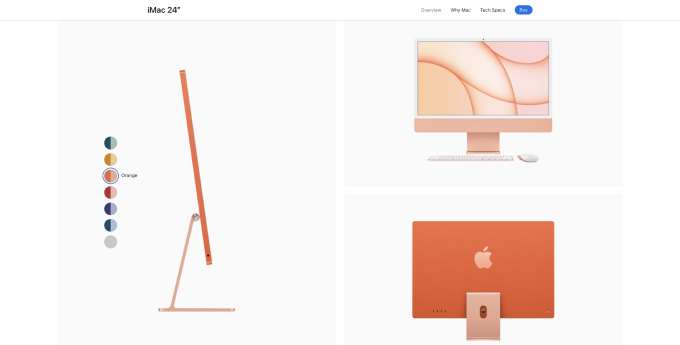 The visual appeal of an electronic product plays a significant role in consumer electronics purchasing decisions. Consider how much effort, time, and money companies like Apple have invested in designing the classiest, best-looking phones available today.
Use photographs with a white background and good lighting to make it simple to recognize the most important product features.
Take images of the products in use to give readers a feel of what it might feel like when they have the goods in their own hands.
Product Videos
Customers will have a far better understanding of how the product will operate after watching a video on your online store. You might also include films to demonstrate how fluid and simple-to-use the things you sell are, as many consumer gadgets depend on various interfaces.
Product videos are particularly necessary when selling used gadgets because they reassure customers that the item is in good condition.
Product Descriptions
Your product descriptions should serve two functions when selling gadgets online:
To convey important details, including model numbers, important features, and functionality.
To motivate your customers by getting them to imagine themselves using your product and how it would improve or simplify their daily life.
The time spent crafting excellent product descriptions will pay off in the long run. You may improve the search engine visibility of your website by writing a compelling product description that contains keywords.
We will share additional information on SEO (search engine optimization) in the marketing section of the article.
6. Package and ship your electronics
How will you efficiently and effectively deliver customers' orders? Packaging and shipping are crucial components that online businesses frequently ignore. These factors account for a sizable portion of your entire electronic selling expenses. Therefore, they should be carefully considered to avoid any unpleasant surprises in the future.
It is worthwhile taking a few measures to guarantee your electronic products are delivered securely and safely because damaged products might result in refunds, which can affect your bottom line.
Firstly, properly package your products and utilize cushioning or protective airbags to reduce shocks or damage during delivery.
Secondly, make sure to pack the electronics in accordance with local shipping laws that apply to electronic components like batteries in the destinations you ship to.
Thirdly, pick a dependable shipping company that understands how to carefully pack and deliver each package. Fortunately, there are many shipping businesses available to assist you in getting your products to your customers.
7. Invest in marketing
The following step is to market your products. It will be difficult to make sales if you don't market your company. To put it another way, no matter how fantastic your online store is, if you can't draw customers, you're doomed to failure. This is the reason why marketing is so crucial. There are a plethora of strategies to market your company. A handful of these are listed below:
Search Engine Optimization (SEO)
More people will click and visit your site if you appear higher in the search results. SEO can help you rank highly in Google's search results for terms that are closely related to your products, and you'll get a lot of customers who are ready to make a purchase.
You can achieve good results by adhering to a few fundamental SEO best practices. These comprise:
Publishing excellent quality content on a regular basis.
Including in-text links to other reliable websites and your own.
Ensuring that your website loads quickly and is easy to use.
As it might be challenging to develop solid traffic from search engines to individual listings on some other online selling platforms, SEO is best suited to situations where you operate your own online store.
Social Media
A terrific, cost-free way to grow and involve an audience is through social media. Social media sites like Instagram, Facebook, and TikTok attract a lot of customer attention and offer excellent channels for interacting with your target market.
Make use of these platforms to inform and educate your audience. Don't always try to sell directly to them; instead, get their attention and establish yourself as an industry authority, and they will approach you with their wants.
Email Marketing
Building a devoted, engaged email marketing list for your online electronics shop can take time, but the payoff is an audience that is prepared to purchase whenever you send them a persuading email.
Your email campaign list can be expanded by offering incentives like discounts and by using new, timely, and pertinent information.
Paid Ads
By using paid advertisements, you can immediately connect with the individuals relevant to your electronics business. The number of people you can reach with paid ads is only constrained by the amount of money you have to spend, as opposed to SEO, social media, and email marketing, which depend on the gradual growth of an audience over time.
There are various forms of paid advertisements, including:
Social media ads: These include paid ads that appear in your audience's social media feeds.
Search engine ads: These include paid ads that appear at the top of search results on search engines like Google or Bing.
Sponsored posts: Paid advertisements that promote your goods at the top of listings on well-known online marketplaces are known as sponsored posts.
Best Platforms to Sell Used Electronics
When it comes to selling used electronics online, you have the option of either selling over a marketplace or selling to buyback platforms. Let's take a look at some of the best platforms you can use to sell used electronics online.
Best for scaling your used electronics business into a brand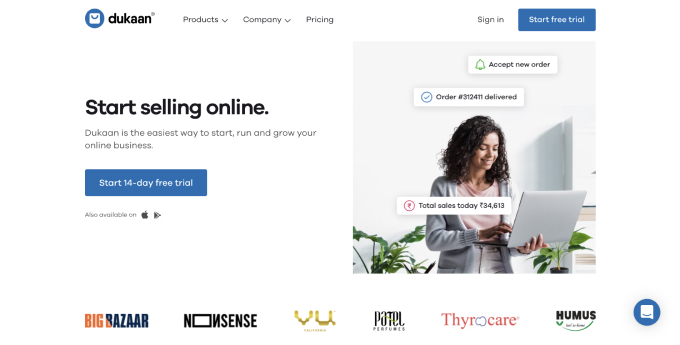 If you are looking for a comprehensive eCommerce platform that gives you complete control over selling your gadgets, your search ends with Dukaan.
Selling your used electronics with Dukaan is easy and convenient. The platform provides all the tools you need to list your electronics in your store. It has all the resources you need to sharpen your images, add product descriptions and list your store's terms and conditions and generate invoices.
The platform also houses a dynamic dashboard that helps you track your customers, create promotions and offer discounts.
Dukaan also comes with 40+ plugins to help you in everything from advertising your store to shipping your products. It also integrates with multiple payment processors.
Choose Dukaan to sell your electronics if you are serious about scaling your business into a brand.
Best for selling used electronics in perfect condition
If peer-to-peer marketplaces are not your cup of tea, Gazelle is an excellent buyback site for selling used electronics. Gazelle offers high prices for your used electronics, but there's a catch: it only accepts certain brands.
Gazelle's selling process is simple: find your device on the site, describe its condition, and accept an offer if it's right for you. After you accept their offer, Gazelle sends a prepaid shipping label for you to courier your device to them.
Your electronics undergo an evaluation once Gazelle receives the shipment. If the gadget exactly matches your description, you can accept the payment via PayPal, check or Amazon gift card. But if they find a discrepancy in the device's condition, you can either accept a new quote or have the device shipped back to you.
Gazelle is known to change their price offering, so make sure you quickly lock in the deal you find best.
Best for quickly selling used electronics
For people looking for a quick and convenient deal, DeCluttr is an excellent electronics buyback site. You can sell all kinds of gadgets here, from headphones to gaming consoles.
Selling on Decluttr happens over bidding. As soon as you list your device on the platform, you'll get a quote for your gadget. This quote gets locked for 28 days, during which you can find an upgrade. Once you finalize a bid, you'll be prompted to close the sale.
DeCluttr takes care of the shipping as well. It sends you a prepaid shipping label so you can securely send your electronics to them.
You can accept payment through PayPal or direct deposit. You also get the option of donating the funds to charity.
Best for selling perfect condition used electronics at high rates
If your used electronics are in pristine condition, you can sell them on Swappa. The platform boasts of offering higher payouts compared to other peer-to-peer marketplaces.
To sell on Swappa, you need to create an account and list your products using its images and add a clear description. Swappa gives you the freedom to set your own price and negotiate with the prospects.
Once a deal is struck, the platform deducts a commission of 2.9% plus $0.30 per transaction and transfers the money to your PayPal account.
The downside of selling on Swappa is that you can only sell certain electronics, and it has very strict criteria for acceptance.
Best for conveniently selling old electronics
eBay is a great marketplace for selling used electronics. Whatever the condition of your gadgets, you can sell them on eBay.
To stand out in this densely populated marketplace, make sure you take clear and high-quality photos of the product and accurately mention the gadget's condition when listing.
You can sell your used gadgets two ways on eBay: at a fixed price or put them up for auction and accept the best prices the buyer offers. Remember to factor in the listing, shipping and selling costs when deciding a price.
eBay charges a commission of 10% to 15% on every sale. You also have to take care of the shipping costs on your own. Once a sale is made, you can accept payments via PayPal or debit/credit card.
The major drawback to selling on eBay is that it is known to take the buyer's side in cases of dispute over the item.
Best for selling used electronics of lesser known brands
Struggling with a brand that's not listed on any buyback websites? You can easily sell it on BuyBackWorld. They accept used gadgets ranging from calculators to drones from many brands, and you can even get a custom quote for any device not listed on their platform.
To get a quote for your device on BuyBackWorld, you need to answer a few questions about the device on their website. If you like the price they are offering, they send you a prepaid shipping label to send your gadgets to them. Upon receiving the device, it is inspected for quality differences, and a counteroffer is provided if necessary.
The platform offers a variety of payment methods: PayPal, prepaid debit card, direct bank deposit, check and BuyBackWorld gift card. Additionally, the payment gets processed within 48 hours of the platform receiving the package.
Best for selling used electronics at custom prices
If you are keen on saving on shipping costs by selling your used gadgets locally, then Facebook marketplace is the place to sell your used electronics.
Selling on a marketplace like Facebook lets you get the best possible offers for your devices. You can either let your prospects offer a quote or set your own price.
It also allows you the flexibility to either meet the buyer in person for the exchange or ship it to them and get a wire transfer. Keep in mind that Facebook takes a cut of 5% per sale on online orders.
To sell your device on Facebook marketplace, you need to put up high-quality images of your device and write a product description accurately describing its condition. Another thing to note here is competitive pricing; if you set a very high price for your device compared to other listed ones, you might not make a sale.
Best for selling used electronics in offbeat categories
If you need quick cash, you can sell your old and used electronics on ItsWorthMore conveniently.
A highly regarded buyback platform for used electronics, ItsWorthMore accepts everything from gaming consoles to smartwatches.
The platform's selling process is the same as the others, just search your device on their platform, answer a few questions and get an instant quote. The platform also sends you a prepaid shipping label to mail them the device if you accept their offer.
Once your gadget passes their quality check, you can get paid via PayPal, Venmo, Zelle, digital or paper check within 72 hours.
The biggest USP of ItsWorthMore is that you can expedite the selling process there. There's an option to pay an extra $15 for quick shipping and 24-hour processing. (which usually takes upto five days)
Best for selling used electronics in poor condition
If you are looking for a platform that even accepts broken electronics, uSell is the place to go.
uSell is a little different from all the other platforms listed here. It takes away the hassle of negotiating with buyers. All you need to do is mail your device to uSell, and they'll handle everything from shipping to fulfillment to customer service.
uSell already has a pool of buyers ready to buy the electronics with them. To sell your device, list your electronics on the platform and ship it to the company in the shipping label they send. Now it becomes the responsibility of the platform to find you a buyer.
Your gadgets undergo an evaluation to validate their condition. They release the payment to you within five days of receiving the courier. You can accept payments through PayPal or a check.
Best for selling used electronics locally
Just like Facebook Marketplace, OfferUp also allows you to sell both locally and over a marketplace. The platform specializes in helping you match with local buyers.
There are no charges for listing and selling on OfferUp. But there is a big catch here: OfferUp charges an exorbitantly high service fee of 12.9% per sale (with $1.99 being the minimum). Make sure you include this cost while setting up the price for your gadgets.
Whatever you make after this cut is deposited into your bank account within 1-2 days of the sale. This period is kept for buyer evaluation, meaning the money gets credited only after the buyer is satisfied with the condition of the product and confirms that it meets the description on the website.
Conclusion
We sincerely hope that our blog post has made it easier for you to understand how to sell electronics online. These are only the fundamentals of selling electronics online, of course.
You will need to go through the procedure yourself in order to fully comprehend it.
FAQs
1. How can I market my electronics online?
You can sell electronics through your online store, marketplaces like Amazon and eBay or niche websites like Gazelle, and even on social media platforms. With eCommerce platforms like
Dukaan
, you can sell electronics most profitably through your own store.
2. How can I grow my electronics business?
There are many ways of promoting your electronics business. You can run promotional deals on your store to lure in customers, run ads over social media, optimize your store's SEO, so it shows up on Google. If your store is built over
Dukaan
, you get all these features in-built into the platform.
3. Is the electronics business profitable?
Yes, selling electronics online is a highly profitable business since the demand for electronics has only increased with digitalization. Moreover, people change their gadgets every year, making it even more profitable.
4. How do you price used electronics?
It is advisable to follow the "50-30-10" rule when pricing used electronics to sell online. Electronics in pristine condition should be sold for 50% of their retail price, slightly used ones should be sold for 25% to 30%, and worn-out electronics should be sold at 10% of their total retail value.
5. What kind of electronics sell best?
Streaming devices, mobile phones, audio devices, Bluetooth and smart speakers are some of the best-selling electronic devices online.