Want to start an online business with quick ROI but don't know where to start & what to pick? Here's your guide on how to start an online business.
You're probably thinking it's one of the quickest paths to becoming a millionaire today.
How can you not if almost every day a new success story of another internet millionaire pops up on your newsfeed?
This gets you thinking again, "How to start an online business today so THAT can be me?"
Let's do what a sensible go-getter would do—study the people who have been there, like them:
Matt Clark, Amazing.com
Nature of business: Online courses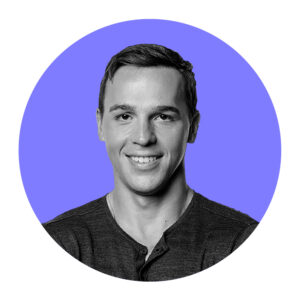 Matt Clark co-founded Amazing.com, a membership community offering online courses about selling on Amazon.
He started out selling health supplements until he discovered online courses. He pivoted from e-commerce to selling courses through the Amazing Selling Machine.
Today, he owns two companies earning 8 figures generating billions of dollars in sales online.
John Collison & Patrick Collison, Stripe
Nature of business: Software (SaaS)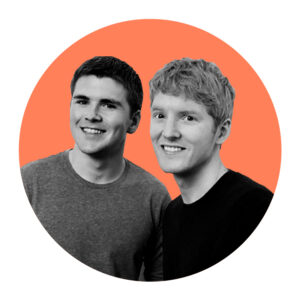 John Collison and Patrick Collison are brothers and they co-founded Stripe, a software company that enables individuals and businesses to accept international payments over the internet.
They're featured as real-time billionaires on the Forbes list. Today, millions of global companies of all sizes—from startups to Fortune 500s—use Stripe to manage their businesses online.
Pat Flynn, Smart Passive Income
Nature of business: Affiliate Marketing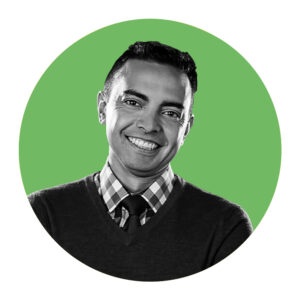 Pat Flynn is the founder of the Flynndustries that owns the Smart Passive Income (SPI) Blog. SPI is a training and resources course that focuses on how to build a successful online business.
To date, Pat Flynn's net worth exceeds $2 million. With over 60 million downloads, his podcast is one of iTunes' most popular "Business Podcasts", and he has more than 281,000 subscribers on YouTube.
Alex Philip, Shopify dropshipping business
Nature of business: Dropshipping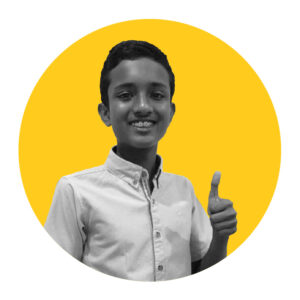 A young entrepreneur, Alex Philip, is a 15-year old who dropships products on Alibaba and sells them through Shopify.
He acts as the 'middleman' between a Chinese supplier and customers. He is set to achieve £1.5 million in annual sales through his Shopify dropshipping business.
Inspiring, right?
If you're fired up to follow in their footsteps, hold it off until you finish this article.
Why?
These brilliant people have started way back then and if you're just about to start today, doing the exact same things that they've done before won't give you the same results.
The barriers to entry to these businesses have practically towered up. Plus, the practices they had back then might be outdated now.
For example…
1. If you plan to dropship using eBay, the company no longer allows the import of goods from China. Users need to reside in the USA.


2. Apple's iOs update with regards to privacy affected the revenues of online businesses that rely on paid digital advertising.
3. Google says it will block third-party tracking cookies by 2022 following the EU's GDPR and California's CCPA. Chrome will no longer place cookies that gather information about users' browsing habits and identify them for the purpose of selling advertisements.
You'll need to find other ways to promote your business.
4. Some online 'gurus' who teach how to get rich fast are (actually) fake or really broke.
5. Differentiation is becoming difficult when starting an agency, a SaaS, or just about any business today. With all the online tools and services, it could be difficult to stand out. There are 1.95 billion websites on the Internet right now.
6. eCommerce now offers new platform options. A new social app is popping out every day. Do you have to create another social media account so you can capture and hold the attention of your buyers?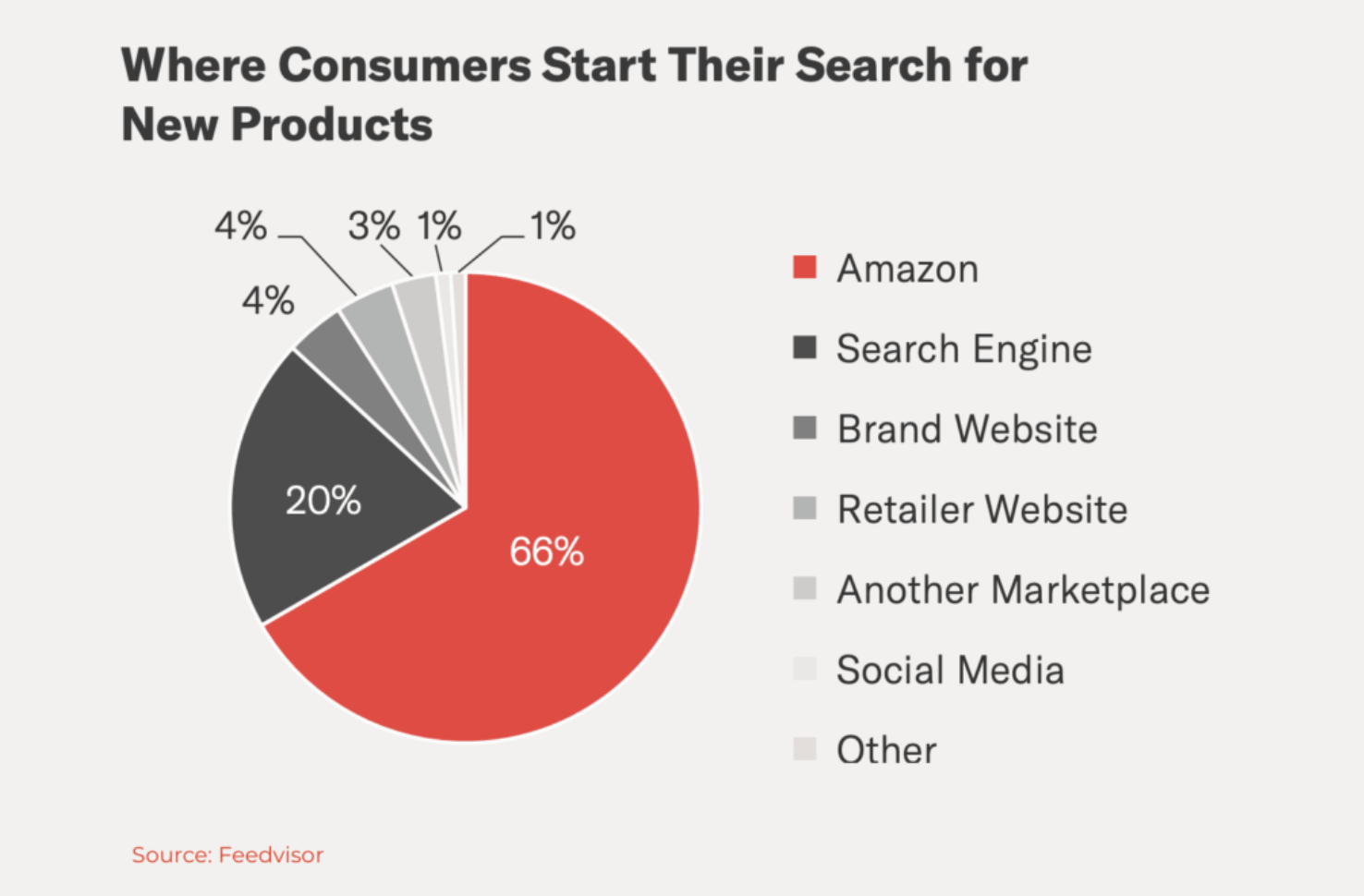 And these are just a few challenges.
But let's not let these little bumps prevent you from launching your online business.
Here's a rundown on how to get started the right way. Unlike other how-to guides, this one highlights proven business models that you can consider to start a successful online business the quick and easy way—save this on your bookmarks!
The misconception of online selling is that it always involves selling physical goods, but it doesn't.
If you want to start a successful business in 2021, it pays to know the types of profitable business models that you can pattern from.
As Paul Heacock would say,
"Don't try to reinvent the wheel.
The things you are doing, no matter how seemingly unique, have been done before. Take advantage of, and perhaps expand upon, your predecessors' work."
Get yourself familiar with the types of online businesses for a quick start.
Types of Online Businesses
1. eCommerce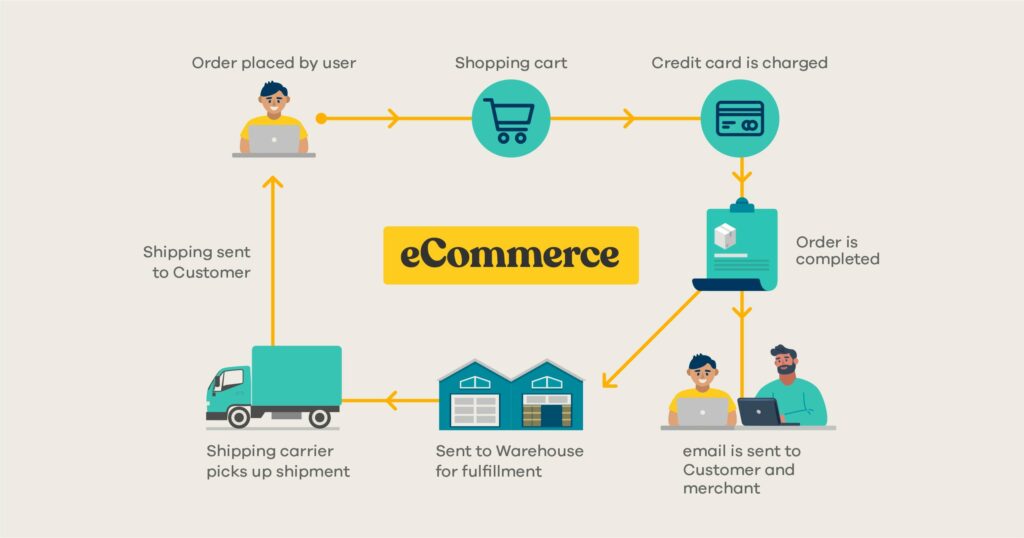 E-commerce often refers to selling physical products online. For this business type, sellers usually use the wholesale sourcing and selling model and sell their products on Shopify, BigCommerce, or other online platforms like Dukaan.
Pros
Faster buying and selling process
Wider customer reach
Convenient and cost-efficient
Cons
Relies heavily on online platforms which could sometimes be offline
Competitors are big businesses (Walmart, Costco, Best Buy)
Who is the best fit for this business?
Starters who would prefer full control of the business operations.
2. SaaS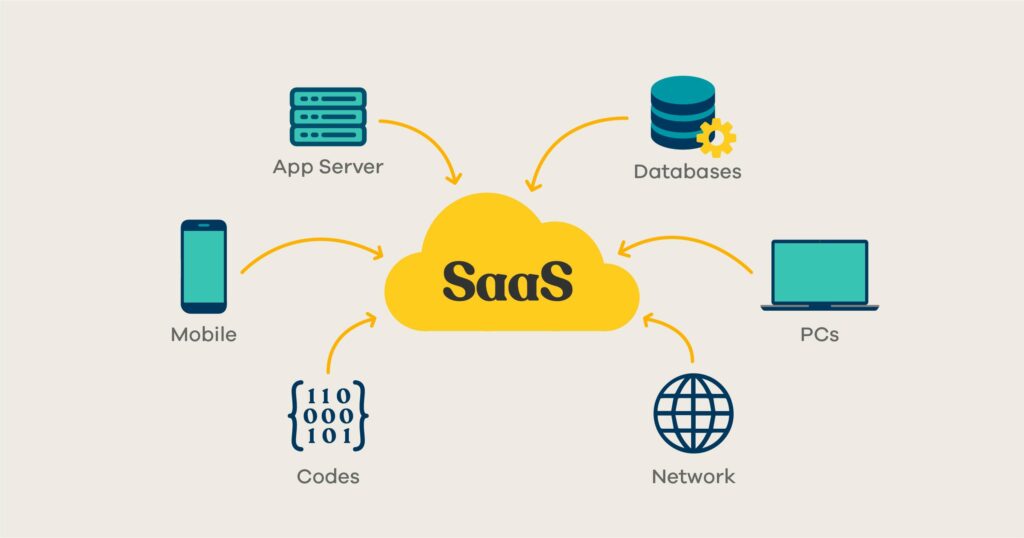 Software as a service or simply SaaS is a cloud-based business that offers customers software licenses on a freemium or subscription basis. SaaS apps are usually accessed via web browsers or mobile apps.
You get revenues when visitors convert to paying subscribers.
Pros
Predictable revenue because it's recurring (whether monthly or annual)
Easy to use for customers
Can update products on demand
Cons
Founders need high investment early on to build the software
Who is the best fit for this business?
SaaS is best suited for people who love to code and build stuff.
3. Marketing agency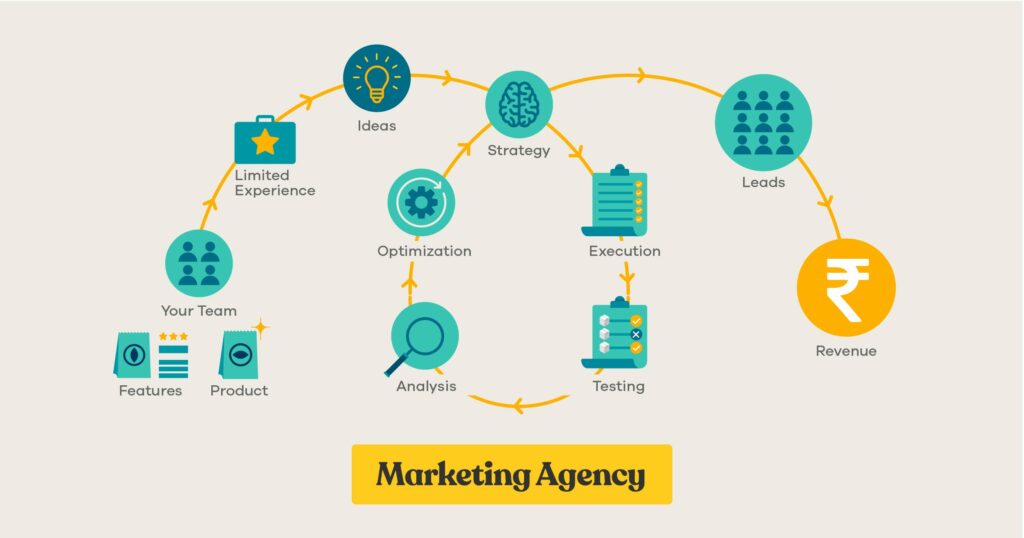 Most freelancers leverage this type of business, especially when they start to grow. This includes offering digital services like graphic design, copywriting, marketing, and even consultation.
Usually, the business model used is fee-based where clients avail one or more services at a fixed fee. Sometimes, they earn commissions from their services.
Pros
Scalable as there will always be demand for new services
Clients are presented with predicted, fixed service rates
Easy to readjust fees
Cons
Who is the best fit for this business?
Freelancers who are growing and can't fulfill incoming projects on their own anymore.
But if you're just starting out, you can try freelancing solo first. Sell your services for a fee on freelancing platforms like UpWork.
4. Selling courses online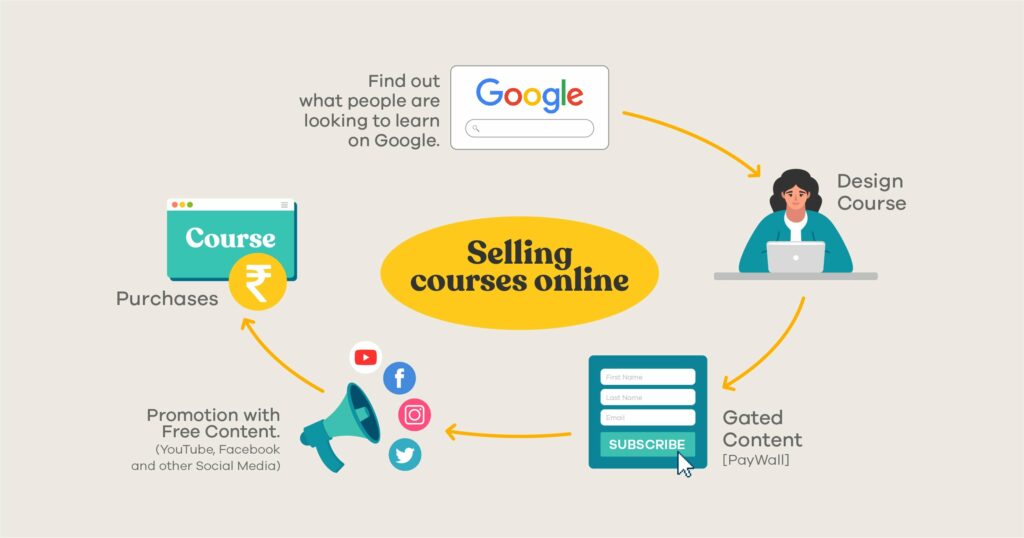 Course creators are usually experts of a specific niche—personal finance, copywriting, crochet, mathematics, etc. There are literally courses just about anything on the internet right now. There's a slime-making class, mind you.
The proven strategies experts (or hobbyists) use are converted to courses, just a bunch of lessons organized in a learning platform.
The usual business model used is the "Academy" e-learning where students subscribe to learn the basics and/or advance principles of a certain topic.
Pros
Attractive to potential customers because of its affordable pricing
Passive income since course creators only need to prepare the course once (can be updated regularly though)
Upsells to students who found value in your first course
Cons
Requires continuous marketing and niche authority
Who is the best fit for this business?
People with niche knowledge, experts or professionals, or even hobbyists.
5. Affiliate marketing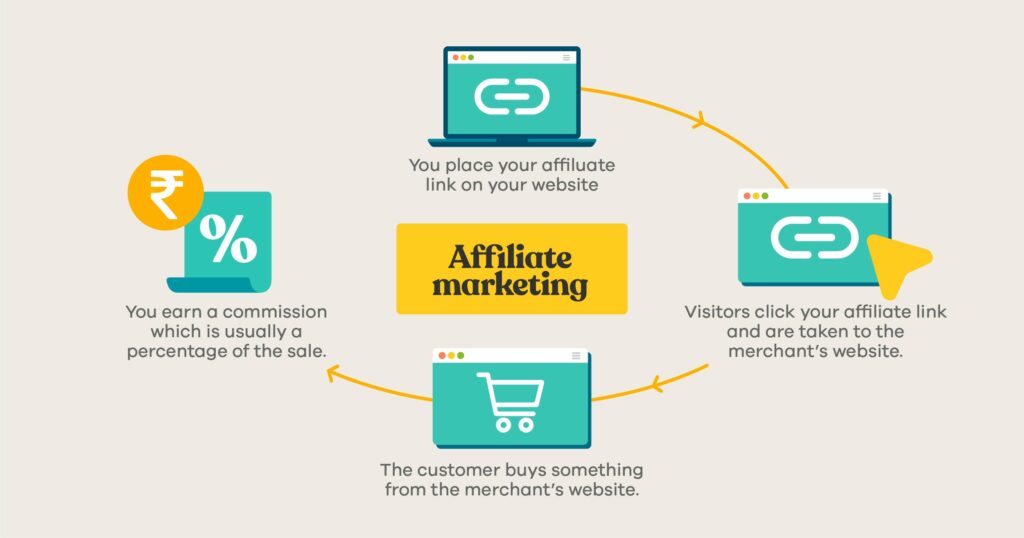 Affiliate marketing is when you promote products or services of other businesses. When users buy into that business through your link, you get a commission. The sales are usually tracked via affiliate links.
Pros
No need to be an expert on the product you promote
Earn without limits or quotas
Low investment cost (no need to create own product)
Cons
Depended on merchant's rules and conditions
Who is the best fit for this business?
Those who don't want to create their own products or service or sell physical products, but love doing videos or blogs or other forms of digital content.
6. Dropshipping
Who says you cannot start an online business with no product?
Welcome to Dropshipping!
With this business, you act as the third party between a supplier and buyers. You just market the products, and when someone buys, the supplier will be the one to ship them directly to the buyer.
Read: How to Start Dropshipping Business in India
Pros
Minimal startup cost needed
No need for an inventory or warehouse
Can offer multiple products even from multiple vendors
Cons
Who is the best fit for this business?
If you want to sell physical products, but don't want to deal with storage or logistics.
Here's the summary of the 6 types of online business models that you can consider.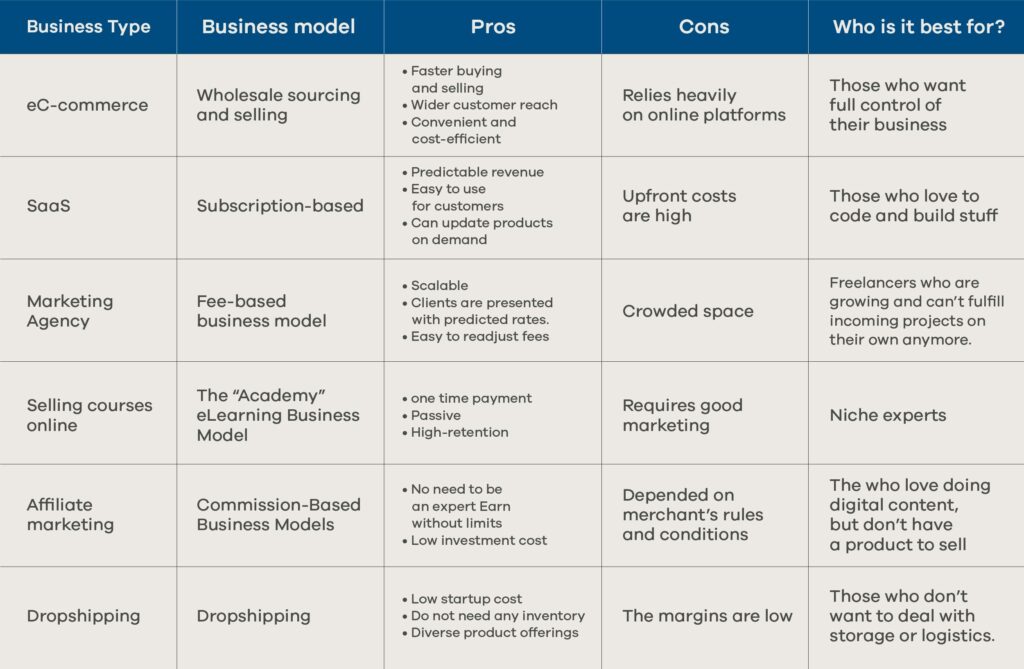 Sometimes, a successful entrepreneur will be able to profit from a combination of these models. Take for example Matt Clark of Amazing.com. He started selling supplements, but now he is selling courses.
Now that you know the several online business models, let's move on with a step-by-step guide on how to decide which one to pursue.
How to Start an Online Business Suited For Me?
1. Identify Your Strengths
This is the first step—not the business name, not what your product will be, or what your logo will look like.
You first want to know what knowledge, skills, and natural strengths you have that can be turned into profit.
Take time to think about what things you like to do, how you feel when you do things well or when people compliment you on an area you are particularly good at.
Are you skilled in creating crafts? You can sell them. Or maybe teach a course on how to create them.
Great at marketing stuff? Then you can skip the product creation part. Advertise somebody's product and earn commissions.
Are you a retired executive? Consulting might be for you.
Knowing this will help you uncover ideas of what kind of profitable business you'll want to build even when challenges arise.
2. Pick a Market
Finding your strength will almost automatically define the market you can tap.
If you have knowledge of a certain industry or niche market, then it would be wise to target those customers.
Did you work for an e-commerce dropshipping client before? Then, you may have acquired skills that will help you build your own dropshipping business.
Can't find an app that lets you send payments online easily? Then create one. (This is how Stripe started, by the way).
Are you a chef specializing on Italian cuisine? Then why not start an online course about cooking Italian dishes?
When you do this exercise, more often than not, you'd find that you already have a network to start with…
A network that you can tap to become your first customers too.
3. Find A Problem To Solve
When you start a business, don't just think about what nice things would your target market want to spend money on.
Here's a better question to answer.
"What product or service should solve the problems of my chosen market?"
People buy to alleviate their pain. To do things faster. To make themselves feel better.
Take Pat Flynn for example.
Pat has lost his job and has to find another means of earning money.
Good thing he has a blog where he stored his notes back when he was studying for LEED, an architecture qualification exam. His blog was receiving lots of traffic because of his notes.
Some of Pat's readers suggested that he create a book on how to pass the exam. So he compiled his blog posts together in a sequence and published them as an ebook.
Pat made $8,000 in his first month.
When you're solving problems, people are willing to pay you money. The bigger the problems, the more money people are willing to pay.
4. Validate Your Business Idea
Congratulations, you now have a business idea.
It's time to go out there and validate it.
Talk to your target market. Have a conversation. Ask the right questions to find out if there is a need for the solution you're offering.
If you validate your business idea beforehand, you can reasonably predict whether customers will buy your product or service.
You may have the best idea, but if you can't get the market to be interested in it, then there's no business to build.
5. Craft Your Business Plan
Next, write all those ideas and feedback.
If you have gotten interest and got a few people willing to give you their money, then it's time to sit and write down that business plan.
A business plan is a detailed list of your goals and objectives, written in order to create an actionable roadmap. It will help you stay organized during the startup process while setting yourself up for success.
Consider your business model before starting out on this journey. Then, think about how to generate revenues to keep the business running.
Tying up your business plan with the business model that you've chosen will keep you focused on things that need your attention.
For dropshipping, for example, Alex Philip says that knowing the right marketing setup is the key to a profitable dropshipping business.
If taken for granted, you'd probably find yourself immersed in problems like Clark. He launched a website to sell health supplements and he found himself scaling so fast, growing from 0 to $2 million in revenue, but…

A business plan is a sound investment that will set you up for success.
6. Choose The Right Platform
Lastly, if you want to grow your business, it's important to find the right platform that will help you get started quickly.
The platform best depends on your goal, product or service, and business model.
For example, if you want to put up an online store, then perhaps an e-commerce tool like Shopify would be good enough.
If you want to sell your professional services, then you could use Webflow or WordPress to host your website.
But say, you want a flexible website that could sell your services now and digital products later on, you can pick Dukaan for that.
Dukaan is the most flexible platform for anyone who wants to start a business, no matter what ideas they have.
Not only you can set it up to manage your professional or agency website, but you can also use it to sell digital goods. Or use it for non-profit businesses like donation and charity.
Plus, Dukaan saves so much time and money as a single solution.
You do not need to pay steep fees upfront with costly monthly subscriptions. It's perfect if you have no technical skills or budget to spend on a developer, but still want a business of your own.
Over To You
Your idea on how to start an online business must start with proven business models if you want to take off quickly.
It gives you a rough idea of how your journey is going to look like, the tools that you need to grow, and the people that you need to hire later on.
To ensure the growth of the business that you're going to start, choose to use a platform that is flexible enough to support the craziest of your ideas, especially when they blow up one day.