Are you up to date with the tactics it takes to sell coffee online? If not, it's time to wake up and smell the coffee, literally! Your favorite morning brew can prove to be a fantastic product to sell online. This guide will walk you through the exact steps you need to take to bring your coffee-selling business to life.
Coffee is one of the most widely consumed products worldwide. You'll always find individuals loading up on their favorite beans or blends wherever you go. Despite our obsession with the cherished beverage, not even the coffee industry was immune to COVID-19's consequences and the ensuing business closures.
Local coffee houses and coffee roasters, in particular, were severely impacted, but rather than giving up, they changed their tactics and figured out how to sell coffee online.
With e-commerce websites that provide specialty roasts, large bean purchases, and even weekly coffee subscriptions, these coffee sellers are succeeding by enabling customers to satisfy their caffeine cravings at home. Customers of coffee are continuously looking for specialty and high-quality coffees, which are frequently only found online.
Starting your online coffee business can give you a great opportunity to break into the retail coffee market for a lot less money than if you choose the brick-and-mortar method. You may take advantage of global access to clients searching for high-quality coffee, like any other internet business.
The best part is that even tiny enterprises can readily acquire the knowledge required to sell coffee online. Coffee is a contemporary essential with significant demand when compared to other products like electronics.
So you know that your target audience already wants coffee. All you need to do is convince your target market to want to buy it from you.
So, whether you're a seasoned coffee vendor without an online store or a newcomer to the industry, we've put together this guide to arm you with all the information you need to develop a successful online coffee business.
Is It Profitable to Sell Coffee Online?
Online coffee sales can be very lucrative. Coffee is a fantastic commodity to sell online; you only need to look at sites like Amazon and Etsy to realize this. Additionally, Statista reports that in 2020 and 2021, more than 166 million sachets of coffee were purchased globally. That's a lot of coffee!
Selling coffee has a number of advantages, including:
Convenience
Lower expenditures for overhead.
A larger base of customers.
Higher profit
Let's look at some statistics about the coffee industry to illustrate the size of the opportunity in this market.
In the United States alone, annual spending on coffee is almost $75 billion.
The coffee industry in the United States contributes 1.6% to the GDP of the country.
Some estimates put the monthly cost of coffee for the average coffee user at $92 per month.
Compared to males, women spend $400 more on coffee annually.
About three cups of coffee are consumed daily on average.
Your coffee business has the potential to be an incredible source of enjoyment and income for you if you're willing to invest in it.
How to Sell Coffee Online in 9 Simple Steps
1. Identify your target audience and niche
Selling any product successfully requires a thorough understanding of the target market. As a coffee seller, you must decide whether you will sell coffee to consumers directly (B2C) or to establishments like cafes, restaurants, and hotels (B2B).
By settling on one market segment first, you may concentrate and increase your profit margins. It will be challenging to build brand recognition if you try to sell to everyone at once.
Although both business models are successful, they require different strategies.
Customers purchase coffee in smaller quantities, typically between $8 and $15 per bag.
Hotels and coffee houses will purchase larger quantities, usually between $50 and $200 per purchase.
Customers frequently seek products with distinctive flavors, appealing branding, and quick availability.
Businesses are looking for dependable suppliers, savings for large orders, and ease of ordering.
Next comes the part of identifying and selecting a niche. The ideal strategy for niching down on your consumer base is to choose a specialized market for your coffee business.
Spend your time focusing on one particular group of coffee lovers rather than attempting to make coffee that will appeal to everyone. Using this tactic, you may target your consumer base with specific coffee flavor combinations, marketing campaigns, and company branding.
There are numerous specialist coffee niches available to you, including:
Coffee drinkers who like the darkest, boldest, and caffeinated varieties.
Individuals looking for fair-trade organic coffee.
Those who enjoy flavored coffee beans.
Those seeking premium, expensive beans.
Finding an appropriate niche is not always simple, but it can be done by grouping your audience and thinking about what they are drawn to.
You can start creating a product portfolio depending on your prospect's distinctive tastes now that you've identified a target market and a niche.
One of the most obvious products that a coffee business can market is roasted coffee beans, but there are other possibilities as well, including:
Equipment for brewing coffee, such as a hand-held frothing wand for cappuccinos.
Other beverages like teas and hot cocoa.
Foodstuffs flavored with coffee, such as cakes or chocolates.
Boilers, coffee canisters, and other kitchenware.
Branded espresso and coffee cups.
2. To roast or not roast? Select a business model
The next step is to decide whether you're going to roast your own coffee or drop ship it.
Dropshipping happens when a company partners with a separate manufacturer to handle the packing, shipping, and warehousing of its goods.
Drop shipping eliminates the need for inventory because a third-party manufacturer is simply notified of the sale and then packages and ships the product to your consumer from their warehouse.
If you're keener on a hands-on commitment to your product, you can consider roasting your coffee beans and selling them through your online store. If you choose to roast, pack, and transport your beans, you'll need to invest more time in product preparation and learning the trade.
Asking yourself whether you are more willing to work directly with your products or on their marketing and branding will help you decide.
Roasting your coffee beans could be profitable if you're looking to do more than just learn how to sell coffee online. Drop shipping might be a better option if your only goal is to determine whether you can profitably sell coffee online.
3. Find a supplier
Find a source who can send you green coffee beans if you're going all-out and roasting them yourself. In this situation, you should seek out wholesalers who can provide you with a reasonable price, a range of bean varieties, and the quantity you require.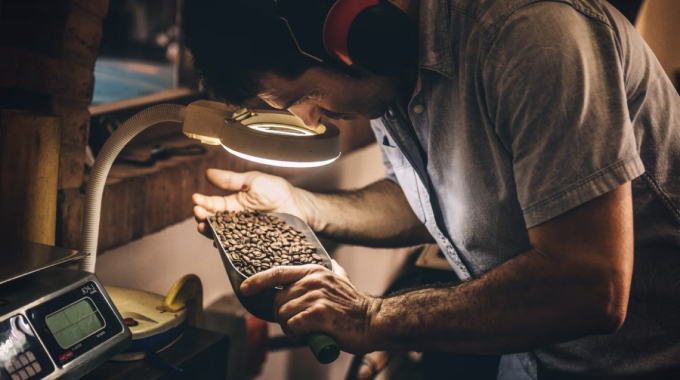 If you plan to sell pre-roasted beans, there are a few great options available to you.
The simple approach is to look for wholesalers that can provide you with pre-roasted coffee. Having a fixed coffee supplier ensures you get the same quality everytime, as consistency is very important in this business.
The second option is to look for a nearby roastery that can process the beans according to your exact requirements.
Here are the key questions to ask yourself before zeroing in on a supplier:
Your current and future projected demand versus their supply strength.
If they allow white-label branding.
If you offer dropshipping services.
How accommodating are they to your requests in terms of order or their supply quality.
The profitability of your online coffee store depends on selecting the correct coffee supplier. The following are some qualities to search for in a coffee supplier:
Great quality
Your coffee must taste delicious if you want it to sell. A reputable supplier will deliver premium coffee that satisfies your flavor and roasting requirements.
Product trials
To make sure the product meets your criteria for quality, request samples from your supplier. Sampling can assist you in locating a supplier who can act as a long-term business partner.
Fast delivery
Maintaining client satisfaction through prompt product delivery requires a supplier with quick turnaround times. Your supplier should rapidly fill your orders so that you never have to keep your customers waiting for their preferred roast.
Lowest minimums
You need suppliers with low minimums when you are just starting in the coffee industry. In order to wow your customers, you need to make sure your supplier is within your budget while still providing a high-quality product.
Excellent service
Your suppliers should answer any questions you may have about the product. The cultivation of the bean will be explained to you by reliable, qualified suppliers, who will also offer any guidance you may require.
4. Price your coffee
A key component of the marketing mix is pricing. If you do it correctly, you can offer yourself the best chances of transforming your online coffee shop into a smashing success. But if you get it wrong, you'll have trouble getting the required sales.
Pricing your coffee is a slippery slope. It might be tempting to price your coffee lower than your competitors in order to acquire new customers, but it might not be beneficial for your business in the long run.
Remember, you don't have to sell your coffee at the lowest prices in the market to beat your competition. Other important factors like your brand value, customer service and reliability will help in making sales and retaining your customers.
When everyone in the market has similar offerings, it's essential to work towards building a unique coffee experience for your clients that compels them to come back to your store and place orders.
That being said, it's also important to do some market research to find out whether your potential clients would be willing to purchase your coffee at that price.
There are many things to take into account when setting your coffee's price, including:
Exactly how much does it cost you to purchase the coffee?
The additional expenses associated with the product (such as packaging, shipping, etc.)
What business expenses must you pay? (the cost of running a website, for instance.)
How much will you be earning as a profit?
You'll have a fair sense of how much you might need to charge for your coffee once you add it all up and divide it evenly among the units you anticipate selling.
5. Packaging and shipping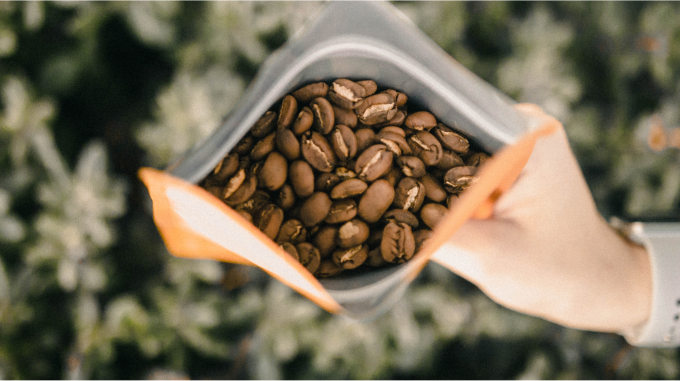 Sidelining making packaging and shipping decisions till the end is not a good move for your business. It's crucial to be proactive when deciding on how you are going to pack and ship your products.
Packaging and shipping are an extension of customer experience. Receiving products in a damage-free and neatly packed packaging conveniently and quickly adds to the customer's affinity to your business.
Thus, it's crucial to take your ample time and make sure you've purchased the appropriate packaging supplies, selected the best shipping service for your requirements, and factored shipping costs into the pricing model.
Depending on the number of orders you are delivering to your customers, you will require a specific style of packaging. Buying different box sizes to account for all potential scenarios can be a wise choice.
Look into any policies the shipping business may have regarding the shipment of food and beverages before choosing them. Additionally, confirm that they can ship to every location you plan to sell to, ideally at a fair price!
It's important to get this right in the beginning itself because doing it incorrectly could result in significant difficulties and unexpected fees in the future.
6. Develop content for your online store
Once your store is ready, you need to make people aware of what it is that you are offering. And this is precisely why you need to pay heed to marketing your store online.
Content is king if you wish to sell anything online (including coffee). Your content should communicate the story of your brand, offer the customer pertinent information, and inspire confidence and trust.
There are multiple ways of promoting your business online. Thankfully, there are many tried and tested methods you can use. For your online coffee business, you will need to produce the following categories of content:
High-quality images
Provide plenty of high-resolution images of your coffee on your website since customers like to see what they're purchasing before they buy. Aesthetically pleasing and engaging photos should be used to entice customers.
Product descriptions
Ensure that each coffee product's flavor characteristics are described in-depth in the product description. Potential customers will be engaged and assisted in selecting the ideal coffee through compelling copies.
Social Media
Marketing on social media can be the link between getting the coffee from your store into the hands of your costumers.
Creating engaging and interactive content around your brand and publishing it on platforms like Facebook, Instagram, TikTok etc.
But it doesn't stop at just posting on social media platforms. You will also need to engage with them on a daily basis to create brand awareness, cultivate customer relationship and keep engagement steady.
Provide value-adding content while entertaining your audience. Don't forget to try your hands at different content formats, especially the ones that the algorithm is pushing more aggressively.
Paid Ads
If you have the budget to spare, why not invest in paid ads to reach more of your target audience quickly?
Unlike marketing tactics like SEO, social media marketing etc. that take a long time to show results, paid ads is a quick and efficient method of online marketing.
You can run social media ads on any platform of your choice for as long as your budget permits or your goal with it necessitates. You can either invest in social media ads or search engine ads. Make sure you properly segment your audience before running these ads to get the most return from your investment.
Email Marketing
Tale as old as time, email marketing is a tried-and-tested method of meaningfully engage with your audience. Although it might take some time for you to curate a mailing list, but once done, you can share valuable information with your customers and hand out exclusive promotional deals and offers etc.
Search Engine Optimization
Search engine optimization is the best method to drive high-quality traffic to your store and make it rank high on search engines.
Here are some easy ways to make your store more SEO-friendly:
Use specific and high intent keywords.
Optimize your site's loading speed and make it mobile- responsive.
Make your site's content interesting and engaging.
Publish blogs to create awareness about and promote your products.
Optimize your titles and meta descriptions.
FAQs and resource pages
Your clients' inquiries about topics like shipment times and coffee varieties are addressed in a FAQ. In order to emphasize the quality of your coffee on such pages, it is also worthwhile to display any certifications or accreditation you may have.
The About Us and Contact Us pages
On the About Us page, give your customers all the information they'll need to understand the background and unique characteristics of your coffee shop. Include a contact page as well, so that customers may find out how to reach you.
Other written material
Establish your brand voice and tell your company's narrative via sales copy, blog articles, and other written content. Customers will feel more connected to your coffee business if you have compelling and engaging written content, which will also increase sales.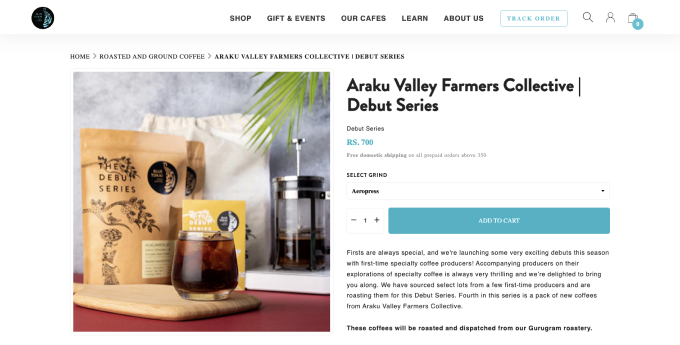 7. Set up your online store
The defining characteristic of your internet café will be your digital platform.
In order to draw passing street traffic and encourage in-store transactions, cafés must pay their rent and maintain a desirable physical appearance. Platforms on the internet are no exception. Online shops need to be developed and maintained with the aid of technology, and they need to produce engaging content to draw visitors and generate sales.
When it comes to creating an online storefront for your business, there are various options: marketplaces, eCommerce platforms and website builders.
Although marketplaces and website builders are good choices, they do not give you full control over your business processes or provide eCommerce functionalities needed to scale your business into a brand. Moreover, these marketplaces are also densely populated and subject to algorithmic changes.
Dukaan is a one-stop web platform that streamlines the process of selling coffee online. You can use additional features, automate online payments, and alter the design and style of your online store.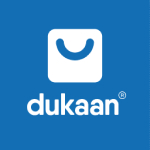 Launch, scale and manage your online business with just $14.99 on Dukaan. Annual plans start at $149.99 only.
Customize your store's terms and conditions, FAQ page, contact information, and shipment and return policies. Then, include your products, together with pictures and descriptions, to make sure that shoppers can quickly locate what they're looking for. Set up your shipping and payment options, and you are almost ready to begin accepting orders.
8. Develop your brand image
You may begin developing your brand once you are aware of all the details pertaining to the coffee you will be selling online. It is a crucial element of online coffee sales.
With so many coffee brands on the market, you'll need to have a brand that will make you stand out from the competition and connect with your target market.
Your target audience will recognize you right away, thanks to branding, which also highlights the qualities and principles that set your business apart. Ensure that you have the following in place.
A recognizable name
Your first major step is to give your coffee shop a name. The name you select for your company will affect its branding, including its logo, tagline, and marketing.
To come up with name suggestions, you can use a business name generator, or you could even do focus groups.
Make sure the name you pick for your brand resonated with your morals and vision behind it. And keep it simple; something that can be recalled easily.
A unique logo
An excellent logo is required for successful branding. Your logo should appear on everything, including the coffee packaging and your company's social media pages. Create a logo that is eye-catching, appealing, and original.
It is advisable to use your brand colors in your logo. By doing so, it makes it easier for your clients to recall your brand.
A powerful brand persona
The voice of your company and its visual branding both help to define its personality. Your choice of hues and design elements may influence how buyers feel. For example, red is typically associated with fierceness and passion.
The language you employ in your marketing and on your website will also give them a sense of how accessible, professional, creative, or playful you are.
Product images
Don't underestimate the power of product photography in luring your customer in placing an order. It is crucial to upload high-quality images of your coffee on your store. When selling online where the customers cannot inspect the product physically, your product images help the customer connect with your product.
Here are our top tips to click the best product photos:
Play around with different angles when clicking images. Try to get as many visual perspectives of your product as possible.
You can also shoot a 360° degree view of the product to give your clients the full perspective.
It's to click the images of your products against a white or plain background to bring out the contrast.
You can also stage your image by including props in your images or placing your coffee is a kitchen setting.
Product Descriptions
Product descriptions are great for both SEO and marketing. Apart from the images, your product descriptions will help paint a picture of your products and set expectations for what the customers should be expecting from the product.
Make sure your product descriptions are accurate, concise and contain all the necessary information you'd like to convey to your customers. Also include keywords that might help you rank better on search engines.
While writing product descriptions, it is also beneficial to include information like tasting notes and origins.
9. Marketing: Let the world know you are open to business
It's time to market your business once you've established your brand and store. Consider where you are most likely to attract the interest of your target market before starting to promote your coffee business there.
For the majority of brands, a multi-channel marketing approach will give the best results. This type of approach involves combining the following:
Social media
Social media is an extremely effective technique that can bring a lot of customers to your online store. Additionally, it promotes brand awareness and provides "social proof," which is a degree of legitimacy attributable to the fact that other individuals are following you and are interested in what you are offering.
Email marketing
Use email marketing to convert prospects into recurring clients. Send a message to the people on your email list. You may even consider giving subscribers a unique discount on their first purchase. It is helpful for both expanding your email list and retaining devoted customers.
Content marketing and guest blogging to draw search engine users' attention.
Paid Ads
When you run paid ads, the platforms you're using to advertise typically provide a detailed degree of targeting, such as your customer's location, preferences, and search terms.
By segmenting your audience, you can ensure that you're only spending money to reach the customers that are important to your company.
Search engine optimization (SEO)
SEO will raise the rank of your website in search results, which will help people find your business. Use SEO best practices, such as producing new and pertinent written content, developing solid links, utilizing relevant keywords, and integrating high-quality photos to increase website traffic.
Conclusion
This article has covered everything you need to know about selling coffee online. Remember that running a business, whether online or offline, is no easy task.
You may face certain difficulties while attempting to manage an online coffee retail business, and it may take some time before you see any success.
However, your rate of success will be significantly higher if you persevere through the procedure and remain persistent.
FAQs
1. Do I need a license to dropship coffee?
No, you do not need a license to dropship coffee. Dropshipping or selling coffee using an eCommerce platform like
Dukaan
makes the whole process easy and convenient.
2. Are online coffee stores profitable?
Yes, for sure. Selling coffee online is highly lucrative, especially if done right. The profit you make by selling coffee online depends on your product, the business model you choose (dropshipping, wholesale etc.) and how effectively you market it.
3. How do I sell my own coffee blend?
You can use a dedicated eCommerce store to sell your own coffee blend. Marketing your custom coffee concoction in a way that reaches fellow coffee enthusiasts is key. Our article expands more on how to sell coffee online.
4. What is a coffee subscription business?
In a coffee subscription business, customers agree to receive coffee delivered to their doorstep at predetermined intervals. This business model is quickly gaining popularity as it guarantees repeat sales. It is best to start a coffee subscription business using your dedicated store.
5. Can you sell coffee beans on Etsy?
Yes, you can sell coffee beans on Etsy, but we'd strongly recommend against it. A dedicated eCommerce store makes it easier to manage your customer base, communicate your brand's aesthetic, and build brand recognition when you sell coffee using your own store, perks you won't get in a marketplace like Etsy.