Ask anyone their thoughts on making money online, and they'll repeat the general consensus that it is uninspiring and laborious. If you too think that making money online is always strenuous and boring, we're here to challenge that notion with our list of 25 creative ways to make money online.
You probably landed on this page after searching for ways to make money. And you're not alone in this pursuit; we all need money for various reasons: to make ends meet, to pay off debt, to get extra cash, or to gain financial independence.
Here's the good news: If you are looking for fun ways of putting a few more dollars in your wallet, here's a list of 25 creative and simple yet effective ways to make money online and offline.
Drumroll, please.
25 Creative Ways to Make Money
The list includes requirements for each business idea by:
Business Type: whether its online or offline business and if its a product or any service-based business
Skills required
Tools/Platforms that are needed for the particular way to make money
You can pick one based on your interests, schedule, and flexibility.
1. Sell your unwanted things
Business Type: Product-based, online and offline
Skill: None
Tools/Platforms: Craigslist, Facebook or any online marketplace
Getting rid of a sofa? A bunch of clothes? An antique clock? Or just…stuff?
Sell them.
Go with a good old-fashioned garage sale or list them online. An online search will point you in the direction of marketplaces that want to buy what you're selling.
From cars and computers to shoes and sports equipment, you can literally sell anything at these sites. Consider these websites if you're ready to offload anything you're no longer using.
Facebook Marketplace
eBay
Craigslist
Etsy for handmade or vintage products
Choose your marketplace wisely. Some online marketplaces like Amazon charge a fee to sell products. Facebook, on the other hand, is free. If your sale picks up enough steam and you've got more products to sell, you might be able to expand it into your own online business.
2. Become a flipper
Business Type: Product-based, online, and offline
Skill: Refurbishing, an eye for cool stuff
Tools/Platforms: Online store
Flipping is usually associated with real estate. You buy a property, hold it for some time, and sell it for a higher price. But you don't have to buy properties to be a flipper.
You can flip plenty of products: clothes, electronics, antique items, and website domains. And you can do it from anywhere you get good Wi-Fi.
If you want to bring some IRL to your online sales, go to a yard sale or thrift store in your neighborhood and buy items on the cheap. Spend some time refurbishing your products, mark them up, and sell them for a decent profit.
You can also find free stuff put up by people on Craigslist or other marketplaces. Get them, refurbish and sell them for a higher price in an online store. You can use tools like Shopify, and Dukaan to create your own eCommerce store.
Remember, what you want to flip depends on
Your location
Product demand
Your personal preference
Your channel to buy and sell
If you want an asset with no physical inventory, flip website domains. Not all domains are going to get resold, if you make one right bet, you earn a good profit.
3. Start a dropshipping business
Business Type: Product-based, online
Skill: Marketing
Tools/Platforms: Online store/marketplace
Got nothing but want to sell? Not a problem!
Dropshipping's there for you. You can make profits selling products you don't have to stock.
Find a niche product that you'd like to sell. For instance, dropshipping store Meowingtons sells pet care products just for cats.
Identify a wholesale supplier of the product who will ship it for you.
List the product in an online store or marketplace.
When you get a customer order, get it shipped from the supplier.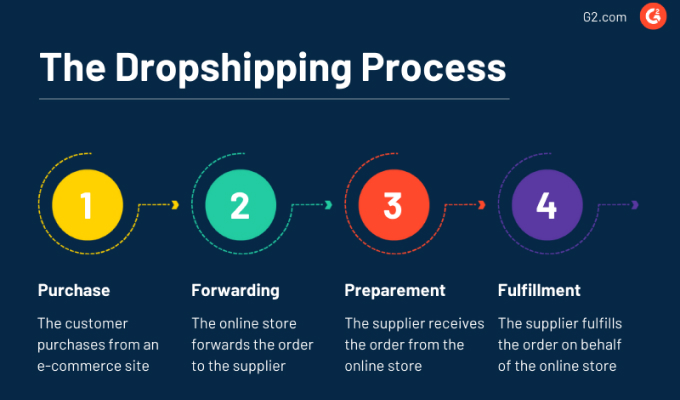 Buy the product at wholesale price and make a profit selling it at market price. Simple and straight, isn't it?
The best part is that you don't hold any inventory and you don't need much upfront investment. Just make sure you get the right supplier and marketing. If you have the budget, consider Facebook Market Ads or social media marketing to promote your products.
Pro tip: Have excellent product packaging. 70% of customers form their impression of a brand based on packaging.
4. Parking space or room: rent out your unused space
Business Type: service-based, offline
Skill: Maintenance
Tools/Platforms: Apps and websites that list available spaces
Got a room or parking space to spare? Rent them out. Create an online listing for your space. There are lots of websites like Airbnb where users can list rooms or houses, as well as websites for renting parking spaces like Parkingforlease and Spacer.
If you don't want to list online, spread the word across your neighborhood through posters. It's a low-maintenance way to receive extra income.
5. Pet sit or dog walk
Business Type: Service-based, offline
Skill: love of animals, proficiency with animal behavior, trustworthiness.
Tools/Platforms: Pet care apps and sites
If you love furry beasts, there's no better way to make some dollars than spending time with other people's pets.
Like Uber for cars, many apps and sites like Rover and Pawspace offer various kinds of pet care, like boarding and dog walking. You can list your services on these apps and get hired to take care of these animal companions.
It's not required, but certification in pet first-aid and CPR will help you stand out.
6. Sell printables
Business Type: product-based, online
Skill: Graphic design
Tools/Platforms: Canva, Vectr, Inkspace
Whether it's calendars, planners, or posters, you can create printable designs and sell them. Julie Berninger, for instance, gets over $1000 every month from her Etsy shop selling printables for bachelorette parties.
Here's a five-step plan for selling printables:
Decide what kind of printable you want to sell.
Create a list of your printable ideas.
Design your printable.
Try a test batch and make changes based on feedback.
Start selling them via a marketplace like Etsy, Shopify, or Sellfy.
Remember, you don't have to be a design god to create printables. Tools like Canva have thousands of free templates that can be customized. And once you design them, you can use it over and over without major changes.
Pro tip: Brand the products you sell with your logo, website link, and social media handles.
7. Test websites and apps
Business Type: Service-based, online
Skill: observation and communication skill
Tools/Platforms: Sites like UserTesting, Ferpection
Wait, don't skip this. It isn't a techie job where you are testing and looking for bugs in websites and apps. You simply review how certain online sites and apps function. You take a look at the apps or websites and see how easy or hard are they to use, what should be improved, and so on.
Just like other gigs, sign up on the apps that list sites that need to be reviewed. Some sites require you to pass a sample test before offering you jobs. While these tests are not difficult, take them seriously to get added to their roster of testers.
Here's a list of sites to get you started:
Respondent
UserTesting
Enroll
Ferpection
IntelliZoomPanel
Inuit User Research
TryMyUI
At a minimum, you need internet and a computer or smartphone. Some reviews require video and audio feedback, but you have the option to choose the review you want to give. So, you can skip the ones with video and audio if you're uncomfortable with them.
You can earn less than a dollar to $50+ by reviewing websites and apps. But many sites have a minimum amount you need to earn from reviews before you can transfer it to your bank account.
For instance, if you are reviewing sites via Ferpection, you can withdraw only when you have bagged a minimum amount of nearly $20.
8. Read books
Business Type: Service-based, online
Skill: Writing/voice talent
Tools/Platforms: Sites like Kirkus Media, Online Book Club, Booklist. Audiobook narration needs tools like a microphone, an audio editor, and a soundproof room to record.
This is a dream job for every bookworm in this planet. Of course, this involves some work, and is not all leisure.
You can review books you read and get paid. Apply to be a reviewer on sites like Kirkus Media, Online Book Club, or Booklist. You'll need to typically write a 150-350 word review about the book you've read. Once your review gets published, you get paid via Paypal.
Booklist, for instance, pays $15 for each book review. Pay from the Online Book Club, on the other hand, ranges from $5 to $60 per review and a free copy of the book you review.
Another way to get some cash is to become an audiobook narrator. Your first step is recording a demo reel as a sample of your voice talent. Then, you can sign up on sites like ACX, Bunny Studio, and Voices and search for opportunities to record.
If you find books that catch your interest, send your reel to get selected by the audiobook rights holder. Once you get an offer, you can take up the project and start recording. You get paid on a per-hour basis. Sometimes, you can also opt for royalty sharing with the book's rights holder.
However, audiobook narration requires some budget to get equipment like a microphone, an audio editor, or studio space.
9. Play Video games
Business Type: Service-based, online
Skill: Just play games
Tools/Platforms: Gaming platforms
In contrast to what your parents and high school teachers might have advised, you can rake in money playing video games you love.
There are apps like Mistplay, Rewarded Play, and Swagbucks that pay you with cash or gift cards to play games via their app. If you're an entertaining gamer, then you can make money live streaming yourself playing games on Youtube or Twitch.
What you'll earn depends on your viewership. But think about this – a Twitch streamer with just 10 viewers makes nearly $50 per month on average.
Another way to profit from your gaming abilities is by offering video game coaching services to interested amateur gamers. Gamer Natesha Amber, who plays Apex Legends, pulled in around $3000 a month after taxes as a video game coach.
10. Become a virtual assistant
Business Type: Service-based, online
Skill: basic administrative and clerical skills
Tools/Platforms: Internet connection and a computer
If planning and organizing is your cup of tea, then a virtual assistant gig might be for you. As a virtual assistant, you'll help business owners or individuals with administrative tasks like planning schedules, organizing meetings, managing emails, and perhaps writing social media posts and newsletters.
And since it's virtual, you can literally hustle from anywhere and work on your own schedule. Virtual assistants make anywhere from $10.16 to $29.49 per hour depending on the service.
To start, list the services you'll offer. Don't worry about starting small. You'll grow your skills and add services with experience. Look for your potential clients via sites like:
Flexjobs
Fiverr
Zirtual
Belay Solutions
Magic
Tip: Get referrals and testimonials from your clients. This will boost your reputation and land you more clients.
11. Review music
Business Type: Service-based, online
Skill: Listening and observation
Tools/Platforms: SliceThePie, HitPredictor, Radio Earn
Listen to bands and get paid. Sounds like music to the ears, right? Websites like SliceThePie and HitPredictor pay to get your opinion on songs. For every review, you'll either get cash or earn points that you can redeem as cash or gift cards.
You'll need to hit a minimum threshold of points or cash to transfer them out. SliceThePie, for instance, allows withdrawal once you hit $10.
There are also sites like Radio Earn and Current Rewards where you can sign up and listen to radio stations to pocket some dollars. On Radio Earn, for instance, you get points every 15 minutes depending on the radio station you are listening to.
These points are converted to dollars the following month and paid out as cash, gift card, or bitcoin.
12. Try Print on demand
Business Type: Product-based, online or offline
Skill: graphic designing, marketing
Tools/Platforms: Preferably your online store and print-on-demand platform
Remember dropshipping a few items ago? Print on Demand is dropshipping but with customized products.
From teacups to t-shirts, backpacks to phone covers, you can put your designs on everyday products and sell them online. The best part? You don't have to store or ship the products you are designing for, print on them, or ship them.
Print-on-demand platforms like Printful, and Printify will do that work for you. Select a product to customize. Consider designing T-shirts, posters, photos, mugs, laptop cases, caps, tote bags, or hoodies.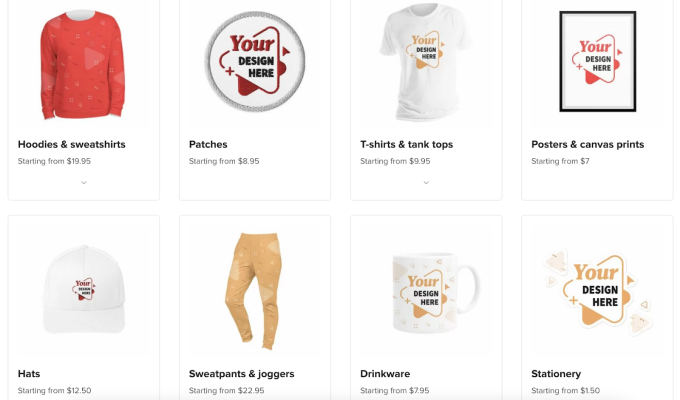 Create custom designs to print on products. Generate mockups of the product, preview them or get a sample. Ensure the quality of products and then promote them through your own website. Once you start getting orders, the companies will get the product ready with your design and ship it to customers.
Mike Pasley, the founder of Famous In Real Life, made $700,000 in just a year of launching his print-on-demand apparel business. But that amount of money doesn't come without lots of hard work. "I haven't found eCommerce by chance," explains the founder, "but rather built up the skills over a long period of time. Starting something that I already had the skills for was very important."
13. Teach or tutor online
Business Type: Service-based, online, and offline
Skill: Teaching
Tools/Platforms: Online teaching platforms
If sharing knowledge is part of your skillset, this one's for you. Teach what you know and get extra income.
There are several ways you can do this. Create your online course and sell it on websites like Udemy or Teachable. Pick a topic of your expertise and something students would like and start teaching.
Julie Berninger, who launched a printable on Etsy, created her own course about earning passive income on Etsy with business partner Cody Berman. The course has raked in more than a million dollars in annual revenue.
If you're not interested in creating online courses, you can sign up on platforms to tutor. Specific qualifications required to become a tutor will vary across services. It also depends on the course type and level.
Apart from maths and science, there is also high demand for English tutors for international students.
Business Type: Service-based, online
Skill: creative, marketing
Tools/Platforms: Your social media accounts, editing skills
If you're a content creator, there are big bucks to be made on social media. A nano-influencer with 100010,000 followers gets on average $901 for a post.
Earning the influencer status takes a little more than the occasional TikTok video or Instagram Story, so be mindful when selecting your niche. It should be something you like and do well, and at the same time something that can pull in an audience.
Share high-quality, knowledgeable content consistently and grow your fanbase. Teach, entertain, review, or just be awesome. Once you create a solid following, you can make money online in a number of ways, from sponsored posts to brand collaboration.
15. Start a YouTube channel
Business Type: Service-based, online
Skill: Creativity
Tools/Platforms: YouTube, video editing software
Become a Youtuber. It's a great way to earn money if you produce engaging content that attracts a large audience.
To be clear, we aren't talking about MrBeast and PewDiePie who earns from millions of subscribers. We're looking at many small and mid-size YouTubers that cater to a specific group of audiences and get income routinely.
An average monetized YouTuber makes $0.18 per ad view, bringing in $18 for every 1,000 ad views. That translates to about $3 to $5 per 1000 video views.
Apart from ad views, there are other ways to profit on Youtube like:
Selling products or merchandise in your videos
Letting your audience support your work via Patreon, Paypal, or Superchat
Working with brands as an influencer, or trying affiliate marketing
Licensing your content to the media
16. Start good ol' blogging
Business Type: Service-based, online
Skill: Writing, Creative
Tools/Platforms: Blogger, WordPress, Weebly, or any blog creator, SEO tools
Passionate about a topic and have an interest in writing? Start blogging. Be it cooking, fashion, tech, finance, or home decor – share your thoughts, ideas, tips, and tricks. Keep creating great content.
Once your content starts driving traffic to your site, you have plenty of options to earn.
Take a look at the ways to make money with your blog:
Affiliate marketing
Advertisements
Sponsored content
Guest blogs
Sell Ebooks or guides
Sell space in your blog's newsletter
Create online courses in your niche
Offer premium content through subscriptions
Accept donations
Flip the blog
Thousands of bloggers are earning a pretty sweet payout. So try it and see if you have a knack for it.
Tip: Try using SEO software like Ahref, SEMRUSH, and Moz, which have free and paid tools to analyze your site and build your blog so it brings traffic to your site.
17. Become a freelancer
Business Type: Service-based, online
Skill: any skill you have, like writing, editing, designing
Tools/Platforms: Freelance marketplaces like Upwork, Fiverr, Toptal, Freelancer.com, People Per Hour
Got a skill? Sell it as a service.
Millions of businesses are looking for skilled people to solve their problems. From designing and content writing to data analysis and programming, there's a demand for all kinds of skilled people. Freelance platform Upwork alone gets 10,000+ freelance opportunities every day for over 5,000 skills across 100+ categories of work.
So build a portfolio of your work and get on freelance platforms like Upwork and Fiverr.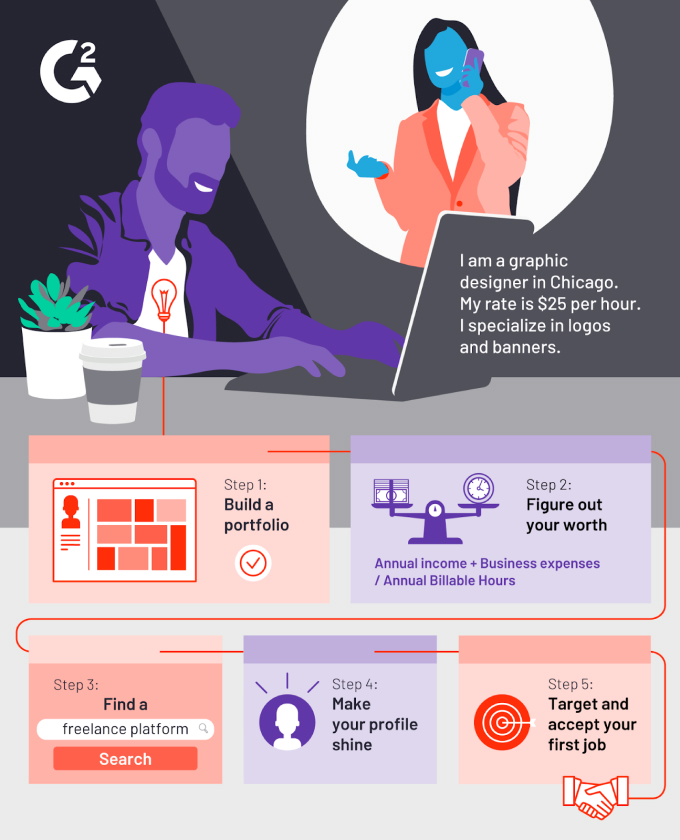 Here are a few most popular freelancing jobs in 2022:
Software developer
Writer
Digital marketer
Web mobile developer
Graphic designer
A word of caution, though. Freelancing has its own set of challenges from finding clients to getting paid for your work.
"Working as a freelancer means you'll be chasing down at least one client a week who owes you money," says Aisha West, a copyeditor and former freelance.
18. Become a mystery shopper
Business Type: Service-based, offline
Skill: Observation skills
Tools/Platforms: Market Force, BestMark
Like shopping? Then get paid to do it by becoming a mystery shopper.
Retail stores, restaurants, and other businesses are looking for people who will check the standards of their stores anonymously to improve their customer experience.
All you need to do is register yourself with platforms like Market Force or BestMark as a shopper. You can even find mystery shopping jobs on notice boards like Indeed.
Once you register, you'll get gigs to audit shops in your area and return reports. The pay usually depends on the audit gig you take up. While some companies pay with coupons or money, others provide reimbursement for the shopping you did as part of the assignment. So this option may not be a great income generator but it can help you cut some personal shopping expenses.
Also, watch out for scams. There are a number of sites pretending to be hiring mystery shoppers and asking for some payment upfront. If you come across those, stay away.
19. Take online surveys
Business Type: Service-based
Skill: Comfort with tediousness
Tools/Platforms: Survey sites like Swagbucks
Want to make money when you're waiting in line? Create a profile on sites like Swagbucks and start taking surveys. But remember, most survey sites pay for the time taken to answer a survey and they are often paltry – we're talking a few cents per hour.
It's only worth your time if you are taking them on the right sites, so stick with a few trusted ones, and keep taking surveys consistently.
Take a look at the kinds of sites that pay survey takers:
Swagbucks
Branded Surveys
Opinion Outpost
Valued Opinions
Life Points
Survey Junkie
And remember, you have to earn a minimum amount before you can cash out. But, getting that minimum amount can take hours of doing surveys.
For instance, Swagbucks gives $1 for every 100 SB points and most of their surveys pay around 50 to 250 SB points. So it will take quite some time before you get enough points to cash out.
20. Web search evaluator
Business Type: Service-based, offline
Skill: Research and analytical
Tools/Platforms: Desktop or laptop with high-speed internet
Search engines like Google are always looking for someone to rate their search results through companies like Appen and Lionbridge. Some of these companies require you to pass a test before hiring you, but the test has explicit instructions about what you need to do. Once you're in, you'll need to evaluate and rate whether the search results are relevant and useful.
The pay of search engine evaluators ranges from $10 to $17 per hour in the United States. It's an interesting side hustle for those who want flexible part-time work from home.
21. Refer products (Affiliate marketing)
Business Type: Product-based, online
Skill: Marketing, content creation
Tools/Platforms: Blog or other social media platforms
You promote a few products with links, and every time a person makes a purchase with the link, you get a commission. Simple, right? This is affiliate marketing.
If you're already into social media marketing and blogging, this is a great way to earn big bucks online. Sign up for affiliate programs or networks that promote products in different areas of interest like retail, finance, or travel.
Depending on what services or products you want to focus on, choose your affiliate program. Remember, what you earn depends on how many clicks your referral link gets and this comes directly from the audience you attract.
It pays (literally) to create engaging and informative content that grabs people's attention in the topic of your choice.
Here's a list of affiliate programs you can explore:
Amazon
Impact
Awin
Commission Junction
FlexOffers
ShareASale
ClickBank
Skimlinks
Tip: Focus on building relationships with your audience rather than selling products when you start. Once your audience trusts you, they'll be more open to your product recommendations.
22. Take part in research groups
Business Type: Service-based, online or offline
Skill: Communication
Tools/Platforms: Fieldwork, Focusgroup.com, Fieldvoices
Participating in focus groups is another way to make cash. You participate in research, discuss topics, or answer questions from the researchers and receive payment.
You can register yourselves on sites like Fieldwork, Focusgroup.com, or Fieldvoices to find opportunities to participate in research studies.
Remember, most of these researchers target a specific group of people based on age, industry, regions, and other demographics. So you might not qualify for every research that's available. But you'll get those that closely match your profile and interests, and the pay is typically better than what you'll get for online surveys.
Also, keep in mind that most of these research studies take some time before processing your payment.
23. Become a local tour guide
Business Type: Service-based, offline
Skill: Deep and obscure knowledge about your city and enthusiasm to share it
Tools/Platforms: Sites like Showaround
Do you have a great knowledge of your city, local foods, and cultural traditions? Or perhaps you love history and know everything about local landmarks & sights. Maybe you know the coolest place that visitors always enjoy. If you do, great! Become a local tour guide, share your knowledge, and earn extra money.
You can create your custom tour on sites that connect tourists with guides like Showaround and ToursByLocals. You can also connect with local tour operators in your city to organize tours and bring in more cash.
The tours can be of all sorts – walking tours, bike tours, or a unique experience related to your place. Think about the special value you can offer and highlight it. Take a look at what people are offering and their rates on Showaround and other sites. This gives an idea of what you can charge.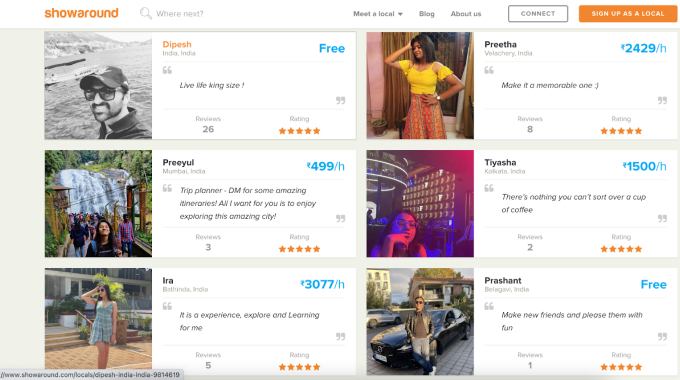 Tip: Be personal, tell a story, and build a connection with your clients. Make their tour memorable and ask them to refer you to their network.
24. Translate languages
Business Type: Service-based, online and offline
Skill: Fluency in at least two languages
Tools/Platforms: Fiverr, Upwork, Flexjobs
If you speak more than one language, put your skills to use then. Translation gigs can be found on different sites like Fiverr, Upwork, and Flexjobs, as well as on websites that specialize in offering translation services such as Translate.com, Gengo or Unbabel.
Some sites require certain level of fluency and expect you to pass a test before offering you the gig. Payments are usually on a per word bas and you can charge rates according to your fluency level and specialization.
25. Sell your art
Business Type: Product-based, online, and offline
Skill: Painting, drawing, designing
Tools/Platforms: Art-related tools and online platform to sell
If you love to create visual art in any form, turn your work into a money-making opportunity by selling them. Start by building your portfolio of artwork. Share it online on visual-heavy social media like Instagram, and Pinterest to create an audience.
As your following grows, slowly start selling your work. Be open to personalizing your art based on your buyer's needs.
Take a look at artists from all over the world using Instagram to promote and sell their artworks.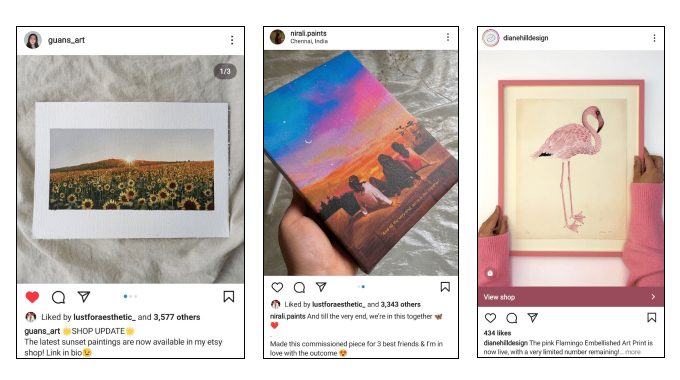 You can even make prints of your work and sell them on shops like Etsy, Shopify, or Dukaan.
If you're inclined toward education, you can design classes to teach aspiring artists how to further their skills. It's simple to sell these kinds of classes via Patreon or Buy Me A Coffee.
Another way to get money is to sell photos if your passion lies in photography. You can edit your photos and sell or license your photos online on stock photo sites like Shutterstock, Adobe Stock, and Getty Images.
Ready to Hustle Out of the Box?
As you can see, many ways to make money are out there, and they aren't all typical and boring. But remember, these methods take consistent effort, time, and hard work to gain momentum and generate revenue. Have patience and keep working hard as your passion and profit meet in unconventional ways.
---
Soundarya Jayaraman is a content community writer at G2.com. She loves to learn and write about the latest technologies and how they can help businesses. When she is not writing, you can find her painting or reading.