So, you want to sell sarees online but not sure how. You've come to the right place. Here's a guide that'll help you to start an online saree business easily.
Retail value of women's wear market in India is estimated be around INR 122,600 Crore (US$ 19.2 billion) in 2017, of which saree alone contributed nearly 33% amounting to nearly INR 38,000 Crore, this segment is expected to grow at a CAGR of 5%-6% between 2018 to 2023. (Source)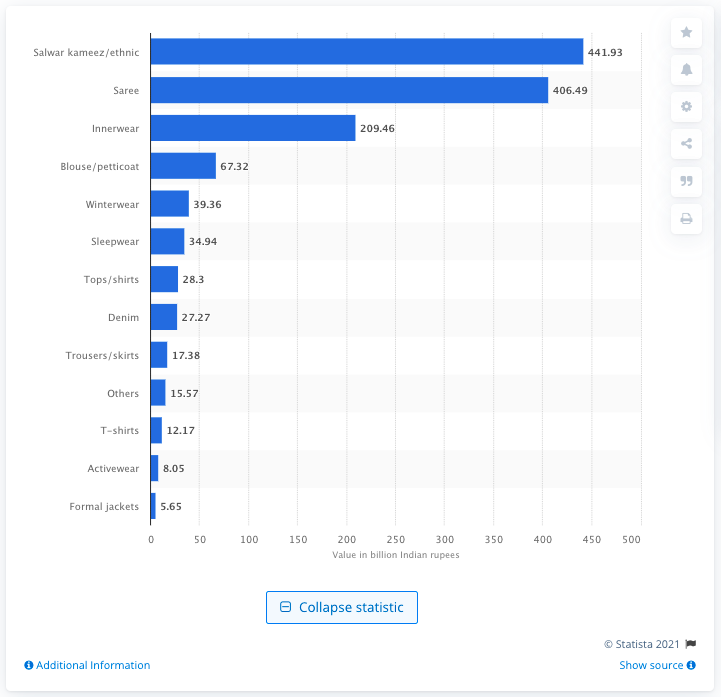 Sarees – a word that is synonymous with elegance and grace! In the last few years, sarees have bounced back to being fashionable and wowing the audience.
Today there are sellers of every kind of saree – machine-woven, hand-woven, naturally-dyed, vegetable-dyed, sustainably sourced and so forth.
This is an indication of the rising demand for sarees. And this apparent increase in demand makes this business profitable one in the current scenario.
A saree represents Indian culture and manages to bring out a woman's beauty in the classiest way. The versatility of this Indian wear needs no special mention, Indians are pretty much synonymous with wearing sarees. It's no wonder, the sarees are gaining popularity overseas too.
With the sudden surge in the demand for sarees, a lot of people consider starting a saree business – especially women. If you are one of those who has a love for sarees and might have remotely thought of owning a saree business at least at some point in life – this is an exciting time to kickstart that dream over Dukaan!
Before starting online saree business…
Yes, you have a great business idea that has the potential to succeed, but you need to do some homework before you start.
Here are some of the things to do and consider before selling sarees online.
1. Market research
Many businesses fail because owners fail to research the market well, or skip this step completely. Don't let this happen to your saree business. Research well on sarees, existing players, stats, demographics, and everything you can get your hands on about sarees. There are enough references and resources available online, free of cost.
Study the existing players, competitors and what successful businesses have been doing differently. This step is like the foundation stone of a house – the stronger it is the higher will be the chances of success.
There is plenty of statistics and data available online like these…
Statista – Women Apparel Market Size in India
India Retailing – India's love affair with Sarees.
YoutStory – Why the 15 Billion Dollar Saree industry has no single player.
2. Know the nitty-gritty of the business
Just because sarees are in demand, does not mean your saree business will reap profits instantly. You need to build your network of weavers, fabric wholesalers, artisans etc.
You will have to start asking the right questions to the right people – meet the regulatory body members to understand how the business industry is regulated – interact with peers to learn from their mistakes.
Attend/join relevant workshops/ groups to keep the learning and incorporation of your learning going.
3. Understand the product well
India is a diverse country and each state, and each region has its way of weaving sarees. The designs, colours, the techniques, the craftsmanship – everything changes with the region.
You can choose to specialize in selling selected types of sarees that you are aware and knowledgeable about in terms of its cultural origin, material, history, etc. As you progress, you learn more and can widen the categories of sarees you host in your online store.
4. Know your customers
The saree market is huge. With so many options and varieties already available in the market, selling to everyone will be a challenge. It means you need to work with a wide variety of saree weavers and across the country. It may pose logistical challenges in the beginning.
Going niche or profiling your customers will help you start small and grow into a bigger business with time. A detailed customer profile will help you understand your target audience better.
Make profiles and categorise them according to age, taste, buying capacity, etc. This way you will get an analytical view of your potential buyers.
5. Where to source sarees from
Your business won't succeed until you know the right saree manufacturers to purchase sarees. Along with the quality of the product, you also have to consider their price and their ability to supply products according to the demand.
Choosing manufacturers who can maintain a constant supply of sarees is crucial. Your customers will look for new varieties and a manufacturer who can keep up with that demand, would be an ideal match for your saree business success.
6. How to sell sarees online
Doing business online is different from doing business offline. Let's consider some of the differences that actually work to your advantage of running an online saree business.
Services like – online payments, generating receipts, emailing them, refunding customers, taking complaints, marketing, and following up – it's all in one place, over your chosen Dukaan platform.
While it is a completely different world, your Dukaan store provides you with all the technology stuff you need to to start your own saree business from home.
With Dukaan, you can start your online store easily in 4 simple steps.
Step 1 – Sign up for Dukaan – Web Version | Android App | iOS App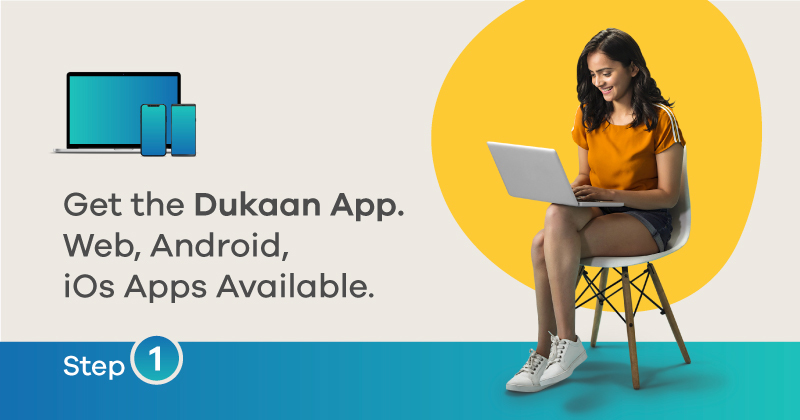 Just give your mobile number, verify OTP and you're in.
Step 2 – Choose your store name and category.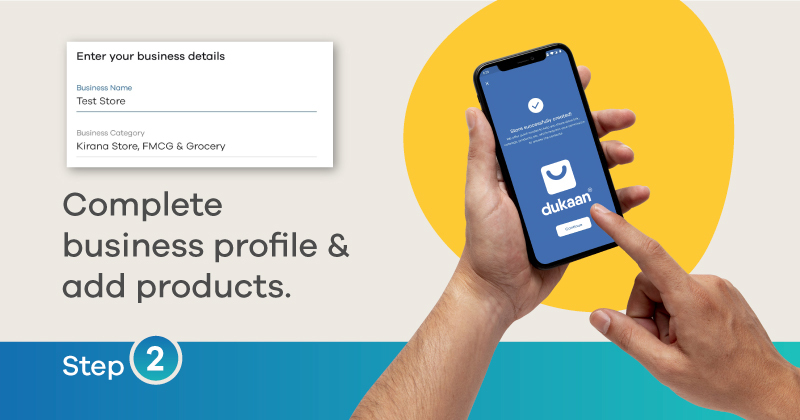 Step 3 – Upload your products.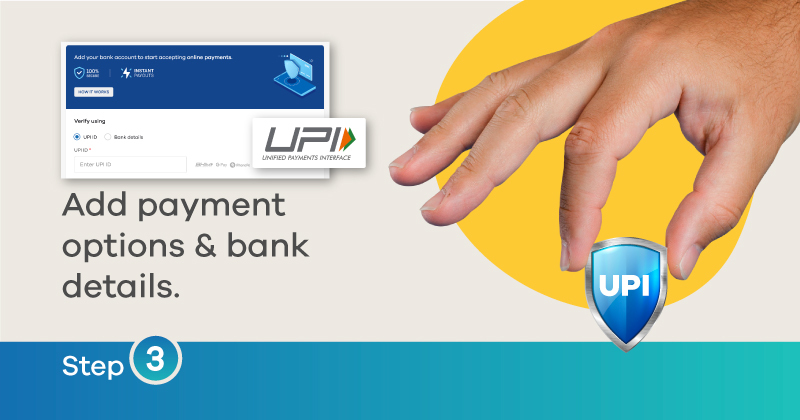 Step 4 – Promote your Dukaan store.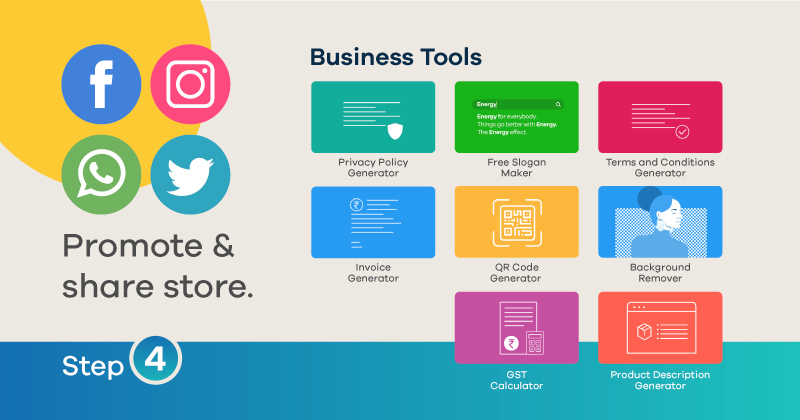 Simple! Isn't it?
Dukaan is here to help you get started and support you in your journey of setting up a successful online business selling sarees.
Here are some amazing saree stores running on Dukaan.
How To Start Online Saree Business From Home
Now that you have done the homework, let's spring into action!
Planning and budgeting
Based on the research you did on sarees, chalk out a business plan for your online store.
Determine all the costs that are going to be involved. If you are planning on taking a business loan, you need to have a thorough plan and numbers to back it. Ideally, a Chartered Accountant's advice will help you and your business a long way with the planning.
Register your business
Registering a business has become quite easy in this digital age. As long as you have all the relevant legal documents, it is a hassle-free process. You can complete your registration process online and get your business's GST number, Udyog Aadhar, and PAN.
Registering a business brings credibility, and also makes your business a legal entity. Customers are more likely to buy from an online business that is verified by registry, and can be trusted.
Plan your logistics
Even though your saree business is online, you will need a physical space to store your goods/products safely. Finalise a location that is cost-effective and well-connected to ship the sarees to customers and receive shipments from manufacturers.
Many business owners start off by storing the sarees at home to save costs, and then find a storage space after their business has expanded and they have made sizable profits.
Tip: On Dukaan, we have integrations with shipping and delivery companies like Dunzo and Shiprocket. Once your order is ready to be shipped, the representatives will come to your home/warehouse and pick up the order automatically.
Marketing plan
Create a plan that covers online and offline marketing. Even though your business will mainly be online, offline marketing is important.
Word of mouth reference is still one of the top ways to get the word out about your business, also plan for affordable offline marketing activities like pamphlets, paper inserts, catalogues, and brochures. Their distribution will help with spreading the word about your online saree business, fast.
In your online marketing plan include social media marketing, search engine marketing, search engine optimization (SEO).
Also, plan for discounts and offers as they play an important role in attracting customers and in boosting sales.
At Dukaan – Marketing Designs help you to promote your stores by giving you pre-built designs like business cards, WhatsApp Stories, and Store Banners.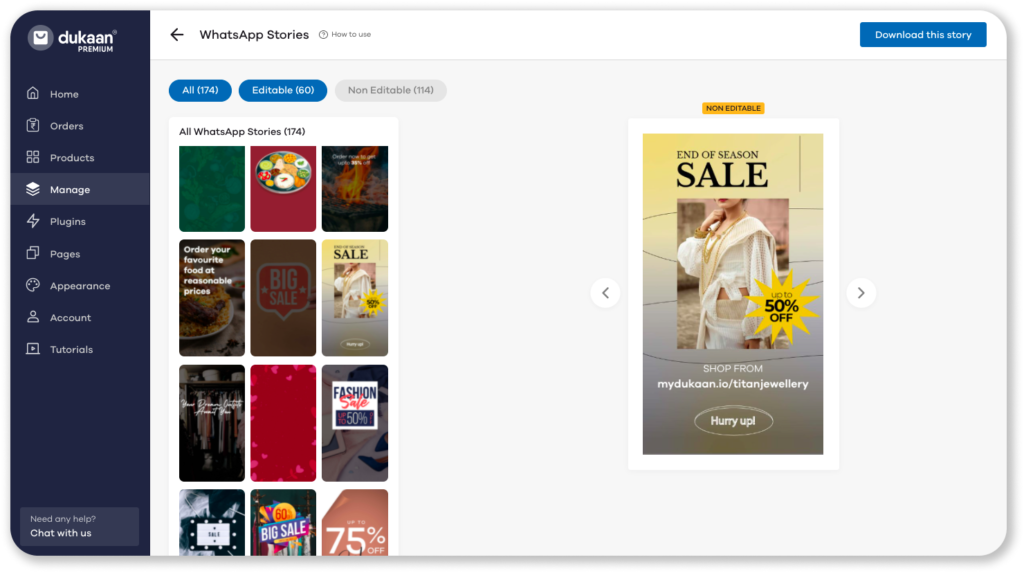 Different Models Of Saree Business
Before you start an online saree business from home, you should know various business models of a saree business:
1. Wholesale saree business
The wholesalers buy sarees in bulk directly from the manufacturers and sell them to retailers. They tend to have large storage facilities where the sarees are stocked. They mostly sell in bulk, but some even operate their retail saree stores. This is more of a seller-to-seller model.
Click here for more wholesale business ideas.
2. Retail saree business
This is a model where you sell directly to the customers. Retail stores are mostly located in shopping-specific areas and retail malls for ease of access. Go to the store, try, buy, and pay. This model is that simple.
Click here for more retail business ideas.
3. Etail saree business
This is an eCommerce website from where customers can buy sarees. Many saree businesses have their own online store, while some take the help of eCommerce platforms like Dukaan to open their online saree store. Etail involves- logging on, browsing through, buying, and getting home delivery for the purchases – this is how this model works. If you are looking for best eCommerce platforms in India, here are some options for you.
Etailing is the way forward as the pandemic has forced people to stay at home. Also, there is nothing that beats the comfort of shopping from home – enabling your customers to do so will prove to be critical to the success of your business.
4. Home-run store
This model functions very much like a retail model but instead of a shop, the sarees are stored in the house of a seller. This is normally done on a very small scale. Customers either visit the seller or the seller takes the sarees to the customers – either way, this model operates with minimum scalability. This model thrives on word-of-mouth marketing.
5. Social media store
While this may seem to be an easy way to get your store up and running, it is not recommended. Many sellers make the mistake of starting a business on social media platforms due to the low costs involved.
But this route has seen to backfire. A lot of critical operations like online payments cannot be managed in this model making it a disastrous experience for first-time sellers. While social media channels may offer a great platform to market your products, they must not be the sole channel for you to sell.
A better way to approach this, is to start your store on Dukaan, and use the social media platforms to redirect traffic to your online store.
Due to its ever-growing demand, several housewives and small retailers are entering the saree reselling business to make quick bucks. Learn how to start an online reselling business.
Marketing Tips
Marketing is a key aspect of starting an online saree business from home. It has a great organic reach and affordable paid promotions.
Social media pages can also be interlinked for better reach, so make sure your online business has the following social media pages and that they all lead to your online store.
Facebook
Facebook page is the first thing to have in your online marketing kit. You can publish your catalog of sarees here and keep making regular posts and videos about your products. Remember to be unique and creative with your posts, as it is the best way to attract customers and motivate them to shop your saree store.
You can also list your Dukaan store link on the facebook page to invite customers to shop over your online saree store.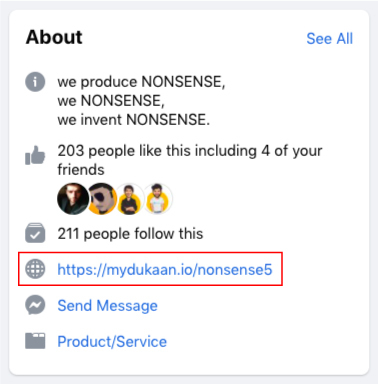 Instagram
Instagram is the place to be today! Many businesses are fighting it out on Instagram to grab the attention of buyers. From styling tips to drool-worthy pictures – you got everything here.
Use the right hashtags for your products and see a spike in your store's reach. You can also create stories and reels for a better reach. Instagram for business offers analytics and related services to help sellers market their products better.
You can also list your Dukaan store link on the Instagram page to invite customers to shop over your online saree store.
Pinterest
Yet another strong visual medium where good pictures of your sarees can work wonders for your business. Upload beautiful pictures and link it well to relevant sources including your Dukaan store, blogs, styling tips – whatever it is – this is a platform where a picture speaks volumes.
Build your followers here. The more pictures your followers pin/ save/ share, the more eyeballs you gain!
YouTube
We humans are natural aesthetic lovers. A lot can be done on YouTube as there are no limitations in terms of duration. Along with paid promotions, you can also get great organic reach here; using visual tools to spread the message of your online saree business far and wide.
Twitter & LinkedIn
Although these are more professional platforms, and the profiles of the audience may starkly vary, one could creatively leverage these channels to talk to the consumers there. Using the right hashtags, networking with your peers, piggybacking on trends, and creating a leadership voice are a few things one could do on these platforms. Having a presence across all the channels will add to your brand's SEO.
Summary
Sarees have always been a popular choice, making a saree business a lucrative venture. Take into consideration the above elements on how to start online saree business from home, and you may be running a successful saree business in just a few weeks!
Success takes hard work. It may demand a few sleepless nights- putting in a lot of effort into starting, managing, and growing the business, but in the end, it will all be worth it.
All the best!