If you have a passion for fashion and an entrepreneurial spirit, this detailed guide is all you need to learn how to sell clothes online effectively in seven simple steps.
Fortunately in the world of eCommerce, you don't have to be Gucci or Zara to make money in the clothing industry.
According to Statista, eCommerce revenues from sales of clothing and accessories in the United States hit $180.5 billion in 2022, and by 2025, they are expected to reach $295.7 billion. With growth drivers, including digital platforms, increased internet access via smartphones, and technical advancements, it's no surprise that the online fashion industry has exploded.
In today's digital landscape, all you will require is a smartphone, basic field knowledge, and plenty of persistence to make good money selling clothes online. eCommerce presents an enormous potential for businesses of all sizes to start selling clothes online without the costs associated with setting up and running traditional brick-and-mortar businesses.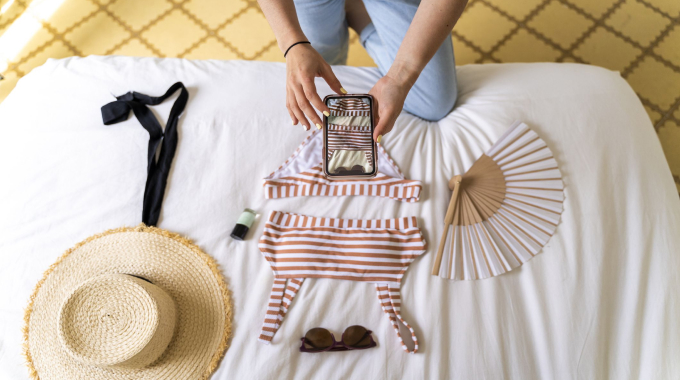 So, if you're interested in setting up a business in the fashion industry, more specifically in clothing, there are many opportunities to get in on the action.
Selling clothes online is an excellent way to make money or launch a full-time business, but starting an online clothing store can be intimidating.
But don't worry, our guide is here to make this daunting process straightforward for you. We have also included some actionable tips for selling new and used clothes online, so keep reading till the end.
How to Sell Clothes Online & Make Money!
1. Pick a niche
Your apparel niche will directly impact your business plan, prospective buyers, and how you will position your online store. So, choosing a niche is an essential step when planning to sell clothes online.
Instead of attempting to sell clothing to everyone in every demographic, focus on something specific that's in line with your interests as well as business goals.
Keep the following four points in mind as you consider your options:
Be one-of-a-kind. eCommerce stores are plentiful, and if your clothing line is the same as everyone else's, you're probably going to get lost in the crowd.
Choose a niche you are interested in. Consider the types of clothing items you buy, the things you want to see available on the market, and the products you'd be excited to wear.
Consider whether you can add value and establish yourself as an authority. Look for gaps in the current market where you can make an impact or add value. For instance, you can consider starting a fair trade or nonprofit line of clothing if you have experience in social work or sustainability.
Check if the niche has a high earning potential. Search for a place to insert yourself or a distinct value proposition to allow your business to grow your clothing business and make money.
2. Set up a business model
There are 4 business models to consider for an online clothing store. Each one has benefits and drawbacks. We'll go over each one in detail below so you can determine which one is best for your online clothing shop.
Print on demand
This business model is ideal when you want to launch an online store as soon as possible with a strict budget. Print on demand is the simplest business model for selling everything (including clothes). All you have to do is print a custom design on a blank version of a clothing item with the help of a digital ink-jet printing machine.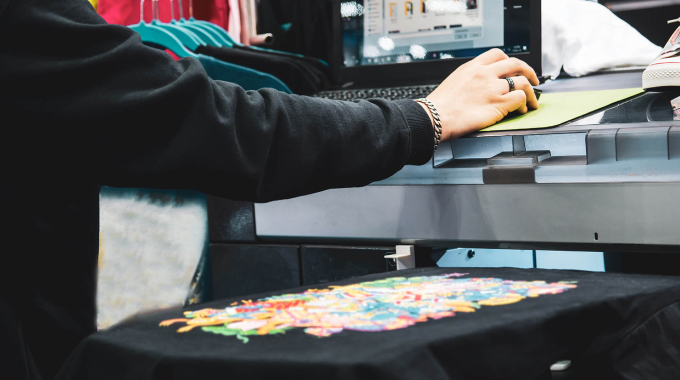 The main benefit of the print-on-demand business plan is that it is simple and inexpensive to implement. It is ideal for small businesses that deal with a small number of orders. There are a lot of print on demand companies that lets us sell customized clothing.
However, this business plan has a drawback: low-profit margin. So, if you wish to set up your online clothing store and are searching for a highly profitable business model, you should look for something other than print-on-demand.
Cut-and-sew
Cut-and-sew refers to a business model in which you design and produce your clothing products yourself. Many businesses make their clothing pieces in-house, whereas others create designs in-house but outsource the manufacturing.
This type of business model offers an excellent opportunity to introduce new and unique clothing products. But Remember that opening an online store with this type of business model may necessitate more financing and a thorough understanding of clothing design.
Private label
Private-label business models fall somewhere in the middle of cut-and-sew and print-on-demand. In this business model, you can collaborate with reputable manufacturers to get original products and sell them using your brand identity. Products are created, manufactured, and labeled for sale by a chosen third party instead of being designed internally.
In simple terms, you buy label-less pieces of clothing and then add your tag, custom design, or label to them.
This business model requires fewer expenses and work than cut-and-sew and offers more customization options than print-on-demand. The investment will still be significant since you must pay for the outsourced clothing pieces and their branding.
You will also have to handle fulfillment and inventory management yourself in this business model.
Dropshipping
A dropshipping business model allows you to sell clothing items directly from wholesalers, manufacturers, or suppliers. When a consumer places an order on your online store, you put a similar order on your supplier's website and give them the customer's address information. The manufacturer or the supplier takes care of the rest.
Dropshipping is a low-cost business model because you don't have to buy inventory upfront, store it, pack it, or ship it. If the know the tips to dropshipping successfully, it is a highly lucrative business model.
The main advantage of starting a dropshipping clothing store is that you don't need any capital to get started. A lot of platforms also come with integrated dropshipping plugin to help you provide clothing directly from wholesalers to your shoppers.
There are some drawbacks to using the dropshipping model. With this approach, it is impossible to create your own distinct brand because dozens of online stores sell the same products as you.
3. Build your own online store
Although there are numerous marketplaces where you can sell your clothes, you will be one of a thousand sellers selling similar clothing.
Additionally, selling on marketplaces won't help you achieve your long-term goal of creating a brand for your clothing company. Instead of being recognized as a unique brand, you will be connected with the marketplace's brand. Hence, the best way to sell clothes online is by starting your own online store.
Selling online becomes much easier and much more profitable with an online store. Selling clothing via your online store also allows you to gather client email addresses to use in email marketing for special promotions.
Plus, creating an online store is not as difficult as it may appear. You can create an online store without writing a single line of code using an online store builder like Dukaan.
Dukaan provides users with a huge range of themes and templates, plugins, and business tools that help users to customize their online store just the way they want. The platform offers marketing capabilities to promote your store, tools to track store visitors, and a dashboard to manage all the orders.
It also provides a free custom domain, so you don't have to worry about putting it up yourself.
You can contact the Dukaan experts via email, call, chat, or even social media to get assistance whenever needed.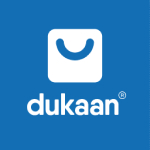 Launch, scale and manage your online business with just $14.99 on Dukaan. Annual plans start at $149.99 only.
4. Showcase your clothes
The next step is to showcase your clothing to your customers on your online store. It's critical to present your clothing pieces in a way that motivates buyers to purchase them even if they can not try them on.
You will need high-quality product images, detailed product descriptions, and a proper size chart for reference. These elements of your listing will help the customers make an informed purchasing decision.
Upload beautiful product pictures
People who buy clothes online don't have the luxury of trying them on. So it would be best if you used pictures to tempt them into buying.
Here are a few things to consider when taking product photos:
Click the pictures in natural light.
Click the pictures on a neutral or white background.
Get someone to wear your clothing like a model to click product pictures, and make sure you click images from various angles so your customer can get a sense of how it will look on them.
If the product has a pattern or design, take a close-up photo to show all the details.
Write informative product descriptions
Giving customers clear and accurate product descriptions allows them to make informed decisions. You will need excellent copywriting here.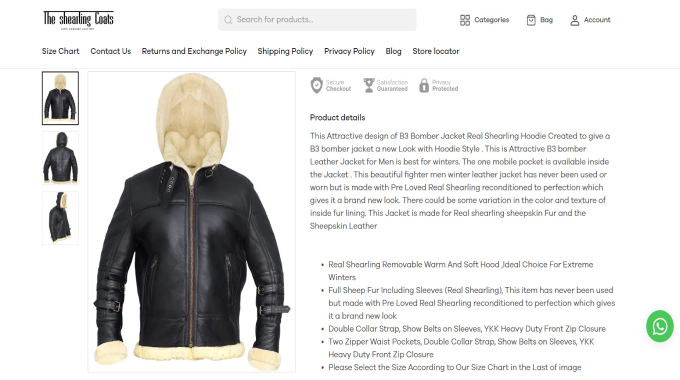 Write your descriptions in a way that will resonate with your target audience and try to provide answers to any query or concern they may have regarding the product. A good clothing product description should include the following:
Fabric type
Fabric care
Clothing pattern
Clothing style
Fit type
Colour
Length
Ornamentation, etc.
Add professional size charts
Incorporating professional size charts can help boost sales. Size charts will help your customer understand the exact measurements of the clothing item you're selling and will help you in minimizing returns happening because the customer ordered the wrong size.
Most importantly, it will decrease the number of size-related inquiries you receive from buyers. You can use Size.ly, a site that allows you to create free size charts and also offers automatic conversions of centimeters and inches for foreign buyers.
5. Price your clothes
The price of your clothing pieces is one of the most critical factors influencing online purchases. So it is vital to price your products correctly if you want to sell them successfully. What matters is that your customers find the price reasonable and an excellent value for the product quality.
However, you must understand that offering your clothing at a discount isn't always the best approach. Avoid listing your clothing items for very low or heavily discounted prices. If a deal appears to be too good to be true, it most likely is. Setting your prices too low will adversely affect your brand and the perceived value of your products.
Listing your items at a reasonable price will help you sell your clothes quicker and keep people interested. You can consider your competitors' pricing strategies and base yours on those figures.
Or you can set your own pricing strategy by considering the amount it costs to manufacture the clothing product, pack it and ship it to your customer, and the profit margin you wish to earn.
Remember to include any additional costs associated with the product, such as warehousing, labeling, and so on, in the pricing.
6. Packaging and shipping
Online retailers frequently overlook the critical aspects of packaging and shipping. But the truth is these variables greatly influence the customer experience. If the packaging and shipping go wrong, your customer experience goes down the gutter.
Packaging
Nothing is more frustrating than ordering something online only to have it arrive damaged. Therefore, always use protective packaging and, if possible, recyclable or reusable iterations.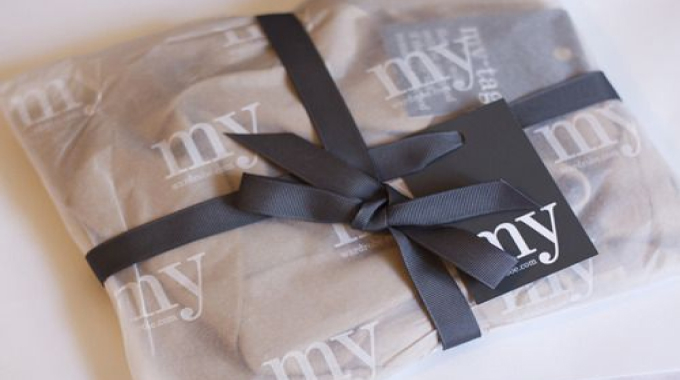 Packaging is also an excellent way to promote your brand. You can use packing materials in your brand colors and include your logo on each package. Even something as simple as a thank you note with your logo and brand name on it can aid you in establishing a relationship with your customer.
Shipping
When it comes to shipping, make sure you've partnered with a reputable logistics company. It will ensure that your products are delivered to your customers quickly and safely.
Ensuring prompt shipping and delivery is crucial in today's fast-paced world. People no longer place orders online and sit around for days waiting for them to arrive. They want to receive their order as soon as possible. They will opt for a different vendor simply because they offer faster delivery despite the fact that they like your products.
7. Market your clothing store
The final step in learning how to sell clothes online is to create a marketing strategy. There are many marketing strategies that you can adopt to promote your online store—some of the most important ones include the following.
Email marketing
Email marketing is regarded as one of the best ways to target customers because it provides significant value at a low cost (email marketing has an average ROI of more than $40 for every dollar spent).
You can send your customers promotions, discounts, and exclusive offers via email to entice them to buy from you. Additionally, emails introduce your brands to new customers and, over time, keep your customers returning for repeat purchases.
SEO marketing
Everything you publish on the internet, from blog posts to product descriptions, should be aimed at educating the audience and boosting SEO. High-quality content educates your audience and is a crucial component of SEO.
You really need to pay attention to SEO marketing if you wan your store's sales to take off. So, the more you write using the right keywords and key phrases, the better the chances of your store ranking higher on search engine result pages when your customers search for clothing.
Social media marketing
Social media plays a significant role in the success of eCommerce apparel businesses. According to a study, social media posts inspire more than half of Millenial and Gen Z clothing purchases. That is why it is crucial to understand effective social media marketing.
Social media platforms are great for interacting with customers and building brand awareness and recognition. Determine which platforms are better suited for which demographic groups. Pinterest, for example, is an excellent network for women aged 25 to 65, whereas Instagram is preferable for young adults and teens.
You can also choose which social networks to use based on your intended audience and the kind of content your audience will engage with the most. Platforms like Facebook and Instagram also allow you to sell your products directly to your customers.
So, consider social eCommerce if you want to make social media a considerable component of your marketing strategy.
Paid Ads
You can instantly connect with the people who are relevant to your clothing business with the help of paid advertisements.
Unlike SEO, social media, and email marketing, which depend on an audience gradually expanding over time, the number of individuals you can reach with paid advertisements is only limited by the amount of money you can pay.
Paid advertisements come in a variety of formats, including:
Social media ads: These include the paid advertisements like Facebook ads that show up in the social media feeds of your target audience. These ads are highly targeted and appear only on the social media feeds of your potential customers.
Search engine ads: Search engine ads are those types of paid ads that are displayed above search results on search engines like Bing and Google. Google ads are one of the most popular search engine ads. Google charges you a small fee every time a person clicks on your ad, also known as the pay-per-click (PPC) model.
Sponsored posts: Sponsored posts are paid ads that highlight your products at the top of product lists on popular online marketplaces like Amazon and eBay.
Influencer marketing
About 63% of consumers trust influencer messaging more than they trust brand messages. So influencer marketing is a terrific channel for promoting your online clothing business.
With influencer marketing, your message is delivered to your potential customers by individuals, more popularly known as influencers, who can significantly influence the purchase decision of their followers.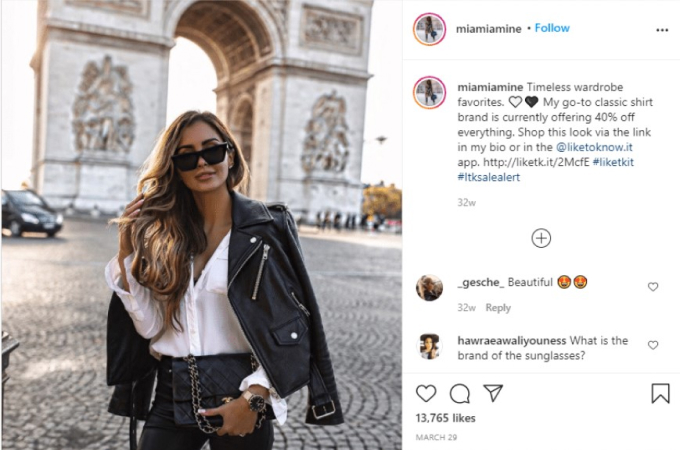 Choosing which platform(s) to run your influencer marketing campaign on is the first step in launching influencer marketing. Get in touch with an influencer to work with once you have selected a platform for your campaign.
5 Best Tips for Selling Clothes Online
1. Make your customers satisfied
Your customers will not return to purchase again from your store if they have a negative shopping experience. So make sure your customers are happy and satisfied by quickly resolving their issues, shipping orders, and responding to their queries.
2. Follow up with buyers
Always send a brief note or message to your customers after they have made a purchase and the order has been successfully delivered to them. These messages will help the shopper become familiar with your store.
You can send these follow-up messages via email to ensure the customer is satisfied with your product. You can also offer them special deals and discounts for their next purchase.
3. Pay attention to your web design
It may sound superficial, but appearance is important when selling clothes online.
So a poorly designed website can cost you more than you realize. Ensure your website design is engaging, responsive, and appealing to keep customers coming back. Consider adding personalized suggestions, virtual shopping assistants (chatbots), and mobile compatibility.
If you have ever seen a website menu and felt perplexed by the amount of subcategories, and then some more sub-sub categories, you're not alone.
Complicated menus can be perplexing, scaring customers away before they even see your clothes. So keep the navigation as simple as possible.
5. Provide popular payment options
Credit cards have been widely used for online payments, but now better options are available in the market, like Apple Pay, Google Wallet, and PayPal.
The "buy now, pay later," is another emerging digital payment trend which allows customers to pick a payment plan and pay for their purchases in installments rather than paying the complete amount upfront.
Conclusion
Starting a business of any kind is risky, but the online apparel market is definitely an excellent place to start. Starting an online store can be an easy route to success, with upward trends and multiple business models that allow for flexibility (and are affordable).
Backed by the ideal online platform and a solid business plan, there has never been a better time to bring your online clothing store dreams to life. But you must be patient. Take it slow, think strategically, and learn all you can.
And before you know it, you could very well be working as a retail mogul.
FAQ's
1. What is the easiest site to sell clothes on?
Swap.com and ThredUP are two sites where you can sell clothes with minimal effort. However, they charge a very high commission fee and other additional charges may apply.
2. What is the best way to sell used clothes?
The best way to sell clothes is by setting up your own online store. It will be a more hands-on approach compared to selling them on other online marketplaces. However, you will have complete control over products, pricing, reputation, branding, etc.
3. What's the best website to sell your clothes on?
Dukaan is the best website where you can start selling clothes online. It offers a 14-day trial period under which you can set up your online store, add products and launch it. You will also have access to most features during this trial period.
4. How much should I sell my clothes for online?
Pricing is an important part of every business and it needs a strategy that involves analyzing every cost involved and competitor research. If you are selling used clothes, you can price them at 25% to 75% of their original price depending on their condition.
5. Is it hard to sell clothes online?
No, absolutely not. You can get started on your online business in a matter of minutes. There are multiple aspects to running a successful business that may seem tough. However, if you are dedicated to your business, it is all doable.
6. Is selling clothes online profitable?
Yes, it is. However, it depends on where you have chosen to sell your products. If you are selling them on marketplaces like Poshmark and ThredUP, a lot of your profit may be caught up in commissions and late payouts. With your own online store, you can price your products as you wish and every penny of the sale will reach your pocket.