There is a constant rise in online jewellery store business around the globe. Since jewellery is an integral part of our attire, this article will make your life easier by bringing together 21 best online jewellery stores.
In a country as culturally diverse as India, it is common to see people have unique traditions when it comes to their attire. Each one of us dress and accessorize differently from the other.
Today, when we browse Pinterest for ideas to dress up, we find pictures that show trendy outfits teamed together with complimenting bags, watches, and footwear.
These ideas may all seem pretty and unique, however they are just a westernized version of our culture where we have been pairing our outfits with complimenting jewellery for centuries.
The Jewellery culture is so deeply instilled in people that even today, many of us do not step out of our homes without wearing some piece of jewellery or other!
History and evolution of Jewellery
People have been accessorizing themselves with jewellery for thousands of years, irrespective of their gender.
Back then, people made jewellery using seashells and animal bones entwined in plant based strings.
Following this, they made jewellery using beads made of clay or mud. They would create irregular shapes out of clay and color it with natural pigments. These beads would then be stringed together to create necklaces, bracelets, anklets and more.
This was then followed by jewellery made using natural crystals, beads and stones which were embedded in metals like copper and iron.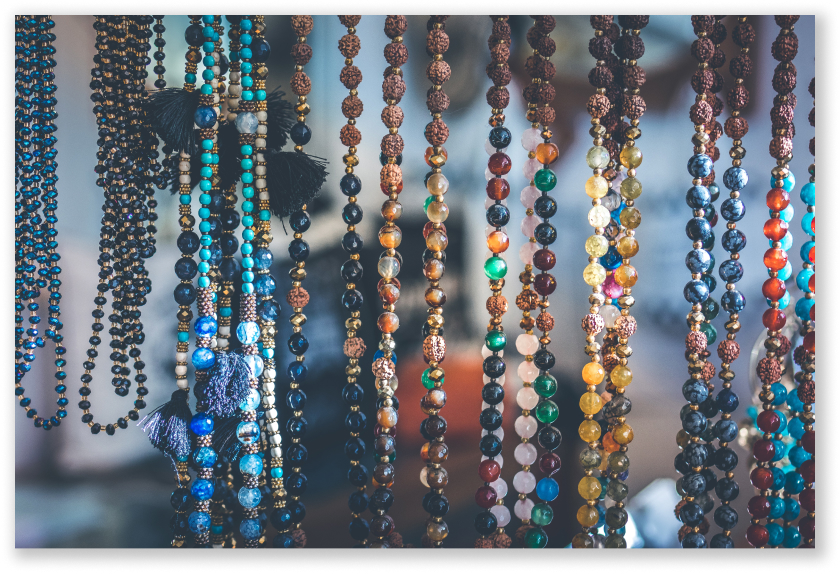 The most evolutionary change in jewellery making happened when we discovered metals like Gold and silver. Till date, when someone says the word Jewellery, we automatically think of gold and silver jewellery.
Rise in Fashion Jewellery Stores
As years progressed, people started seeing jewellery as more than just a means of beautification.
Since we create jewelleries using precious metals like gold, silver, etc. and precious stones like diamonds, emeralds, rubies, etc. every piece of jewellery has a lot of value attached to it.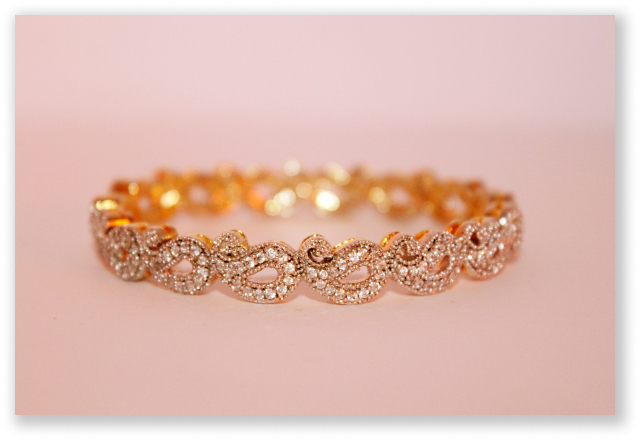 However, authentic jewelleries also have a lot of drawbacks. Not all of us can spend money on gold jewellery regularly. The designs also are limited for gold and silver jewellery. Customization and personalization are tougher and would cost a lot more.
To eliminate all these drawbacks, people started creating imitation jewellery and fashion jewellery. Today, fashion jewellery has become the revolutionary new method of beautification.
Since fashion jewellery is made using common metals and alloys, it is not as pricey as gold or silver jewellery.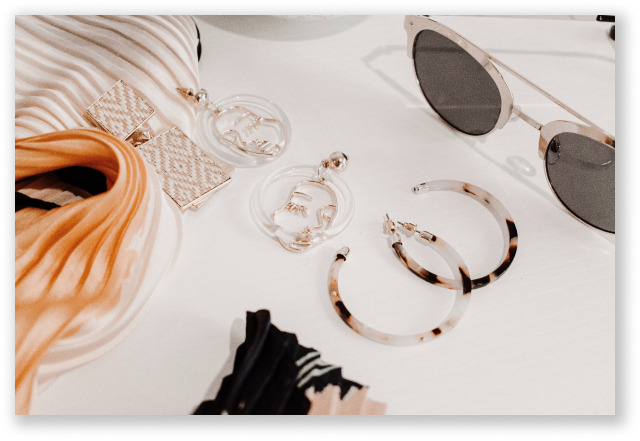 These metals are super easy to mould and design, hence you can find a wide variety of designs in fashion jewellery. Besides this, materials like colorful beads, threads, crystals, etc. are added so you can match your jewellery to your outfit.
Over and above all, jewellers can replace gold with a yellow metal and diamonds with zircon stones. The result would be an imitation jewellery that looks very similar to the real deal but costs only 1/10th of its price.
I am sure you see the appeal here!
Rise in The Online Jewellery Store Business
Ever since 2013, India has seen a constant 20% CAGR (Compound annual growth rate) in the fashion jewellery market every year.
In a market with such a steady demand for fashion jewellery, it is obvious to see a growth in businesses supplying fashion jewellery too.
As of now, the market is brimming to the brink with fashion jewellery stores that sell a range of products, from curated and handmade to mass produced.
Considering the increase in price of gold and silver jewellery, more and more people prefer everyday fashion jewellery to gold jewellery that they can wear only once in a while.
Fashion jewellery also gives you a chance to explore different styles and patterns like tribal, bohemian, indo-ethnic, indo-western, western and so on.
You can look elegant or bold or make a statement with your choice of accessories. Fashion jewellery gives you the opportunity to experiment with your looks, too.
21 Best Online Jewellery Stores To Buy Jewellery Online
1. Phuljhadi

This Jewellery store is truly the one stop shop for all jewellery lovers. They have a range of elegant jewellery sets at the most affordable prices.
They also have combo offers where you can buy more jewellery for a lesser price! What more do you need?
2. Cactuss.in by Vanshika Mohindroo

Resin artwork is kind of trending lately for their delicate and elegant look. It is retro and nostalgic.
This jewellery store on Instagram is run by Vanshika who creates really beautiful and one of a kind jewellery using resin, dried flowers and gold flakes. She also takes in custom orders.
These are some of the many online jewellery stores that have caught our attention with their cute and trendy collection of fashion jewellery and accessories.
3. Knot Me Cute
This store features the best range of statement jewellery pieces that have a bohemian twist to them.
Each piece of jewellery in this store is crafted with embroidery, mirror work, sea shells and more. This makes the jewellery look unique and eccentric.
4. This is Kinda Lit

This store on Instagram is known for their amazing zircon jewellery that are delicate and chic.
Check out their adjustable rose gold finger rings, which are all the craze right now.
5. Khvvaab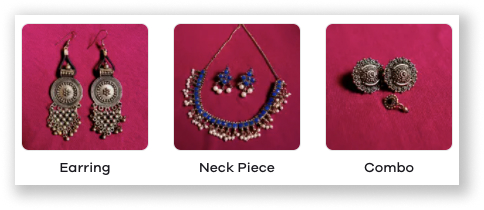 With a range of oxidized jewellery that adds elegance to your ethnic outfits, Khvvaab is an up-and-coming Jewellery store to look out for.
Here's what Sagarika had to say about Dukaan:
7. Aesthetic Jewels

Stacked necklaces, beaded necklaces and statement hoop earrings in this Instagram store cannot be missed!
The range is pretty extensive, and at the same time, they are very affordable too.
8. Shopxesthetics

We have all looked up jewellery trends on pinterest and pinned a lot of chic ideas. This store comes with a promise to turn your pinterest dreams into reality.
Owned and operated by Aditi Chitravanshi, bookmark this store so you can head over there every time you have a pinterest inspired jewellery idea!
9. Earrings For You Gurl

For carefully handcrafted fashion jewellery and statement pieces, you should check this Instagram store.
Their range of sequin jewellery is unmissable!
10. Seychelles By Khushi ®

This super sleek Instagram store is the hub of the trendiest jewellery. From statement and LOA rings to delicate neck pieces, every piece of jewellery in this store is eye-catching!
They also have a range of scrunchies that are worth checking out.
11. RUDRAKSH​ Art Jewellery

Rudraksh art jewellery is a gold imitation jewellery store that is dedicated to men. They sell the most stylish jewellery with a bit of spiritual element added to them.
Calling out to all men out there, head over to this store and I am sure you will love what you see.
12. Customize Jewels

Visit this store if you are looking for Hallmark jewellery made with certified gemstones, diamonds and Swarovski stones.
They make the jewellery using authentic 18Karat gold and silver metal. If you are not into imitation jewellery, this store is perfect for you.
13. Quirky Jewellery

As quirky as the name, the range of fashion jewellery in this store is very cute and elegant. They also sell scrunchies and other hair accessories.
14. The Jewel Galore

For an affordable range of trending jewellery, head over to this store.
From delicate daisies necklace to colorful butterfly earrings and Korean hair clips, you can find everything in this store.
15. Jewel Freak

Remember all those times when we have seen our favourite influencer wear a piece of jewellery and we ramage the internet for something similar?
Bookmark this store and you will not have to waste time anymore. They have the best range of statement earrings and necklaces that is totally Instagram worthy!
16. FrogShop

Check out this jewellery store if you are looking for eccentric beaded jewellery. They are all unique and mystical.
Don't believe me? Check out their range of Fairy Earcuffs!
17. Cutewears

A female jewellery store that is owned and managed by Viralii Seth.
This store stocks up on the cutest and magical range of fashion jewellery. From beaded necklaces to zodiac necklaces, there is something for everyone in this store.
18. Asteria Jewelss

This relatively new Instagram store has a range of handmade beaded jewellery to choose from. The owner of this store also takes custom orders.
So if you have a design or an idea for a jewellery, you can get it done from this store.
19. Shree Trendss

In this fashion jewellery store, you can find quirky beaded jewellery, statement necklaces, and finger rings.
They handpicked every piece of jewellery in this store to be cute and unique at the same time.
20. Studio 51 Jewellery 💜 🍄

This store has the most affordable range of jewellery, which is put together in combo packs. The Hoop earrings and press on ear-cuffs combo from this store can increase the cuteness quotient of any outfit.
21. Jewellery by Nikita

This Instagram jewellery store has a wide range of traditional jewellery. From oxidized jewellery sets to enameled afghani style earrings, the accessories collection of this store is pretty extensive.
Why start an online jewellery store?
Unlike gold or silver jewellery, starting an online jewellery store for fashion jewellery is quicker and easier. Due to the high cost, people buying gold or silver jewellery will prefer going to a physical store and checking the quality of the product before buying.
However, the low cost of fashion jewellery has created a huge demand for it that people don't even mind buying through online stores.
To be more precise, people actually prefer shopping for it online as visiting a store would limit their options in both variety of products as well as price range!
Fashion jewellery stores can snag upto 60% profit on every sale they make through their online store. This combined together with no commercial rent and other overhead charges, makes this business the most profitable option for many entrepreneurs.
If you are into the fine arts of jewellery making, then you could sell your own handmade and curated jewellery online. If not, you could find a small scale jewellery manufacturer to supply the jewellery and you can sell them online with a profit margin of your choice.
All you need is a flare for starting your own jewellery business and an easy platform like Dukaan to take your store online.
You can start your online jewellery store on Dukaan in 4 simple steps.
Here's how to go about it.
Step 1 – Sign up for Dukaan – Web Version | Android App | iOS App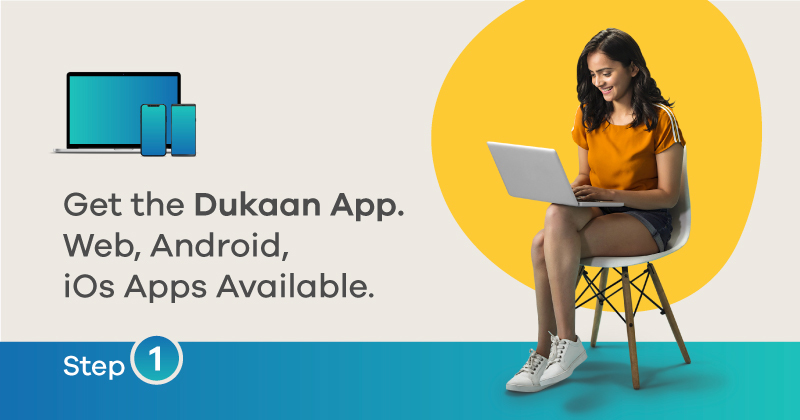 Just give your mobile number, verify OTP and you're in.
Step 2 – Choose your store name and category.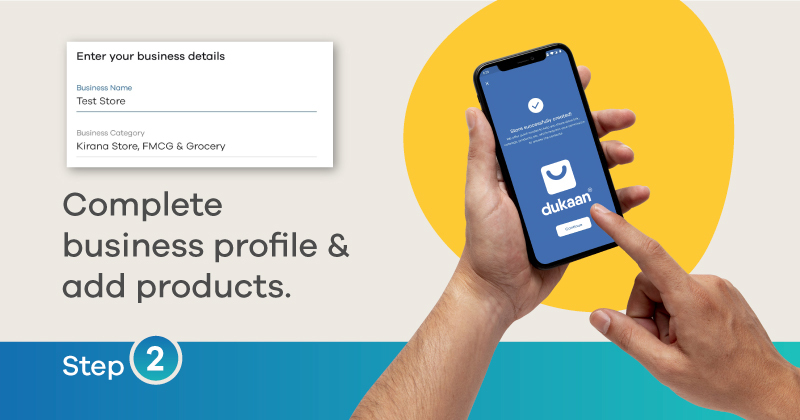 Step 3 – Upload your products.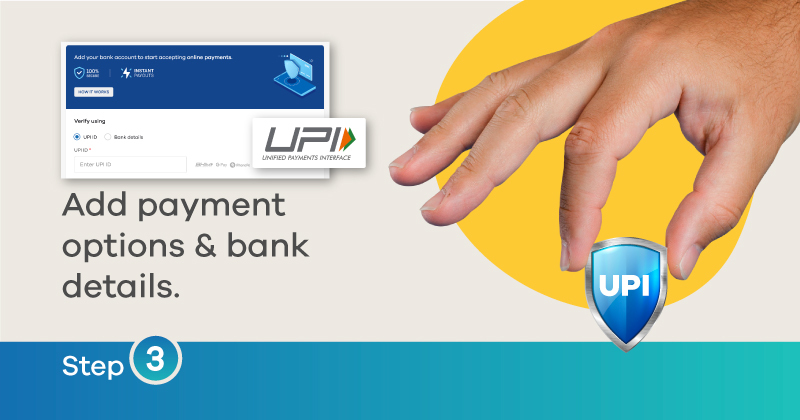 Step 4 – Promote your Dukaan store.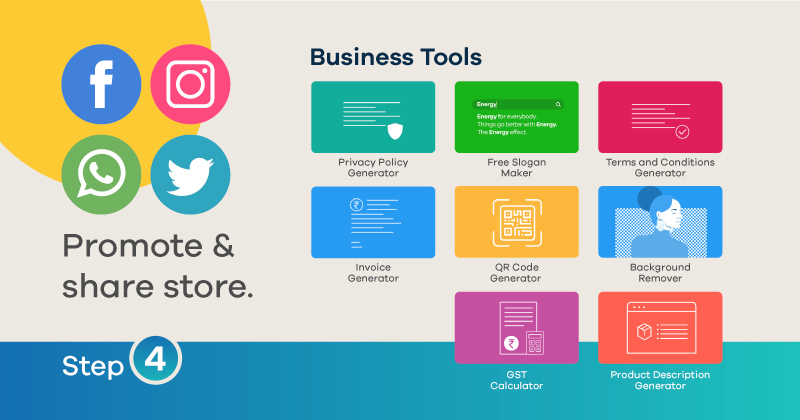 Simple! Isn't it?