The eCommerce industry is booming! Get this… the total amount of global retail eCommerce sales in 2020 amounted to USD 4.8 trillion. Plus, this number is expected to blow up to USD 5.4 trillion by 2022.
What does this mean?
It might be a sign to start your own eCommerce business. With the right tools, you can definitely kick off your own eCommerce website and start managing your very own business.
Of course, starting an eCommerce business involves specific action steps, do's and don'ts. But don't worry. We've compiled everything you need in just one comprehensive guide.
Now, if you're already sure of starting your own eCommerce website but don't know where to start, then this is also the right guide for you.
So keep on reading!
What is eCommerce?
Ecommerce is selling products and services over the internet.
Buying clothes? Lipstick? Shoes? Instead of going to a mall or a store, you can buy these over the internet—thanks to eCommerce.
Shoppers and potential customers visit an online marketplace, buy products, and pay using online payment gateways. Then, the seller ships out the products or provides the service.
It's easy and convenient. Plus, the eCommerce landscape creates additional opportunities for business owners to keep engaging with their customers.
Even before the COVID-19 pandemic, the eCommerce industry was already growing. But when the pandemic rolled in, consumer behavior radically transformed. This led to the skyrocketing growth of the industry as a whole.
What is an eCommerce Website?
Today, the number of eCommerce websites around the world is somewhere around 12 million to 24 million. Essentially, an eCommerce website serves as the home base of eCommerce activities.
Think of a physical store. You walk in and look at the different products. You see something you like and you pay the cashier for it. It's exactly like that, except everything is done online.
When you have an eCommerce website, you have an online portal that manages all these transactions between you and your customers.
Browsing products, placing orders, paying for the order, receiving payments, managing deliveries, and even providing customer service?
All of these can be accessed via an eCommerce website. So if you're set on having a thriving eCommerce business, a website is non-negotiable.
You have to have one.
4 Types of eCommerce Websites
Now that you know you need a website, the next question is…
What type of eCommerce website should you create?
This would actually depend on a number of factors like your product and the types of interactions you want to oversee.
Here's a quick guide to help you zero in on the different types of eCommerce businesses.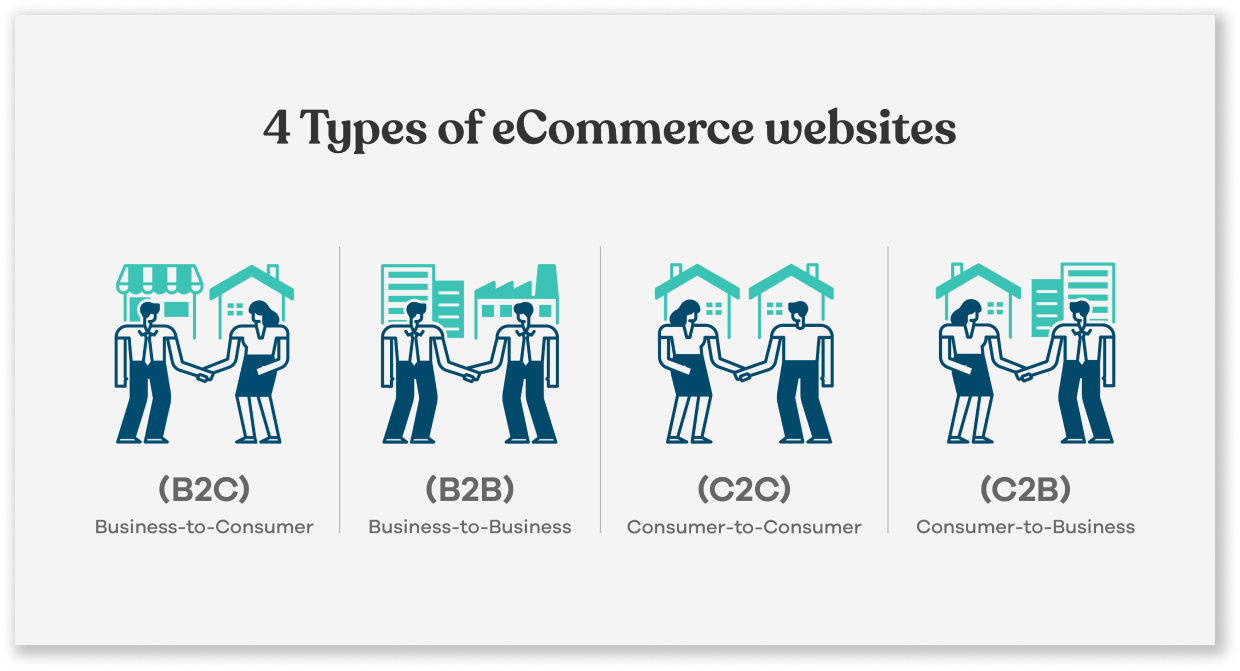 1. Business-to-Consumer (B2C)
These types of eCommerce websites are probably the most familiar to you and the average online user. B2C websites allow an easy exchange of products or services between the business and the consumer.
Example: If you're planning to sell sneakers to sneakerheads, you're headed towards creating a B2C website.
2. Business-to-Business (B2B)
B2B websites oversee transactions between businesses. Basically if you, as a business owner, need to buy something from another business — or vice versa. Learn more about B2B eCommerce here.
Example: Let's say you're planning to sell shirts or jeans. You might be buying them in bulk from an online wholesale supplier, right? You will need to go to a B2B website to do this.
3. Consumer-to-Consumer (C2C)
There are now a lot of websites that make it easier for consumers to sell to fellow consumers. This is super useful for consumers who want to sell pre-loved items or consumers who are moving and need to get rid of their stuff.
Example: You're selling your old mobile phone to another consumer using eBay (old school) or Carousell. Or custom paintings or jewelry using Etsy.
4. Consumer-to-Business (C2B)
Yes, it's just the opposite of B2C. With C2B eCommerce websites, shoppers or consumers can offer products or services to businesses or companies.
Example: An Instagram influencer offers brand exposure to a business in exchange for freebies or talent fees. Affiliate marketing sites also fall under the C2B umbrella.
How Does eCommerce Work?
Here's the quick answer: it works just like how brick-and-mortar stores work. After all, eCommerce is just under the commerce umbrella.
But again, instead of physical stores, everything happens online.
Here's an overview of how eCommerce works.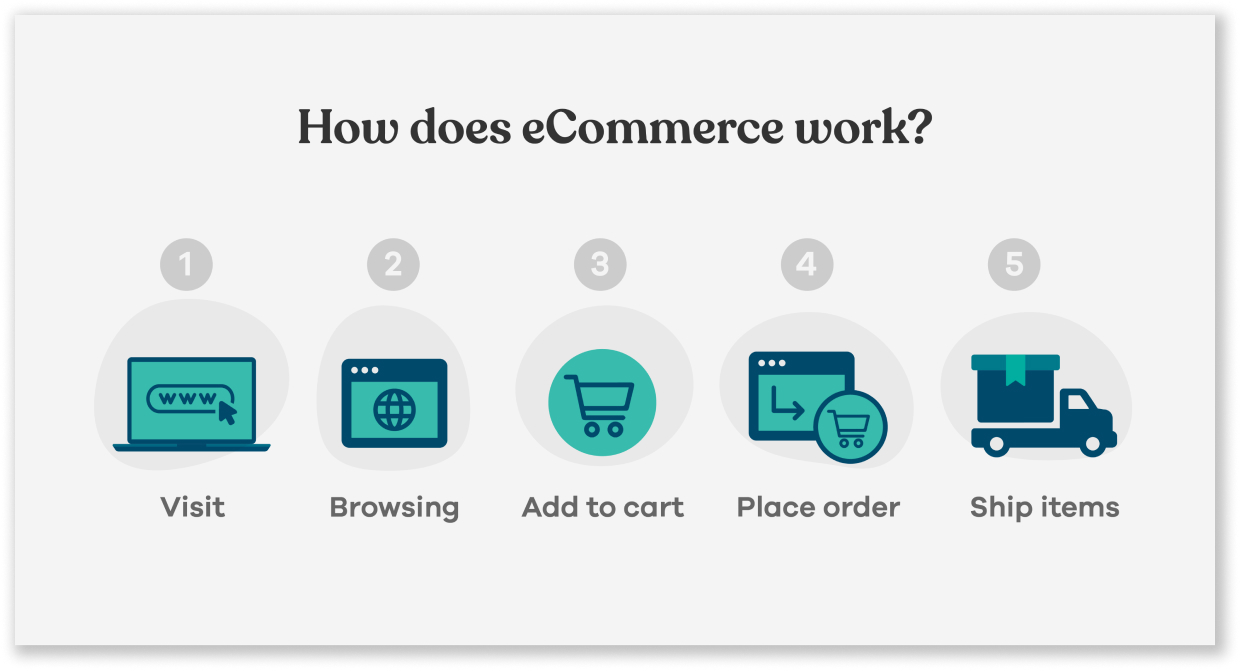 The visit 💁🏻
Potential customers drop by the online store, just like how they would enter any store. Usually, online shoppers find an eCommerce website through paid ads, social media, or word of mouth.
Virtual window-shopping and browsing 📱
Shoppers love to go window-shopping. In the eCommerce industry, online shoppers usually browse through the different products displayed on the site. Most products would have photos, specifications, the price, and other details about the product.
In a physical store, a salesperson will answer all the questions shoppers have. But on an eCommerce website, everything should be laid out for the customers.
Of course, if you're selling clothes or shoes, the shoppers won't be able to try them on. So eCommerce sites make up for it by also including size charts.
Learning to write killer production descriptions that sell is a worthy skill to have in this industry.
Customers add items to their virtual cart and check out 🛒
If your eCommerce website visitors want to buy a product, they can simply click on the "BUY NOW" CTA buttons.
Then, they will be prompted to fill out a form on the website where they will have to key in their contact details, shipping details, and payment method.
Payment is finalized 💳
Online shoppers can pay for their orders via payment gateways like PayPal, or they can also just use their credit cards.
Recently, cash-on-delivery or COD, has seen an upward trend. In India alone, around 83% of consumers prefer using COD as their mode of payment.
Here's a tip. 💁‍♂️
Make sure that you have various payment methods available. Make it easier for your consumers. They will keep coming back and you'll experience recurring revenue and sustainable income from your eCommerce website.
The seller fulfills the order ✅
Finally, the online store owner takes care of making sure that the order reaches the buyer. Logistics and shipping are other major factors of business operations, but they should be tied into the customer experience.
For example, customers must be updated on the status of their products. Plus, make sure you have guidelines and policies on returns and refunds.
3 Best Examples Of Top eCommerce Websites
To give you more context on what a top-performing eCommerce website looks like, here's examples.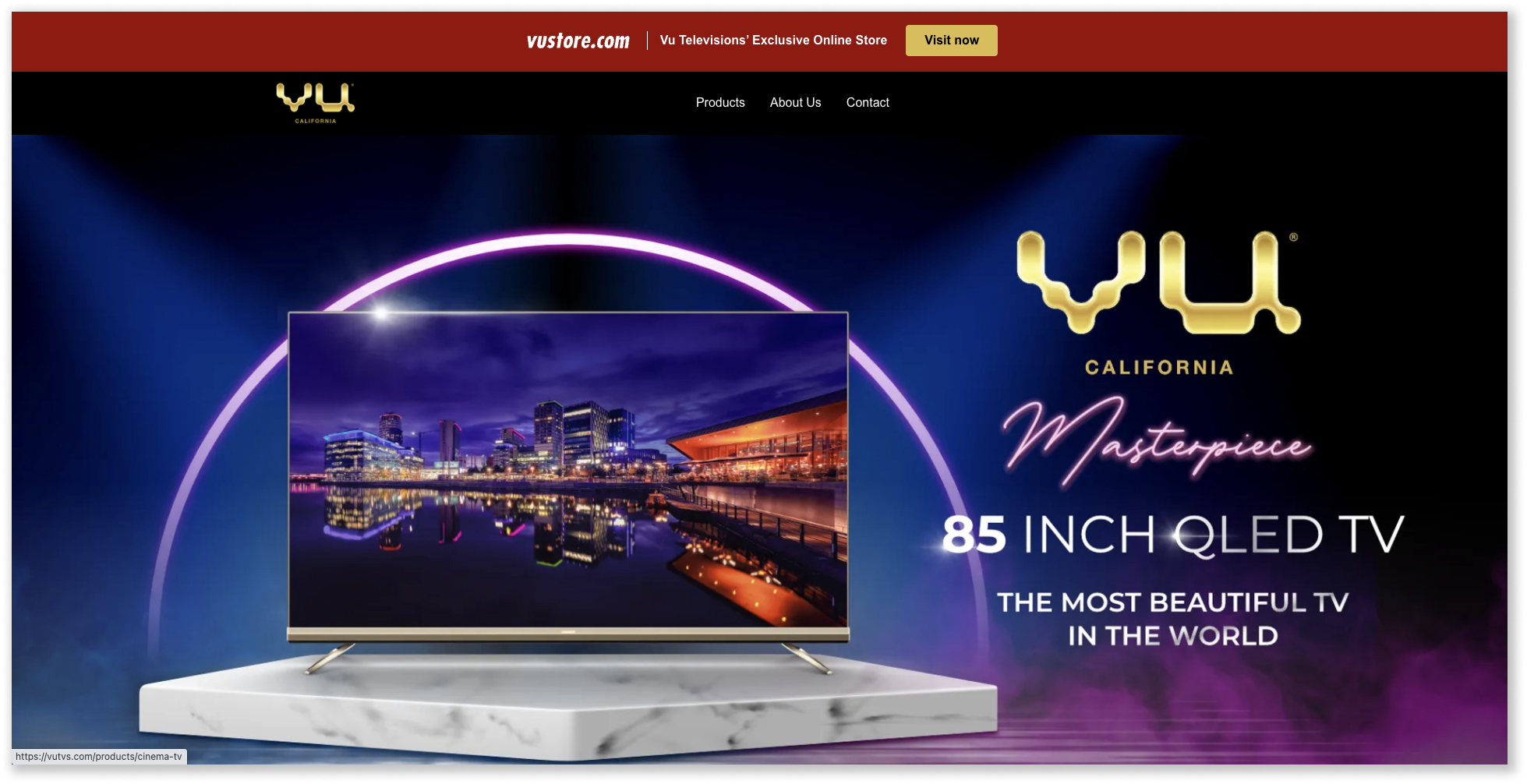 Vu Televisions specializes in 4K and TVs with large screens. Products are sold across India. Though they are already known to be innovators in the industry, their eCommerce site also contributes to their success.
What's great about their site:
Latest products are easily accessible from the homepage
Testimonials and awards contributes to social proof and credibility
The main navigation is simple (Products, About Us, Contact)
Other minor links are placed in the footer so they don't pull away from the products
Product specs are displayed and a PDF version is also available for download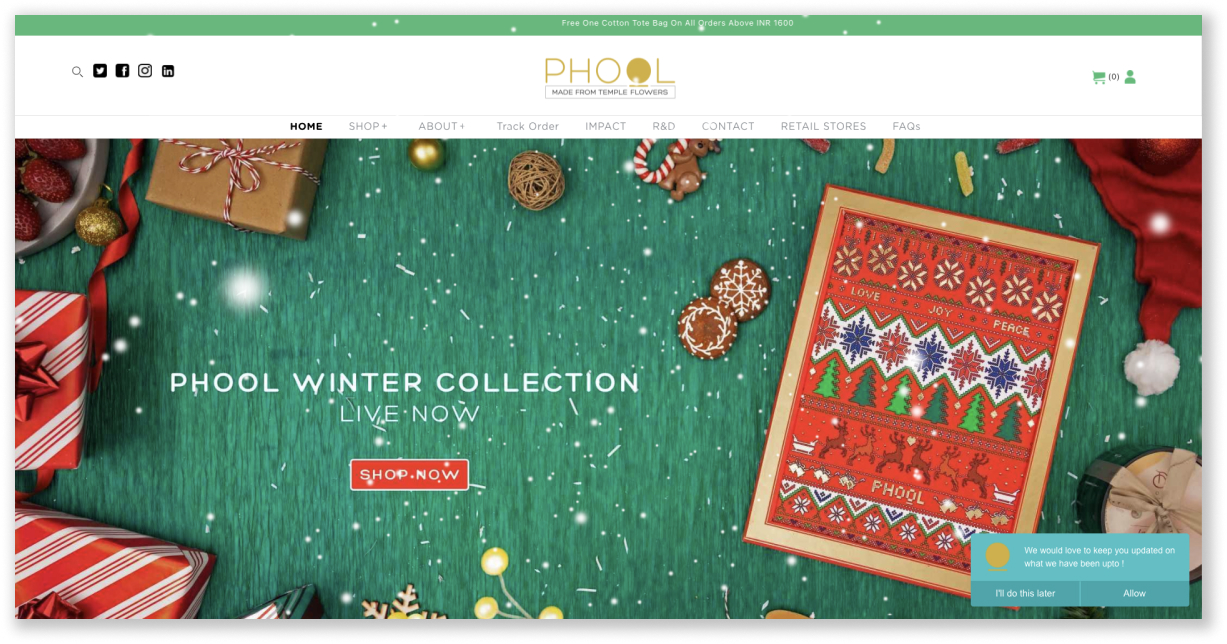 Phool is a nuanced online store that sells incense sticks and incense cones. At the first glance, it may seem like any other incense store. However, they are one of a kind stores that uses floral wastes from temples to create their incense products. They also use other temple wastes to create biodegradable packaging for their products.
What's great about their site:
They have the most aesthetically pleasing website
The snow flurry effect adds a festive look to the website
Clear and detail shot of the products
Featured products on the home page
Products can be shopped by categories
Option to track order is present on the homepage
Detailed view of their USP which is "Flowercycling"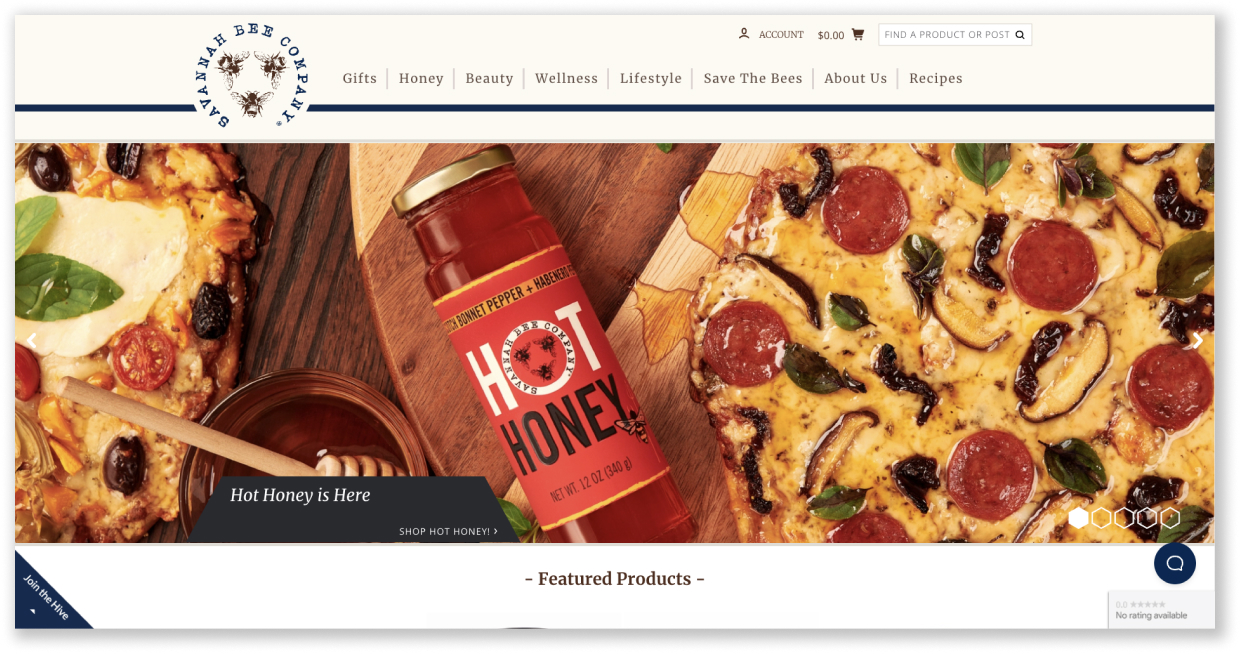 Savannah Bee Company is a gourmet honey shop that sells a range of honey and other honey bee products. There are a lot of health benefits attached to honey. It is proven that honey is rich with antioxidants that can protect your body from cell damage and provide immunity. Bee's wax is also used in a range of skincare products like moisturizer, lip balm, etc.
What's great about their site:
Easy to navigate website with aesthetic design
Product categories listed clearly on Main Menu
Their best sellers are listed on homepage
They have added some recipes that uses their products
Gifts option to attract holiday shoppers
Detailed shipping and returns policy in the form of FAQs
Multiple forms of payments available
5 Elements of a Highly-converting eCommerce Website
Building a profitable eCommerce website doesn't have to be complicated. There are just a few elements that you need to keep in mind.
1. Supports your eCommerce type
First things first. Your website should support your business type. Whether you're pushing for B2B or B2C, your eCommerce website should reflect this.
B2B websites should put more focus on the service and what is included. Another thing people want to see on B2B websites is information on the after-sales process.
Meanwhile, B2C websites should go deeper into product details. There should also be more photos and proof of what the products look like.
2. Ability to be customized according to user preferences
We all know customers have different ways of shopping. Some like looking at all available products one by one.
There are some who prefer to shop according to type or product category. Someone shopping for shoes would probably want to shop according to size.
Optimizing your eCommerce site to cater to different types of shopping behavior would definitely work to your advantage. Give your potential consumers the leeway to shop according to their style, and this will translate to revenue.
3. User experience
Almost 90% of shoppers will never return to a website if they have a bad experience. User experience is key when it comes to eCommerce profits.
Make sure that your site is easy to navigate. The checkout process should be seamless and smooth—75% of carts are abandoned every year, and bad user experience is just one reason. That's literally leaving your money on the table.
All in all, better UI can translate to a 200% increase in conversion rate.
4. Flexible shipping options and payment providers
Aside from being curious about your products, shoppers are interested in knowing how they will receive them and pay for them. When it comes to shipping and payment options, more is more. You want to make it easy for your customers to keep buying for you.
Make sure to display these options publicly and make this information accessible to website visitors. That way, they know for sure that payment and shipping will not be an obstacle.
5. Attentive customer support
Three out of five customers said that good customer service is a crucial factor for them to feel loyalty towards a brand. The thing about digital is, people are used to getting answers fast. (We have Google to thank for this.)
Equip your site with answers to Frequently Asked Questions or install a live chat plug-in coupled with a stellar support team. Your customers will love you for this.
Top 6 eCommerce Website Builders and Providers
Going for an eCommerce website builder will help you launch your business faster. Usually, when people hear the term "website" they think of hiring developers to work on complicated codes.
With eCommerce website builders, you won't even need to hire a developer. Of course, with tech booming, there are a lot of builders and plug-ins available to choose from.
But we've done the legwork and shortlisted the top 6 eCommerce website builders for you:
1. Dukaan: eCommerce couldn't be easier than this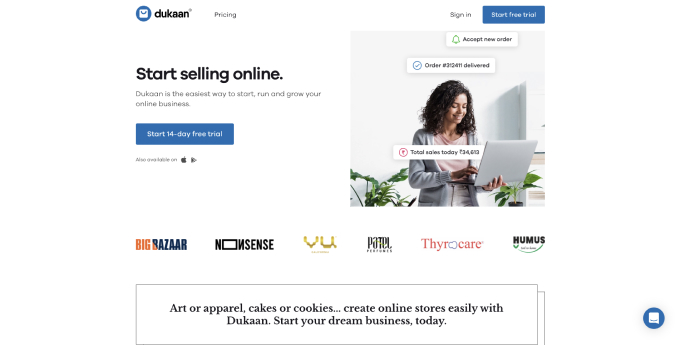 No exaggeration needed here. Though there are other intuitive eCommerce website builders out there, they don't come close to Dukaan.
It's literally the simplest and the easiest builder. You can easily start your online store in three easy steps.
How long do you need to set up your store?
Less than one minute—we're not joking.
The Verdict: This makes Dukaan perfect for entrepreneurs who have no technical background. If you want to start fast and start right, Dukaan is the builder for you.
The proof of this is that we have onboarded 2500 paying subscribers in just 3 months. That's how effective our platform is.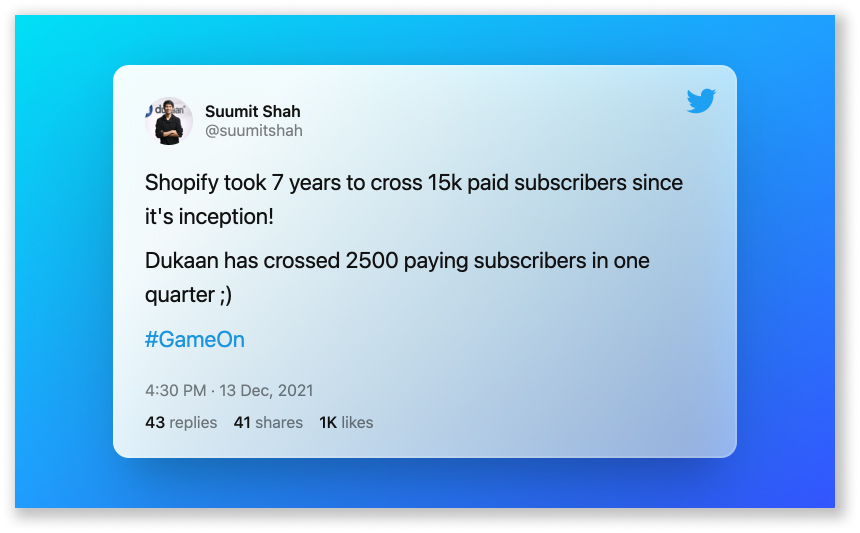 2. BigCommerce: the best multi-channel builder for high-volume stores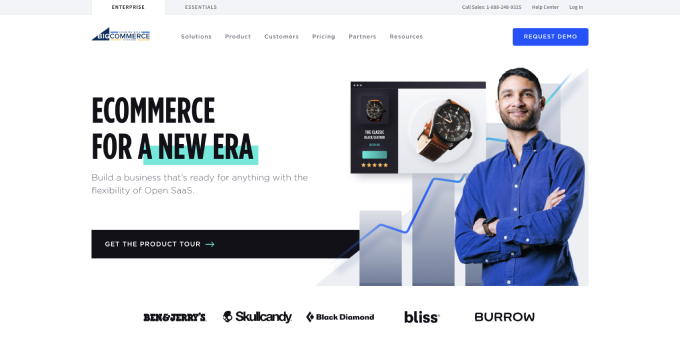 If you're planning to go big right away, BigCommerce might be the best choice for you. Its claim to fame is its versatility and ability to sell across various channels.
BigCommerce plans come with social selling capabilities for Instagram, Facebook, Pinterest, Google Shopping, and even Amazon.
The Verdict: To be completely honest, BigCommerce boasts of a comprehensive feature list. But it's going to take you some time to build your site. You'll need some extra time to ease in and familiarize yourself with the back end and navigation.
And of course, if you're going for a lot of features, executing will definitely be more complex.
That being said, BigCommerce is a really good choice for business owners who are already gearing up to scale and pack in a lot of custom features.
3. WooCommerce: built for WordPress websites
Are you a bit on the techy side and familiar with WordPress? Or do you already have your own website built on WordPress?
If the answer is yes, you can't go wrong with WooCommerce. Whether you're planning a big or a small eCommerce website, WooCommerce integrates seamlessly with WordPress.
The Verdict: This is the right choice for existing websites that are already getting decent traffic. You can simply add WooCommerce and build in the eCommerce functionality on that existing site. But, though you can add custom features to WooCommerce, you'll have to pay for some of the better extensions.
4. Shopify: entry-level but customizable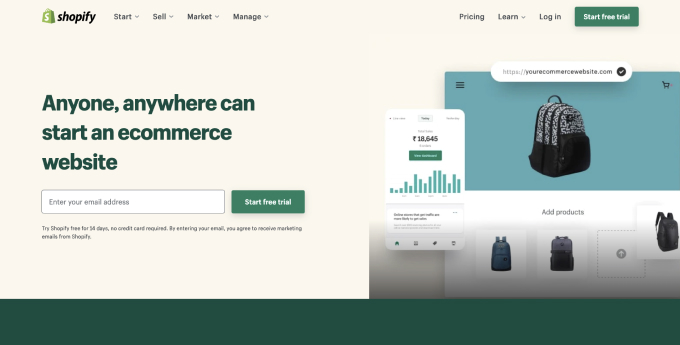 We're pretty sure you've heard of Shopify. After all, it's one of the most popular eCommerce builders—and for good reason, too. It's extremely powerful and doubles as a CMS that you can use to create and manage various online stores.
Shopify's unique selling point is that it has its own payment gateway. What does this mean? You don't need to use any other third-party systems (as long as your Shopify plan comes with the built-in gateway).
The Verdict: Shopify is always a good choice for both beginners and experienced eCommerce business owners. But because it's so customizable and there's a lot you can do, managing Shopify stores usually requires dedicated technical staff and developers who specialize in Shopify sites.
5. Wix: build with drag-and-drop ease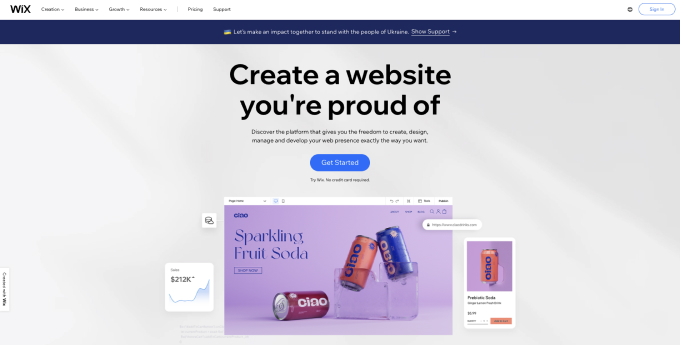 Wix is a really great choice for people who are focused on aesthetics and design. It's well-known for its intuitive interface and drag-and-drop implementation.
Because it's so simple, even not so technical people can find their way around its backend. Additional features include:
More than 500 template
Tools for Search Engine Optimization
Mobile Optimization
Adding and managing coupons and discounts
One tiny issue with Wix though, is that you'll have to pay more to get access to premium features. So it really depends on your long-term goals for your business.
The Verdict: Wix is great for beginners and aspiring eCommerce entrepreneurs with little to no coding experience. It's straightforward and easy. One thing to look out for though is you may end up investing in plug-ins and extensions every now and then if you decide to scale fast.
6. Magento: CMS and eCommerce for advanced coders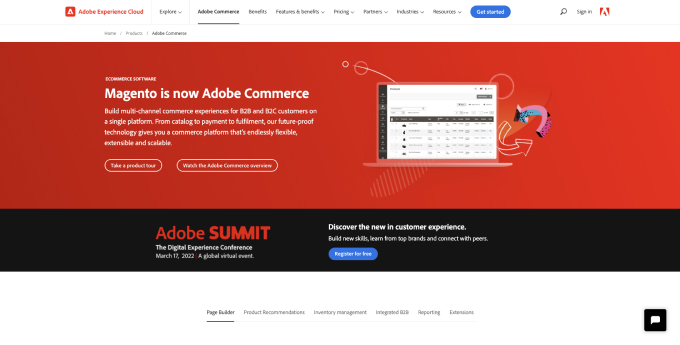 More than 190,000 eCommerce sites are built using Magento. It's a really powerful platform that gives you total freedom when it comes to creativity and technical features.
The catch? You need someone with advanced coding knowledge to make your vision come to life. It's not intuitive and you won't be able to maximize it if you don't have an expert to handle the backend.
A lot of business owners get the shiny object syndrome when they find out Magento packs a powerful punch. But if you have a developer to make things happen, you won't go wrong with Magento.
The Verdict: Sky's the limit with Magento. Rather, you will not be able to maximize the platform to its full potential if you don't have a Magento developer on your team.
How To Build An eCommerce Website Using Dukaan (The Easy Way)
Creating your online presence with Dukaan is a cinch! Just follow these three simple steps:
Step 1. Register.
Go to web.mydukaan.io and register.
You will be asked for your mobile number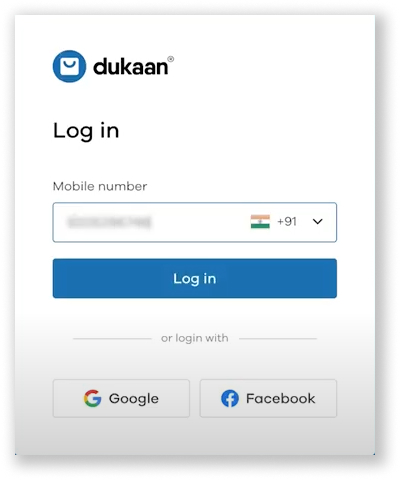 and a One-Time Password for security.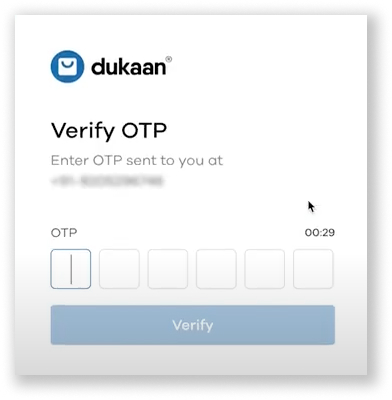 Choose your country (India) and enter your business name. Don't worry! You can always change it later if you think of something cooler. Select the most applicable business category, and hit "Finish."
Yay! Your 14-day trial period is now activated! Don't forget to personalize your store and add details like your logo and contact details.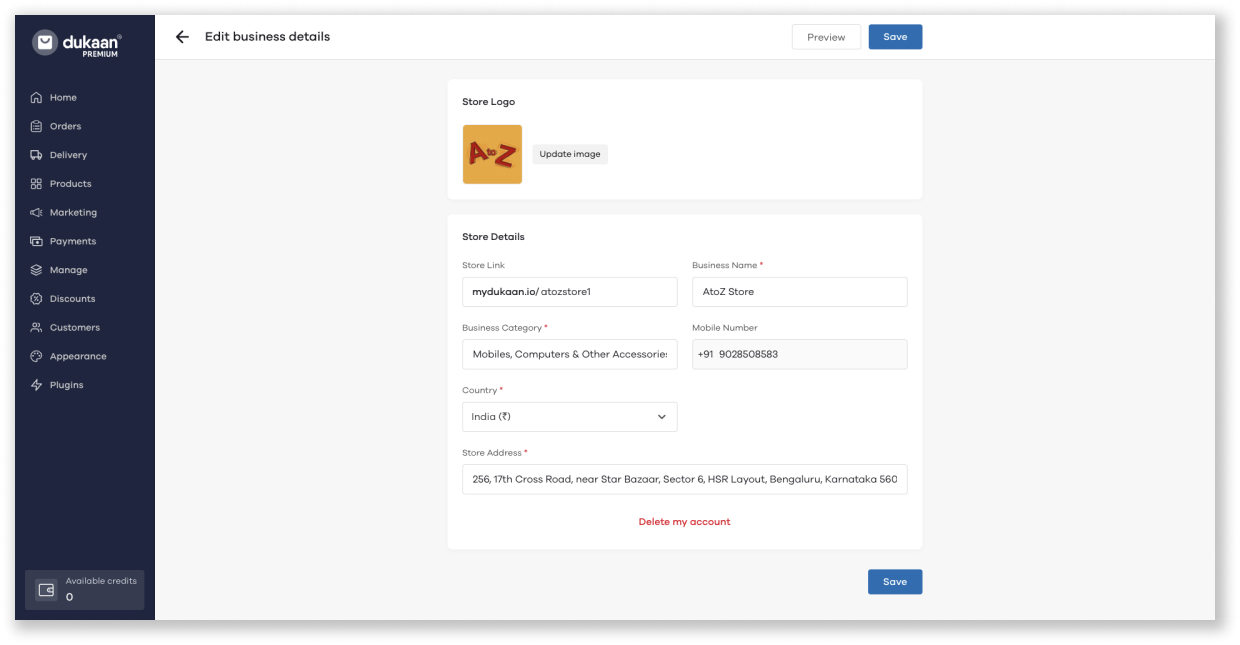 Step 2. Add your products.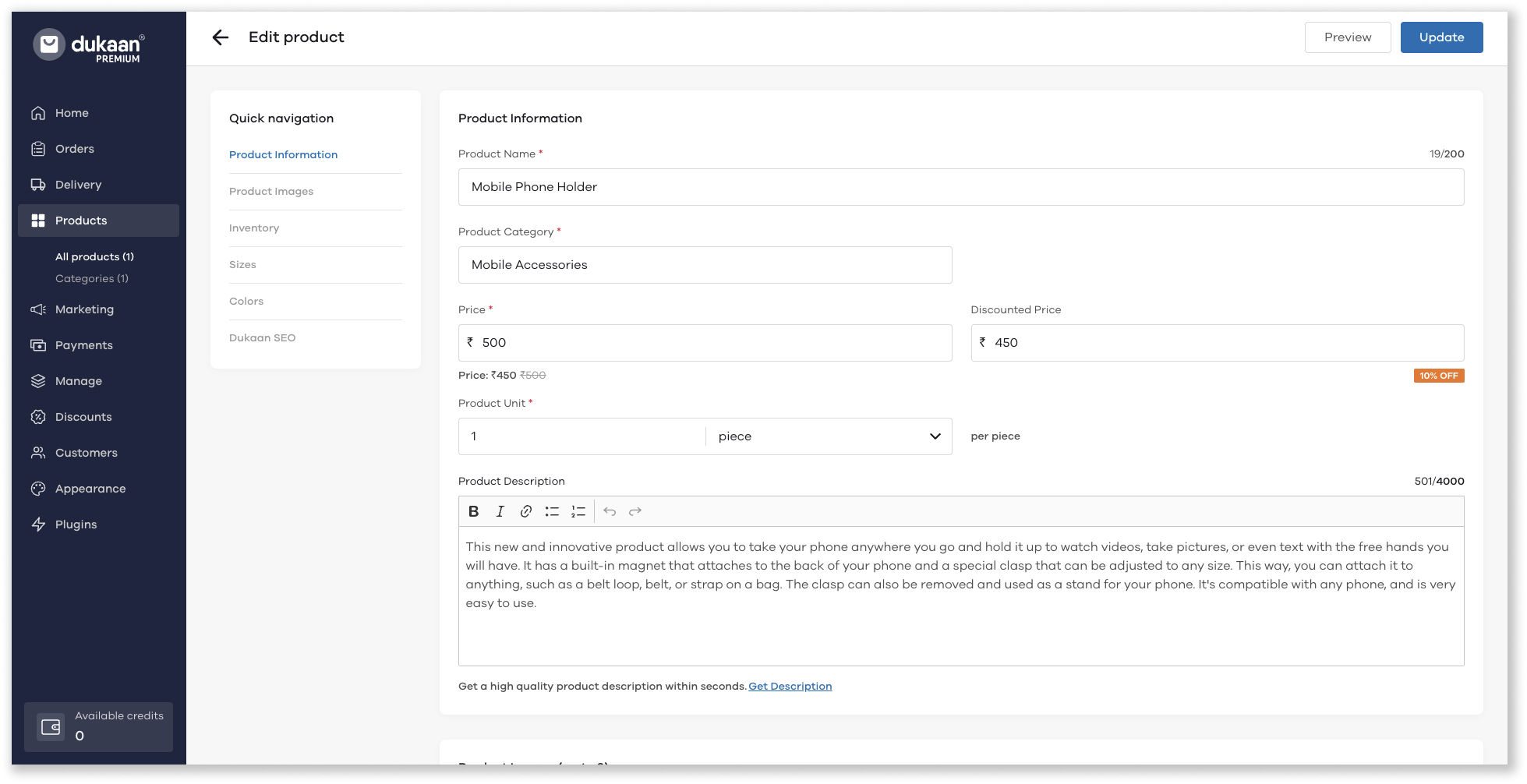 Adding products to the Dukaan platform is even simpler, but here's a step by step guide:
On your homepage, click on "Add Product"
Type in the product name and other details like the price and inventory
Spare no detail in the product description! (It's better to have these ready in advance so you can just copy-paste. You can also use Dukaan's Product Description Generator for free.)
Don't forget to upload a product photo to help your potential customers get excited
Don't miss out on Dukaan's bonus features: bulk price editing and bulk product uploading using spreadsheets.
It really can't get easier than this!
Step 3. Start selling!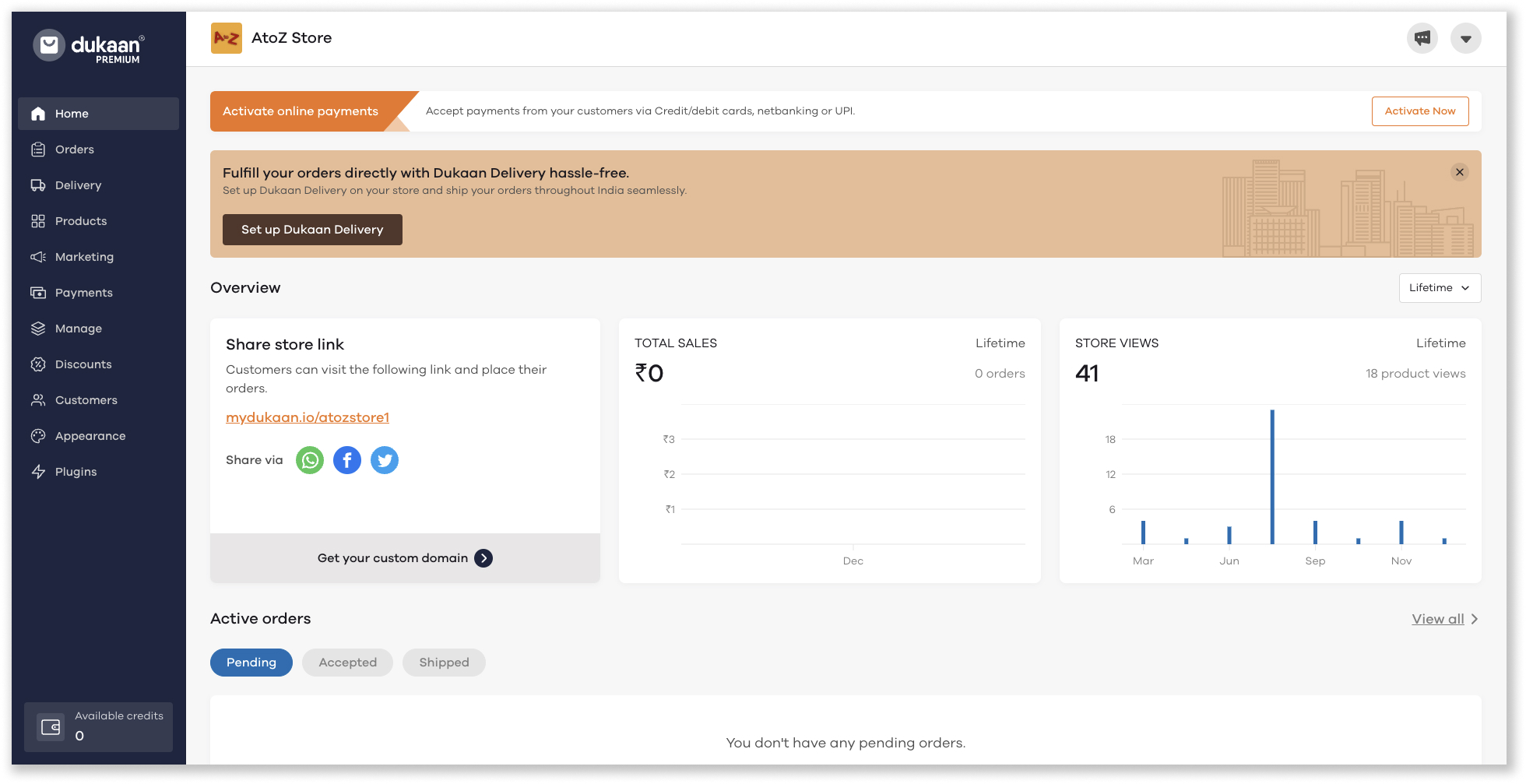 You just need to set up your payment structure then you can officially start selling! Follow these steps and you'll be on your way:
Head over to Home and click on "Activate Online Payments"
Simply type in your UPI ID or bank details
That's it! No coding, no complicated integrations—eCommerce website building is definitely easier with Dukaan.
If you're having any issues, their customer service team is always alert and ready to help.
There you have it! Congratulations, your store is ready!
Your 9-step eCommerce Website Building Checklist
Follow this checklist when building your eCommerce website and you won't miss a single thing.
Step 1: Choose your domain and hosting plan
The domain is what appears in the web address bar. A hosting plan is where your store will be hosted. You will have to pay for the domain and it can be challenging to find a low-cost available domain that is really close to what you want.
Most eCommerce stores on WordPress and WooCommerce get their domains and hosting plans from external parties.
So choose a reliable domain registrar service from GoDaddy, BlueHost, or SiteGround. Then they just tinker with the technical backend to make sure that the domain is showing the right website.
Some steps involved in choosing your hosting platform:
Choose your pricing plan
Choose your domain if it's included in the package
Select extra features you want to avail of, like security, SEO tools, or domain protection
But if you're going to go with Dukaan, you can customize your store URL with a minimal fee — no integrations needed.
Step 2: Decide on your platform
Choose from the top 6 platforms we shortlisted for you! It depends on your technical knowledge as well as your budget, resources, and long-term goals. Some tips to help you choose:
Go for Magento if you have someone who has advanced coding skills and you'll have a one of a kind eCommerce website.
If you're a beginner, try out Shopify or Wix. They're both intuitive and expandable in terms of third-party plug-ins.
Build your eCommerce website on Dukaan for a fast and smooth end-to-end process that even the least tech-savvy person can navigate.
If you're interested in WooCommerce, you will need your own WordPress site. For your easier reference, we'll run you through some additional steps when creating an eCommerce site on WordPress and WooCommerce.
FURTHER READING
How to Build an eCommerce website on WordPress and WooCommerce
Log into your hosting platform and head over to the Control Panel.
Install and activate WordPress on your hosting account first.
Install the WooCommerce plug-in. It starts as free but you would need to buy the extensions and additional features.
Activate the plug-in and follow directives for setting up.
Set up your shipping details and payment methods.

Step 3: Maximize your logo and branding
Your eCommerce brand logo is the face of your business. Have some fun but also put a lot of thought into it because your eCommerce store should follow your branding.
Use your logo and brand colors on all promotional materials. You can also incorporate your colors in your product shoots.
Convenience is key. Shoppers must be able to find their way easily around your online store.
This is where simplicity and ease are an advantage. A lot of big-volume eCommerce sites are impressive but potential customers have a hard time looking for what they need.
Make sure your main menu can be easily found. It is usually used to highlight your store categories. You can also use the top bar for customer service so your customers will have no issues asking for support.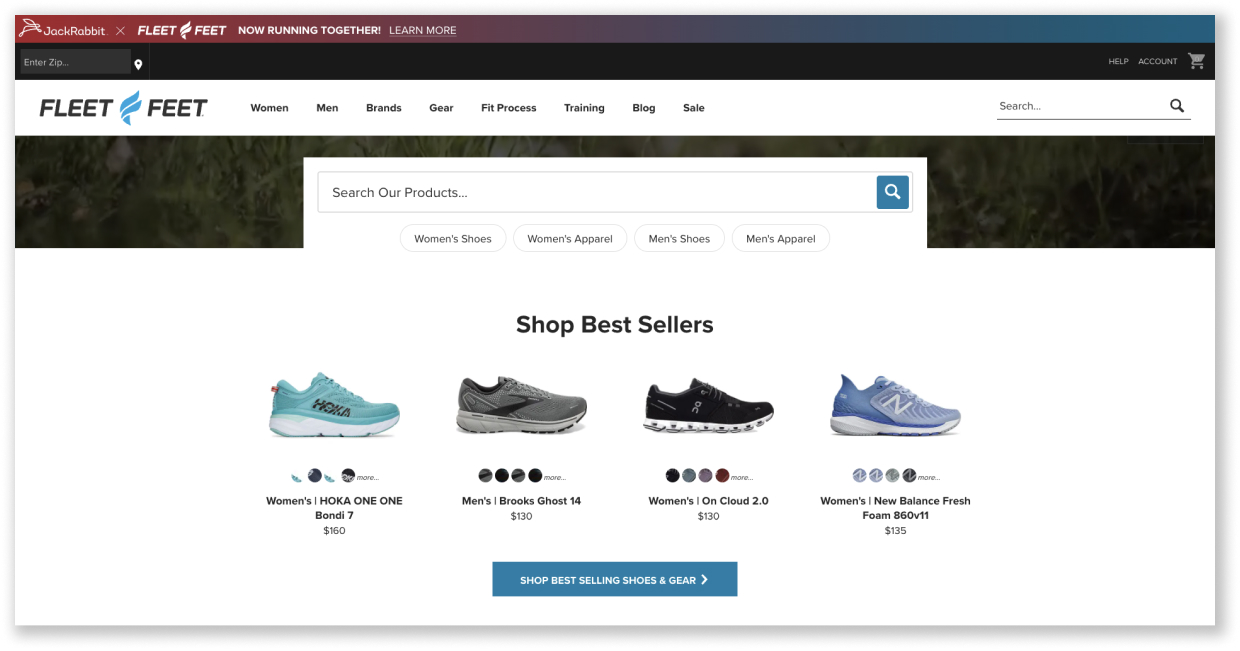 Oh, and keep in mind that nothing is set in stone. Feel free to move things around every now and then until you find what works best for your target market.
Step 5: Attractive product photos and videos
Clear, detailed, and beautiful photos work best when showcasing your products. These will entice them to add to their virtual carts and eventually complete a purchase.
You can always hire a professional photographer or do some DIY styling with makeshift lights and props.
Here's a tip: Instead of plain studio photos, try to come up with photos that incorporate your products in actual scenarios.
FURTHER READING
Step 6: Include catchy product descriptions
You won't have a salesperson available to answer questions from shoppers. The only things they'll see are the photos and the descriptions.
Put yourself in their shoes. What are the details you want to know about a product?
Don't skimp out and don't hold anything back. The more details, the better. You want to make it easier for the shoppers to decide.
Include unique features, product specifications, and benefits. You can also tie this in with SEO as it plays a huge role in driving organic traffic and conversions.
Remember, if people can't find you, they won't buy from you.
Here's a quick guide to help you write product descriptions that sell.
Step 7: Clarify shipping and return policies
Let's face it. Sometimes consumers tend to take advantage. If you don't have crystal clear shipping and return policies, you'll be facing issues sooner than later.
What should you do?
Plan your policies properly. Make sure that they are clear, easy to understand, and not open to misinterpretation.
Try to predict potential customers' concerns so you can address them right away.
Don't forget to mention your average shipping turn-around time, the shipping fee, and the average delivery period.
On returns and exchanges: State who pays for the shipping of returned items and the maximum time frame allowed for returning items.
Step 8: Create a blog content strategy
We know what you're thinking. You're selling, not blogging.
We hear you, but hear us out too.
With the right blog strategy, you can actually improve your eCommerce site's ranking. Plus, if you blog about relevant content, you'll be building a credible brand.
For starters, here are some ideas of what you can use for content marketing:
Selling lipstick or makeup? Write blogs focusing on different looks for different occasions.
Selling iconic and patterned socks? Write an article about the wackiest designs you have.
Are you selling pet products? Share tips on potty training puppies.
Step 9: Draw up a launch plan
Finally, now that you've checked all the above, you're ready! How do you plan to officially launch your eCommerce website and make it known to the world?
In case you're not that familiar with digital marketing platforms, you may be a bit overwhelmed. So as always, here's a simplified guide on easy and uncomplicated launch activities:
Post teasers or countdowns on your social media platforms
If you have an email list, you can start letting them know around a week in advance
Consider giveaways or discounts for the first 5 or 10 shoppers
Are You Ready to Start Building Your eCommerce Website?
Thanks to eCommerce, it has become easier to launch your own business online. The industry is just expected to keep growing and surpass its own records. This is truly the best time to venture into the industry and thrive.
Plus, thanks to simple and seamless tech, creating and launching your own eCommerce site can be done in less than a minute.
Truly, there are no more excuses not to begin.
Sign up with Dukaan now and kickstart your eCommerce store by today.