Are you tired of working for someone else? Here is a list of home business ideas that you can start today, without spending a lot of money.
The Work From Home (WFH) culture got more and more popular during the pandemic when people were stuck at home and needed some extra income using their free time and skills.
And their popularity is growing with each passing day.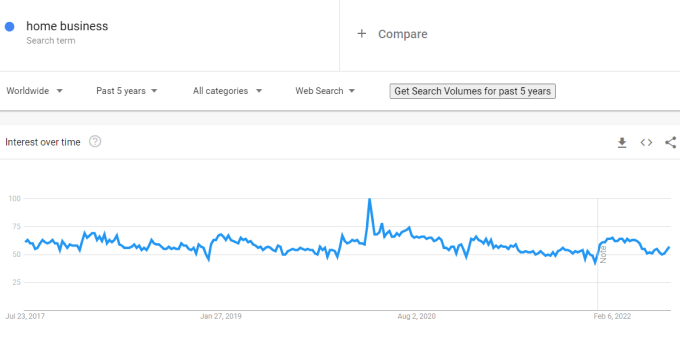 Of course, like any other business, home-based ones have their advantages and disadvantages, and we think it's better to know them before moving ahead so that you can make an informed decision.
Explore these ideas to see which stands out for you!
Work from Home Business Ideas in 2022
Here are some of the most lucrative home business ideas to pursue.
1. Start an online store
Starting an online store might be the perfect option for you. With an online store, you can sell products or services to customers all over the world.
You'll have the ability to work on your own schedule, and you can choose the products that you sell.
Now, opening an online store has become as easy as using WhatsApp. With platforms like Dukaan, you can now actually do half your business through WhatsApp.
Watch this video to learn more:
2. Start a blog
Combine your knack for words and blogging with freelance writing, and earn a cool paycheck for professional blogging from clients. It's completely up to you to make your work the best and keep the brands (your clients) coming back!
You can use pictures, links, ads, and affiliate links to make your work more appealing to your viewers.
Do you have a strong social media presence? Do you think you have hacked their algorithm and can use it to benefit your business? Or, for that matter, other businesses?
Then don't sit on your skills, use them to help businesses and brands with their marketing strategies! Being a social media consultant is a cool job that you will enjoy doing, and if you freelance, you can deal with multiple clients and keep things interesting as well.
4. Start dropshipping
Dropshipping is the business model that has made internet commerce what it is today. In this model of business, you do not need to keep any inventory or even ship products, just create an online store, add products and start selling!
If you want to earn money with little effort, this is a fitting idea for you. There are many great dropshipping platforms out there, like Aliexpress, which you can use to source your products for your business.
5. Turn a hobby into a business
You can turn any hobby into a business if that hobby is productive. For instance, if you love doing yoga, crafts, or gardening, then you can turn that into a source of income by making a business out of it.
Start a yoga class, or teach crafts, maybe start a homemade products business, or a home-based nursery.
6. Offer internet marketing services
Internet marketing is a superset of social media marketing. What this means is that if you start a business in internet marketing, you will deal with email marketing, social media marketing, website content, paid marketing, and such.
This basically means that you will handle the whole online marketing wing of a business. Although, you might need to brush up on some concepts and get up to speed with the latest trends on the internet for this business.
7. Start selling homemade food
There are a lot of food business ideas, but if you love cooking, then starting a homemade food business is the right idea for you.
With people going away from home and the restaurant industry becoming more and more commercial by the day, people are drawn toward fresh and healthy homemade food.
All you need to do this is a menu that will list the dishes you want to cook and sell, an online storefront where you can receive and process orders and payments, and lots of food!
8. Open a freelance writing business
Freelance writing is one of the more popular content jobs these days, and if you are a word wizard, give this business a try. Content is extremely important for every business these days, in many forms.
You can offer your services to brands, based on your skills, and write content for their blogs, website, social media, etc. You can set your own price and remember, the better your work, the better your profit!
9. Start a virtual assistant business
You can become a virtual assistant and help business owners and entrepreneurs in scheduling appointments, managing administrative tasks, and even for services like graphic design, etc.
You need to have mad scheduling skills for this business, though. Managing multiple businesses is difficult enough, and if you have to schedule multiple appointments, it can get even more confusing.
Invest your time and money into a good scheduling app and you should be set. With this business, you can earn up to $100 per hour, depending on your skills and the services you offer.
10. Start a vacation rental business/AirBNB
Be it a staycation, workcation, or a nice old-fashioned vacation, people love living in houses instead of hotels.
So much so, that the CEO of AirBNB, Brian Chesky has said that he will live full-time in the properties listed on AirBNb!
You can create a selection of houses for travelers to rent when they go out for vacations in different cities.
Or you can also turn your properties into rentals and host travelers through already existing sites.
11. Open a bed & breakfast business
If you live near a travel destination or have a property in a quaint little town people love to visit, you can open a cute Bed & Breakfast business.
If you love playing host, this is the idea for you! A bed-and-breakfast is essentially a home-based business, and on the first ones at that, you just have to provide breakfast to overnight guests at your homely lodging.
12. Start a life coaching business
None of us come into this life with an instruction manual, right? We all feel lost and in need of guidance from time to time so that we can lead a healthy, balanced life.
Especially at these uncertain times, when people are battling a pandemic, physical and mental fatigue, depression, and are adjusting to a new normal life. Life coaches help with this.
So, if you feel that you have more clarity and can help others, become a life coach and help your clients maneuver through life, work, relationships, and career.
Maybe you'll even be included with the greats, like Michael Legge, Tony Robbins, and Tracey Ward.
13. Create t-shirt designs
See how popular this business is?
The t-shirt design business has always been in trend and a pretty lucrative business.
You can even venture into t-shirt printing as well. That might require you to get some equipment, but for a designing business, all you need is a skill.
14. Open a furniture refurbisher business
Have you ever watched those Facebook videos where people upcycle old furniture and turn it into new?
If you found those interesting enough to try it yourself, make a business out of it!
You can find people selling old furniture online, at flea markets, on eBay, or even at home (try the attic), and upholster them to look like brand new furniture. There is a huge demand for these products and you will enjoy doing something you love. Win-win!
Plus, it is great for the environment as well. We can't find any cons to this, and if you feel this might be for you, give it a whirl!
15. Start a pet sitter business
Be your furry friends' caretaker when their humans go out and leave them home. You could go to their house, or ask them to be dropped off at yours, where you can take care of many pets together.
This way people can go away to work, or vacay, without feeling like they abandoned their pets, and you can earn a side income from home.
16. Start a music training business
Music is the language of the heart- it goes beyond borders, and languages, and brings people together. If you have the gift of music, help spread it with other people.
Just like dance, music can also be taught through a screen, and you can put your knowledge in music to good use, by making a noble profession out of it. You can teach instruments, vocals, classical, and contemporary, and bring out new talent into the world!
17. Start a resume-building business
With only about 56% of the world having jobs, the other half is constantly looking for stable work.
This bumps up competition immensely, and the first impression that a person makes on their potential employer, without even meeting them first, is through their resume.
How can a person catch a recruiter's attention? By building a great resume that stands out from the towering pile of resumes on their desk.
That needs a great resume-building process. This is where you come in. Use your skills to build awesome resumes that are sure to get you an interview! You can also teach this skill to job seekers to help them.
18. Start a candle-making business
The candle-making business is booming right now, and you can do it too! There are so many types of candles to make, like scented ones, colored ones, candles in different shapes, and sizes, and for different occasions as well.
All you have to do is take a small course in candle-making if you haven't already, and get the equipment you need to start your business. You can also try out wax-stamp making while you're at it to stand out from the crowd.
19. Start an online thrift store business
With the ever-increasing popularity of thrift stores and online shopping, turn your old clothes into a stream of income.
Online thrift stores are plenty, so beware of the competition, but as long as your products are trendy and affordable, your business will be a success.
Thrift stores carry products like clothes, utensils, books, accessories, etc, all pre-loved, and ready to be loved again!
20. Become a tester
When businesses build online apps, websites, or other digital products, they need expert testers who can help test the application and find anomalies to provide inputs on the user interface, experience, and processes.
If you know how to test business applications, you can apply as an online tester and take up tasks for multiple projects. A big plus is an expertise in the particular domain or technology that the app is being tested for.
21. Teach yoga online
Love doing yoga and different asanas? Then turning your hobby into a business can be highly productive. You can start online yoga classes and teach students from around the globe.
All you need is a simple camera, a conferencing tool, and expertise in teaching the various asanas to students to start making an income.
22. Teach a foreign language
Can you speak a foreign language? If yes, you can teach it online and make money as a foreign language tutor. You can use apps like Speaky, HiNative, and Lingualia to connect with learners and make money by answering questions and helping them learn a foreign language.
23. Create digital courses
Since the pandemic, online learning has taken precedence for several individuals who want to learn something new and upgrade their skill set. Why not convert your knowledge into an interactive course if you have a unique skill in a particular technology, business area, or subject matter?
Platforms like Udemy, Skillshare, etc., have provided a unique opportunity for experts to teach their skills to students who want to study from home.
24. Start an online cooking class
Do you always get compliments for your culinary skills? So why not teach the fine art of cooking online? A growing number of individuals are discovering the benefits of a healthy and home-cooked meal and want to learn how to make everyday dishes taste delicious.
Start by creating a cooking and recipe channel online. You can even take a one-to-one dedicated masterclass for those aiming to be a MasterChef!
25. Offer one-to-one private tutoring
Personal tutors are in vogue as they can help young students learn a particular subject and help improve their grades.
Private tutoring can be done from home; all it takes is a smartphone or laptop, a video calling app, and the ability to make complex topics fun and interesting.
26. Start a home baking business
If baking cakes, cupcakes, croissants, bread, pastries, pies, and other delectable foods are your forte, starting an online bakery is an excellent opportunity to earn some extra income.
Be it theme-based cakes to simple baked dishes, you can flaunt your skills and establish a profitable business. Selling online means you have lower overheads and only need to focus on the quality of baking ingredients and equipment.
27. Become a health coach
With many people shifting to work from home, they are constantly battling mental and physical fatigue, mainly due to lack of movement and the inability to get enough time outdoors.
As a health coach, you can help others achieve their health and fitness goals and regularly coach them on the exercises, dietary plans, and fitness products they need to consider.
Becoming a health coach doesn't require any initial investment and can be started with just a smartphone.
28. Offer business consultation online
For seasoned experts and those with vast experience, offering online consultation for businesses is a great way to work with diverse teams and enable them to achieve their targets.
We are witnessing a growing trend of new companies and startups taking shape, and these budding enterprises require skilled and experienced resources to help them navigate and reach their destination. Online business consultations can be offered from home.
29. Offer affiliate marketing services
If you have a significant social media following, this is a stellar opportunity for you! Affiliate marketing is one of the hottest trends today and has helped brands grow their business to reach a wider audience.
Since word of mouth or recommendations is the top marketing channel, brands make the most of this by providing incentives to recommend their products or services to others. With a large following, you can recommend unique products to your audience and get a sizeable chunk of the sale via an affiliate link.
30. Start a digital marketing business
With businesses shifting to the online model, there is a considerable rise in the need for a digital marketing expertise. Be it SEO, digital advertising, content marketing, or social media management, digital marketing services are in high demand.
As a digital marketer, you can offer your services to businesses online and build from there to take up a full-time role or start an agency of your own.
31. Sell your photographs online
If you love being behind the camera, there is much you can do in today's digital era. While photographers are sought after for weddings or event photography, other niches like wildlife, studio, fashion, street, and others are also in vogue.
You can upload and even sell your unique pictures online, and who knows, you can start making money from your channel and win prizes for your clicks!
32. Write an eBook
In addition to teaching and creating a YouTube channel for sharing your knowledge, eBooks are an excellent way to earn passive income by creating a product once and selling it multiple times.
eBooks can be fictional or non-fictional books that focus on a particular subject or story. The eBook can then be sold on platforms like Amazon Kindle and offer an excellent opportunity to subject matter experts and budding writers to generate additional income.
33. Build a website
Many businesses and service providers are taking the online route since the digital boom, and the first thing they need to start selling online is a fully functioning website. If you are a master in building sites from scratch, why not offer your services to those in need?
With platforms like WordPress, Wix, and several others that help users build websites without getting into the nitty-gritty of coding, building a website takes just a few minutes.
Plus, businesses are willing to pay handsomely to professionals to build eCommerce websites that will help them impress their customers.
34. Sell your artwork online
Artists, painters, and those who can create unique works of art no longer have to rely only on museums or exhibitions to sell their artwork. There are several opportunities to create and sell artwork in the digital world, and it can even help you get famous worldwide.
35. Become a voice artist
If you have been told that you have a fantastic voice, why not put it to use and register yourself as a voice artist?
On platforms like VoiceOverFreelance, MelloStudio, Voices.com, Voice-Overs, and Adobe Audition, you can get paid to lend your voice to particular assignments and make this a steady income flow while working remotely.
36. Create a podcast
Another amazing way to put your voice to use is by starting a podcast. A podcast is an audio show that deals with a particular topic, niche, or segment.
It is highly in demand as many users today prefer to listen to their favorite topic to learn and grow their knowledge.
You can earn via advertisements and paid promotions once your channel gets high engagement, and it is also a great way to expand your knowledge to reach a larger audience.
37. Offer data entry services
Data entry services are a great place to start for those who are just beginning and do not have a particular skill set. You only need a laptop and excellent typing speed as a data entry service provider.
Data entry experts will have to fill out data in excel sheets, transcribe audio, and do simple tasks that businesses need to get done but do not have dedicated resources for.
38. Become a bookkeeper
For financial experts and bookkeepers, many online platforms help you find clients.
They include Bench, Pilot, Bookkeepers, Bookkeeper.com, and others, which are apt for connecting small businesses, startups, and other organizations with experienced bookkeepers and helping them with payroll, tax filing, and other work.
39. Become a freelance coder
Coding and technology-based services are the top skills in demand right now, and you can make a sizeable income working from home by offering coding services online.
As a freelance coding professional, you can find gigs on platforms like Upwork, Fiverr, SolidGigs, Coding Ninjas, Toptal, Craiglist, Reddit, and more.
The best part is freelance coders and developers can make up to $60 per hour, and an average entry-level freelance coder can get $58,000 per year.
40. Sell healthy food items and salads online
With today's sedentary lifestyle, there is a growing requirement for healthy food, and not everyone can afford the luxury and time of making these dishes. You can offer healthy food, dietary meals, and salads for this niche audience.
You can make and pack these dishes at home and have them delivered to your customers at their doorstep.
41. Become an online fruit and vegetable distributor
If you have a farm or know the best source for vegetables and fruits, becoming an online seller is a great option. You can set up your entire operations online and manage the logistics without even stepping out of your home.
Plus, you can explore and register yourself as an online seller on several apps and online eCommerce platforms that work with distributors to provide fresh, organic, and locally sourced items to the customer.
42. Answer customer service calls
For any business to succeed and survive in today's digital era, offering invaluable customer support is important. If you can help companies cater to their customers and have a flair for effective communication, becoming an at-home customer service agent is a great opportunity.
All you need is a smartphone and the ability to help customers navigate their issues by finding the resources and support they require.
43. Become an online editor and proofreader
Becoming an online editor or proofreader is a lucrative business if you have an eye for finding minor errors in a copy.
You can enjoy doing what you love and help marketing and content agencies ensure that their written content is error-free.
44. Become an online recruiter
With the rising number of remote jobs, companies have to sort through many applicants. As an online recruiter, you can play the matchmaker and help companies and job seekers find each other, providing recommendations for the job role.
Online recruiters can even offer their services to multiple companies and create many high-paying commission-based sources of income.
45. Become a freelance animator
If you have an artistic or creative background, you can explore a career as an animator. To create an animation or visual effect, you need to have expertise in software like Adobe Animate, Crello, Powtoon, Autodesk Maya, Cinema 4D, and Unity.
Freelance animators can take up assignments via online platforms like Twine, Behance, Freelancer, Fiverr and others and earn a steady income.
46. Take online surveys
Do you think taking online surveys or filling out a feedback form is tedious? Most customers feel the same way, which is why brands are willing to provide monetary benefits to those offering accurate feedback.
Whether online marketing research or brands wanting to understand their target audience, they need honest feedback. Plus, if you are from a niche audience, the chances of your opinions getting high pay are significant.
47. Become an online fashion stylist
Be it finding the right accessories, clothing items, or matching it all for a spectacular look, fashion stylists or those with a penchant for creating the perfect look can find work online.
Becoming an online fashion stylist is extremely easy, and you can promote your offerings using Gen-Z platforms such as Instagram, Tik Tok, and YouTube.
48. Start an online travel planning business
Love traveling or have expertise in crafting the perfect itinerary for traveling? You can easily start creating itineraries and recommendations for fellow travelers and prepare personalized itineraries for specific customers.
Thanks to platforms like Tripoto, Truelancer, Travel Triangle, Instamojo, and others, you can register yourself as a travel planner and sell customized itineraries for specific locations, earning a good income as you do so.
49. Offer financial planning services
If you are a certified financial expert and manage portfolios for your clients, you can offer your services online.
Online financial planners and experts are in huge demand, and financial advisors can even charge a fee for helping their clients plan their investments and taxes and get the right financial or business advice.
50. Teach english online
For avid readers, grammar nazis and those who love language, teaching English online is an excellent option for making money from home. Several platforms like Coursera, Course Hero, Preppy, Teach Away, eTutorWorld, etc., enable you to teach English and become an online tutor.
You can even craft your own course and sell it online to make a steady passive income.
51. Offer translation services
Bilingual or multilingual skills are an asset very few possess, and if you can speak a foreign language, offering translation services is a great way to earn money.
Translation can be a full-time career depending on the language and the market demand. Plus, it can be done from home, remotely, or on a project basis, depending on how you'd like to work.
52. Become a cybersecurity consultant
Data protection and ensuring that businesses and individuals can keep their data safe from hacks or malpractices is more important than ever before.
Being a cybersecurity consultant can be an excellent career option if you have a knack for creating security measures that are tough to crack. You can work remotely and offer your services on a project basis or work with a large organization.
53. Become a freelance designer
If you have an artistic background, you can explore a career as a graphic or web designer. Several websites and online platforms will allow you to search for freelance or online graphic design jobs, and you can set your hours, choose the project you like and build a portfolio of your own.
If you already have the right skills and a strong experience in graphic designing, companies will seek you out to help them on various projects, which pays good money.
54. Offer online product rental services
An online rental business is a great idea, given its niche audience base. Online rental services include clothes, household items, electronics, appliances, and even business equipment.
You can easily register your business with an online platform and start providing products on rent to your customers. It requires minimal logistical planning and initial investment and creates a steady income flow.
55. Become an online app developer
An increasing number of users rely purely on their smartphones for discovering new content and getting answers to their queries. So it is important for any business to also offer a mobile app that gives them an exceptional experience.
As businesses shift to embrace mobile apps, an app developer can make the most of this opportunity. You can use your expertise in creating mobile apps and help businesses develop and roll out their own apps on iOS, Android, Windows, and other mobile platforms.
56. Offer dance lessons
If you are a gifted dancer, help spread your talent by teaching others how it is done. Dance is a skill that many wish to develop, and with the proper guidance, they can learn to match their steps to the beat.
There are multiple ways to start teaching dance online, as you can either create a channel to provide step-by-step videos to learn the skill or offer one-to-one lessons for those wanting to learn the art for a specific event.
57. Become an at-home beautician
The beauty industry is one of the top industries that has never seen a downfall, even when the pandemic was at its peak. Customers nowadays prefer at-home services, be it for waxing, pedicure, manicure, facials, or more.
At-home beauty parlors have since become a rising trend, as beauticians can offer customers various services at their doorstep.
58. Become an online video editor
Online video creation has been experiencing a massive boom, and businesses and individuals are looking to ride this trend.
While creating video content seems easy, it takes a knowledgeable video editor to get the professional touch that is much sought after.
If you are an expert in editing videos, you can become a freelance video editor and offer your services to brands and individuals by registering on platforms like Fiverr, Upwork, and others to get a steady income.
How to start a business from home?
Now that you have an idea to start your business, let's talk about the basic things you need to know and do before you start running your business.
1. Validate your business idea
Your business idea is just that, an idea. To make it into something concrete, you need to first validate your idea and make sure it's worth carrying out.
To validate an idea means that you have to see whether it is profitable in the actual market. You need to research the demand for your product and how much profit you can earn by selling your product.
To validate your idea, you can follow these 5 steps below:
1. Write down your assumptions about your product's value, needs, pricing and business model. Your plans would mostly revolve around these.
2. Before you launch your business, research the market you're about to enter, the target market and the share of this market that you intend to capture.
3. Scour the internet for your products and related terms. This will give you a concrete idea about the customer demographics, demand and most importantly, intent. You can use all these to form a cohesive marketing plan for your business.
4. Carry out interviews and send out questionnaires to your potential customers who will most likely use your products. Ask them about their needs, what they want to fulfill those needs and their pain points. All of this will help you design and market your product better.
5. Last but not least, test out your product in the real market, among real customers, to see how it performs when pitted against your competitors. You can use the feedback from this test run to improve your product before a final launch.
After successful completion of your validation, you will have a pretty good idea of what works and what doesn't, and you can start shaping your business accordingly.
2. Create a business plan
Creating a business plan is like a building block of your business. You can use one to enumerate your business's goals, operations, finances, hierarchy, and other plans to grow your business.
This consists of both short and long-term plans for your business, and most successful businesses started with only a plan.
You should also pen your business goals and objectives among other things before your begin your business operations, in fact, it should be the first step after deciding on an idea.
3. Make some space for your home business
As said earlier, you will need to carve out space for your business at home.
It may vary according to your business idea, but you will definitely need some space for every business. It may be for an office, storage, equipment, or anything else that your business demands.
When you have a business idea, and a business plan intact, you will know how much space you need, and accordingly can make some in your house.
4. Gather equipment
When you start out to plan and think about how much space and equipment you need, it might be more than what you can actually afford, or maybe you might find more space than you thought you would.
When you actually have moved things around and created your home office, you can buy equipment according to your needs, space, and budget.
5. Design brand name and logo
Your brand name and logo play a very important role in your image, recognition, and success.
Your customers identify your business and products by your logo, they remember your business by its name.
Make sure you carefully choose the name, logo, and brand colors to truly connect with your customers, and comply with your values, goals, and objectives.
Final Words
It is as easy as that. A few years ago, taking a business online was such a high task, and home businesses were limited to the confines of a locality or a town at the most.
With the advancement of technology and the development of new apps that make all our lives easier, we can achieve anything with a few clicks of a button.
Now you can realize your dream to take your online business international, from the comfort of your home, while you are your own boss and do things on your own terms.
Having said that, every kind of business has its own challenges, and you'll go through your share of hardship too, but the difference between success and failure lies in not giving up.
If you liked any of our ideas, start working on them today, and make your business a success!