The pandemic has parted the business world into two. One's that collapsed and ones that rose up. Online business is among the latter. Here are 15 online business ideas you can start today!
With the outbreak of the coronavirus pandemic, people from around the world had to radically change their daily lives, often including how they work. Many people who once worked in offices transitioned to working remotely from home, and many others lost their jobs because of the economic downturn that coincided with the lockdowns and shutdowns.
Before the coronavirus (COVID-19) pandemic, 17 percent of U.S. employees worked from home 5 days or more per week, a share that increased to 44 percent during the pandemic.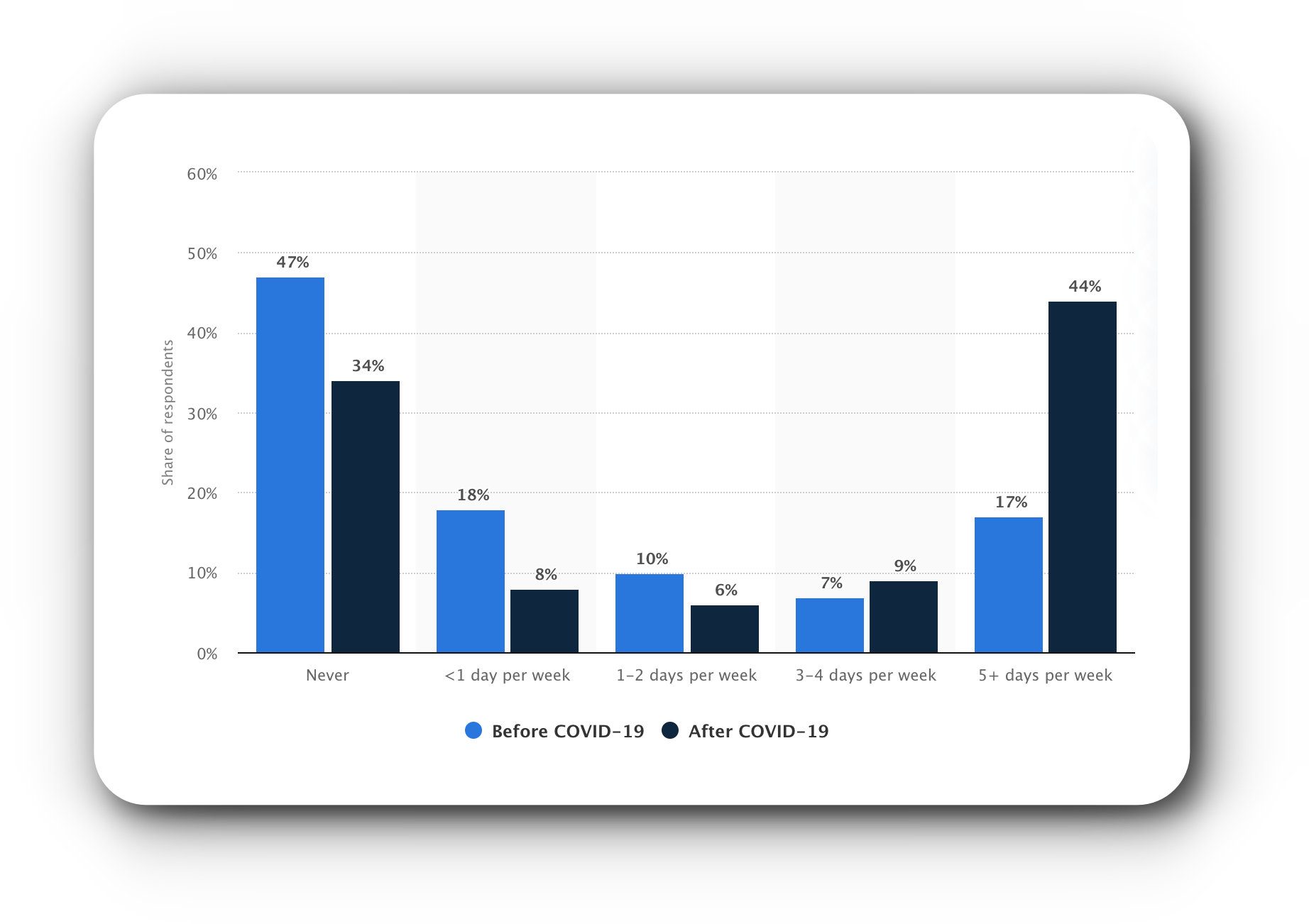 What this means is that more people now than ever before are trying to figure out a way to start a business from home. With the amazing capabilities of the internet to connect you to the far reaches of the earth, there are endless online business ideas that could help you earn some extra income or even replace your full-time job.
That being said, starting a business typically takes a lot of upfront capital. That isn't necessarily the case with some of the best online businesses, though, and there are plenty of low cost, high profit business ideas that you could get started with right away.
Are you interested in starting an online business that has low investment costs? Let's take a look at the fifteen best online businesses to start with little upfront costs.
Best Online Business Ideas in 2022
1. Design and Sell Print-on-Demand T-Shirts
If you have a creative eye, you can produce products where people purchase and wear your own, original designs.
Designing and selling T-shirts that are printed on-demand is a job shipping model of business. This makes the inventory, shipping, and fulfillment are all handled by a third-party supplier. When you start this low-cost business idea, your goal is to customize products with original designs that appeal to your target market.
You don't have to do with T-shirts, either. You can design and sell goodies, hats, tote bags, phone cases, skirts, and more.
With this type of service, you typically pay per product. This means that it costs a little more than if you were to purchase the items wholesale in bulk.
However, one of the major benefits of this business model is that you do not have to pay for designs that do not sell. Of course, if you paid someone else to make the design, then there is a cost that you will incur.
You don't even have to spend money on a full photoshoot for each new design, as you can often use T-shirt mockup templates.
Learn how to start a t-shirt business online.
2. Create Online Courses or Digital Products
These are not tangible products, but rather digital products. This means that you don't have to worry about recurring manufacturing or shipping costs. If you are looking for low cost business ideas with the potential for high profit, digital products can be a great medium for you to reach your goals.
In order to make successful digital products, you'll need to come up with information to offer your audience that is useful enough that they are willing to pay for. There are so many different possibilities within this type of online business that the sky is literally the limit.
Here are just some of the digital product ideas that you could start producing and start profiting from right away:
Audio and music
Digital art
Online courses
PDF documents
Graphics
Video
Software
E-books
Planners and journal
Membership sites
Downloadable guides
Self-assessment tools
Paid newsletters
When you are brainstorming about how to start an online business, take some time to consider what your talents are. While it is always possible to learn a new skill, why not use some of the skills that you have already acquired in life?
The Internet has completely revolutionized the way that people can share information. People in the modern world have more access to more knowledge than has ever been the case throughout the history of humanity. However, this also means that there is a dense swarm of information out there, much of which is not as helpful as people would like.
It definitely takes some planning to determine a business model and strategy that will be profitable. The important thing is to genuinely offer value to people in a way that they are happy to pay for your digital products. Marketing will be an important aspect of this business, as you will have to put your products out in front of the right demographic and know exactly how to appeal to them.
3. Start a Dropshipping Business
When you are learning how to start an online business, one of the first options you might consider is starting an eCommerce website. However, you will quickly learn that managing inventory is a major commitment that requires investment up front, time, and space.
Luckily, there is a low-cost, low investment way to have an eCommerce site. This is dropshipping, where you have a third-party supplier store and ship your inventory to customers for you. This means that you can be selling products online to customers without ever physically handling them yourself.
This is a business that is hands-off, scalable and has a low overhead. All you have to do is make the sales and communicate the orders to your third-party supplier. You can create an online store that focuses on a specific niche, where you curate products to appeal to your target demographic.
In this model, you are still responsible for your own customer service and marketing. By eliminating the hands-on aspect of selling products, though, you will have a lot more time and energy to focus on these other crucial aspects of your business.
4. Sell Homemade and Handcrafted Goods
Are you someone who is always making crafts and goods at home? Are you talented with your hands, making pottery, candles, jewelry, soap, or sauces? If so, one of the online businesses that might appeal to you is selling homemade and handcrafted goods.
You will, of course, need to consider how you will manage and ship your inventory. However, this is a great business for starting out small and simple on just a per order basis. Once you start generating consistent sales, you can have a plan for dealing with larger numbers of inventory and shipments.
If you are already selling a handmade product at a store or a market, there is little reason to not move your market onto the digital stage. After all, the number of people who can purchase your products is limited when you are selling your goods in a physical location. When you move your storefront online, you are multiplying your potential audience by a truly incredible factor.
One thing you will need to consider is if there are any regulations in your product category. For things that people put on their skin, inhale, or eat, there might be regulations about how you market and produce your products.
5. Sell Print-on-Demand Greeting Cards, Posters, and Prints
If you are very skilled with a camera or otherwise artistically inclined, you can utilize a print-on-demand business model to produce, ship, and sell the work that you create. If you are doing this with the works of other people, make sure that you are using public domain assets or that you have the right to the content, otherwise, this could create legal trouble.
While it can take some time to build up a following, people who are successful with this online business have a pretty sweet deal. They simply get to produce the images that they are driven to create and then they can profit off of their sale when their audience purchases prints of them.
For that reason, this is a particularly good business or creative people who already have an engaged online following. Perhaps you are a well-known tattoo artist, landscape photographer, or cartoonist. You can tap into your existing audience to find customers for your print-on-demand products.
6. Build a Monetizable Audience
We live in a world where people have an increasingly short attention span. When you think about it, this is perfectly reasonable, as we live in an incredibly saturated media environment where we are exposed to new media, ideas, and images countless times throughout the day.
For this reason, having the ability to capture and maintain the attention of an audience is a huge asset. There are a number of social media platforms that you can use to build a following, and it is often advantageous to use a combination of different channels to build your base. You might consider using Instagram, a blog, YouTube, Twitter, or some other platforms to start creating a following.
Once you have an audience, there are a number of different channels through which you can monetize the following. These include:
Becoming an influencer
Making sponsored posts on behalf of brands
Patreon
Selling digital or physical products
Any combination of these above ideas
While this can be a high profit business idea, it is something that will take some time to build. You won't necessarily decide to build a monetizable audience one day and then wake up the next morning with thousands of followers. It takes time, strategy, and hard work to build a small business that is based on an audience-first approach.
That being said, if you have time to put into this business concept, you might find that it creates significant income for you for years to come.
7. Start a Blog
What is it that you have a passion for? Is it crafting, cooking, biking, fashion, photography, or something else entirely?
No matter what it is that you have expertise in or are otherwise enamored by, there is the possibility for creating a successful blog that both chairs your passion with the rest of the world while also allowing you to turn a profit.
There are a number of different ways that people can make money from blogging. One of these is by placing ads on your website. Another is through affiliate marketing, where your blog links to listings for products that are being sold on a different website.
All you usually need in order to start a blog are to purchase website hosting and a domain name. You can also use your blog as a way to advertise other services that you sell, making this an ideal low cost business idea that works well with many of the other ideas on this list.
8. Sell Online Stock Photos
Have you always been the person in your group of friends that has a camera nearby? Do you have an eye for composition, light, color, and images in general?
The Internet is filled with imagery, as humans process visual images much more quickly than they process text. You might say that we are inherently visual creatures.
The problem this creates is that companies and websites are constantly in need of new, high-quality photographs. They need to be able to obtain these images legally, though, so there is an entire business of selling stock photos.
There are a number of different popular stock image sites that allow users to submit their photos. Every time your photograph is downloaded, you get paid.
The most profitable way to start this business would be to sell your photos on your own site. However, this means that you need to be able to draw an audience of your own, while in the previously mentioned model you get to benefit from huge audience of stock photo image sites that already exist.
If you choose to go this route, you'll want to research and learn about what companies are really looking for when they're buying stock images. They usually want fairly generic images, such as pictures of food, nature scenes, or images of people doing everyday tasks or working.
Learn how to start a photography business.
9. Start Writing Books
If you have always dreamed about publishing your own book, then now might be the time. There are a lot of different options when it comes to successfully self-publishing your work. You can either use a print-on-demand service to sell physical books or you might release your writing in the form of an e-book, which is a digital rather than physical product.
You can write a book about whatever you want, whether it's a cookbook, sci-fi novel, or children's book. That being said, there are some niches that are more popular than others and seem to create the most profit in the world of ebooks. Some popular and potentially profitable niches include:
Fitness and weight loss
Health
Pets
Relationships and dating
Investing and finance
Self-improvement
Beauty treatments
Making money online
Technology and gadgets
Romance novels
Religion
Entrepreneurship
Alternative medicine
Young readers
Sci-fi
This is a great business model to combine with some of the other low-cost business ideas on this list. For instance, you might consider having a blog that offers information related to your niche and serves as advertising for your book. You can also create merchandise aligned with your book for your followers to purchase and proudly wear.
10. Become an Affiliate Marketer
If you haven't heard of affiliate marketing, that doesn't mean that you haven't come across it when you spend time surfing the web. There is a good chance that when you have been reading a blog or looking at a social media profile and there is a link to a service or a product, you are looking at affiliate marketing.
This is when people share and recommend a product or service on social media, their blog, on their website, to their email list, or otherwise. Every time someone purchases the product or service through your unique referral code or link, you earn a commission.
You will want to find an affiliate program that fits with your target audience, personal brand, and interests. You can then sign up with a program that works best for your brand. It's important to use affiliate marketing wisely because if you oversaturate your audience with advertisements you might find that they start to drift away, finding your content inauthentic, spammy, and sales-y.
11. Start a YouTube Channel
Starting a YouTube channel can either be a part of your marketing strategy or the entirety of your business. There are a number of different ways to make money with a YouTube channel, but it will be necessary for you to build a loyal and engaged audience in order for it to become profitable.
When you are first starting out, you will likely first explore advertising as a way of making money with YouTube. In order to do this, you will need to join the YouTube Partner Program. This program is not available in every country, so you will want to do some research before getting started.
Here are a number of other ways that you can make money using YouTube:
Work with brands as an influencer
Sell merchandise or products
Become an affiliate marketer
Crowdfunding your next creative project
License your content to the media
Allow your audience to support your work through platforms like Patreon
Building a successful YouTube channel is something that will take time. While some people might luck out with a viral video right at the beginning that helps them earn tons of followers, for most people it is a multi-month or multiyear long process to get a hefty number of viewers. That being said, once you have a big audience there are endless ways to monetize your channel.
12. Offer Teaching and Consulting Services
Did you have knowledge on a particular topic for a unique skill set? You could potentially enhance the lives of your customers and clients while also turning a profit by starting either a consulting or teaching service online. If you are a veteran of relevant industry and would like to switch gears and pass on your wisdom to younger people in the same field, this might be the online business for you.
There is pretty much no limit to the types of consulting and teaching services you can offer. Maybe you offer acting classes, art consultation, relationship coaching, or home tutoring. You can even be a personal trainer online, with people getting more and more comfortable using Zoom and Skype for these types of services.
13. Become a Life Coach
If you are a person that loves working with other people and helping them live up to their full potential, you might enjoy starting an online business as a life coach. Because of the advancements in technology, you can provide coaching services to people anywhere in the world so long as you both have an Internet connection. The increasing reliance on videoconferencing has proven that people are willing to pay for services like this even when they do not occur in person.
14. Sell Baked Goods Online
Are people always asking you to bring your delicious baked goods to events, parties, gatherings? If you feel like your passion is to bake, then you might consider setting this up as an online business.
15. Sell Your Art Online
Lastly, maybe you are a truly creative spirit. You aren't interested in making and selling products, you want to make and sell art. This is totally possible because of the amazing potential of the internet, allowing your creative productions to brighten the days and enliven the minds of people all around the world.
Plus, if you aren't opposed to it, you can print and sell your art onto merchandise like t-shirts, phone cases, and hats using a print-on-demand service.
Which of These Idea Is Right For You?
The sky's the limit when it comes to online business ideas that don't take too much (if any) capital to get started. When considering your new business venture, you'll want to learn about marketing, customer service, and other essential aspects of having a successful business. Never before has it been more possible to turn your talents and passions into cash, and Dukaan can help make this dream a reality.
Is now your time to start an online store? Are you ready to take charge of your finances and your life by becoming your own boss? If so, click here for a 14-day free trial for Dukaan, the best and easiest way to start an online store.