Did you know you could build strong and positive customer relationships through a simple feature like live chat?!
Live chat lets you connect with your customers most seamlessly. It helps you to establish lasting relationships and drive business sales. You can open the door for direct communication with your customers through live chat and provide a tailored experience.
Today you can make your customers' shopping experience more enjoyable and informed – all while you build a strong relationship that drives sales. You may wonder how. Read on to know more!
What is Live Chat?
Live chat is an online communication tool or platform that enables your business executives to communicate with website visitors in real-time. The "live" refers to real-time communication happening back and forth.
Unlike email support, in which there might not be an immediate response. Several tools offer both real-time chat and hybrid messaging. Such platforms provide both synchronous and asynchronous interactions to take place simultaneously.
An online chat is an excellent alternative to the old-school calls or emails. From both the website's and visitor's side, it is simply a matter of typing a query or message inside the chat box and hitting the send button. 85% of businesses want to initiate live chat by 2022, and 79% of customers choose to communicate via live chat over other means nowadays.
Live Chat and Behind the Scenes
Live chat equips companies to communicate with visitors to their website or other media properties. Live chat is integrated via code on selected web pages, and companies can pick and choose the pages they want to offer the feature of live chat on.
When a visitor initiates a live chat, behind the scenes – the organization's staff answers the queries of those sessions. In other cases, chatbots are equipped with a list of answers to preselected FAQs. The technology that enables this is robotic process automation (RPA).
A vendor's live chat can be linked with the company's customer relationship management system. In such cases, the live representative can view user details and save the conversation to a customer experience database for future reference.
Benefits of Live Chat for eCommerce Businesses
In today's fast-paced world, customers expect businesses to respond quickly, efficiently, and conveniently. Organizations can only achieve such engagement when they know what communication channels their customers prefer today.
Another aspect that tops the list is – changing the preferences and tastes of customers. Aligning to them can help the business grow. Here's where live chat shines – it's ideal for providing real-time assistance and enhancing customer interaction.
Apart from real-time assistance and a tailored experience, let's explore what benefits a live chat provides to a business entity.
Live chat saves time
Time is of essence!
It is inadequate support that is indicated if your customers are:
Waiting for an email reply
A telephone call to get assistance
Catering their valuable time for the lengthy process
Live chat is a way for customers to handle multiple tasks at once. Additionally, your support agent can handle multiple requests and therefore work more effectively.
Live chat enables personalized communication
Personalization makes a clear path to engagement and conversion in this era of data-driven marketing. Tailored assistance to user's real-time queries or messages can resonate well with response rates and imprint a positive experience.
Live chat apps are on the rise and are a great way to engage customers deeper. 62% of customers return to a website with live chat, and 38% purchase after a chat session. You can establish an honest and meaningful relationship with your customers, which can't be achieved through occasional emails.
Having said that, can you give a personalized interaction to a customer 24X7? Highly impossible, right?
That is where the chatbots come into action. They also behave and act to address the customers to their tailored and specific needs. How? A variety of programs are into action to develop a pattern of queries that most customers ask. If the chatbot cannot resolve the issue, it generates a ticket and sends it to a support agent.
Keep customers on-site to increase conversion
Imagine yourself confused between products A and B over an ecommerce store. What would be your action that follows? Seek customer service support! That is when the use of the live chat interfaces can be of differentiating advantage. As mentioned above, time is a priority for most customers.
Helping the consumer resolve their confusion and helping them in gaining clarity about a product or service can scale higher conversions than ever. As per the statistics, 40% of visitors who engage through live chat are likely to move through the AIDA funnel.
So, it is time to engage them with a better support system via live chat. It acts as a medium for a customer's presale queries and can boost sales instantly.
Handles objections and queries in real-time
Any online store would benefit from customer reviews. In this digital era where everything is crystal clear and transparent, objections and reviews play a crucial role in helping a customer push forward to make a purchase. And that can be handled well if feedback is considered real-time.
Disapproval from a dissatisfied customer is as valuable as a testimonial from an approved customer. It impacts a long-term relationship from a business perspective. Acknowledging the mishap and helping them towards a better experience happens instantaneously with live chat as a channel.
Who wouldn't like that? A live chat considering your objections and queries in real-time!
Drives customer satisfaction and loyalty
A company that cares about customer issues and finds relevant solutions is an obvious step to a trustworthy journey. Is it a grueling journey? A yes and a no. Your customers will be happy if you provide them with the solutions without delay and at their convenience. That helps your business, and however tough that might be, it remains imperative.
But, hang on, there is a light at the end of the tunnel, though. Live chat support demonstrates your concern for the customer and their queries. Therefore, they will turn to you, again and again, to solve their problems, resulting in more sales for the business!
How to integrate Intercom Live Chat on Dukaan
To install Intercom on your Dukaan store, follow these steps:
1. To start using Intercom, create an account on Intercom or log in (if you have one)
2. Click on your profile icon and select Settings
3. Now under settings, click Installation and select Web
4. Under the "Install Chat for Visitors" section, click on With Code
5. Copy the app_id

6. Now, Install the Intercom plugin on Dukaan
7. Click on Settings and it'll ask for Intercom App ID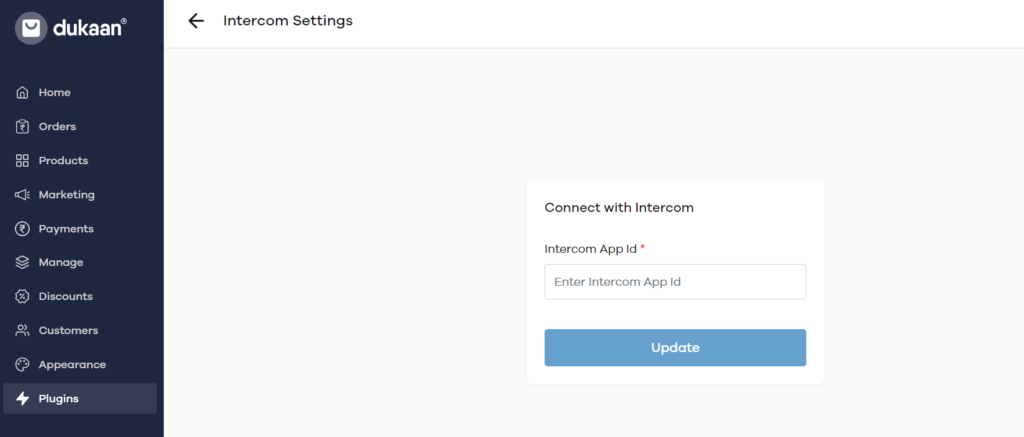 8. Paste your App ID here to complete the installation
Conclusion
Although social media platforms seem like engaging channels for businesses, it is only after some time that the enterprises realize the vitality of owning an online store. When talking about an online store, it certainly seems like a grueling task, isn't it? But not anymore!
Get started with Dukaan! Where you can launch, operate, and grow your online business store like never before. And guess what? All it takes is three simple steps and 30 seconds of your time. Why wait? Embrace the platform that makes your ecommerce journey incredibly easy!
FAQs
How to build a stronger customer relationship?
Making an honest effort to understand the customer is the key to a strong customer relationship. A customer never cares about what you offer. They focus on how it makes a difference for them when they choose your product/service. So, maintaining a transparent, healthy, and engaging relationship goes a long way in your business journey.
How to boost loyalty in customers?
Make your emails stand out.
Exceed customer service expectations.
Show you care by asking for feedback.
Communicate consistently and on time.
Establish trust.
Reward loyal customers.
Is it easy to drive sales via the online store and live chat?
Many entrepreneurs make the mistake of choosing complicated and difficult-to-use ecommerce platforms. If you look around, most ecommerce platforms are difficult to use and require you to be technically sound. You might even need to hire third-party experts like web designers and web hosting providers for website management which demands both money and time. Why not choose modern, easy-to-use ecommerce platform like Dukaan that makes it easy for you to manage your store?