Of course, it's easy to get started with your online business on social media. But then when it comes to real business, chaos kick in. Here's why it's a bad idea to start your online business on social media.
A quick look through popular social media platforms, such as Instagram, will show us many aspiring solopreneurs, hard at work. Home bakers, clothing line dropshippers, hair products creators, boutique owners, the list goes on.
It goes without saying that many of us wouldn't have crossed paths with these folks had it not been for social media. After all, that's the very purpose of it. Isn't it?
While social media helps us to amplify our business, we've come across many owners who bet all their eggs in this basket alone. Is that good for a business? Or, does it backfire at some point in time or the other?
Shall we find out with this blog, then?
Social Media is Always a Smooth Start
It's super easy to get started on social media, right? Just signing up and adding what you want the world to see about your business. There's initial traction when you share the new venture with your friends and family and they, in turn, do the same for you.
A splish splash of your products; if you're a home baker, then that latest macaroon batch which you did, or the buttercream frosting hack to get it right. Okay, now I really need a cupcake, sigh!
Anyway, it's smooth sailing.
At first.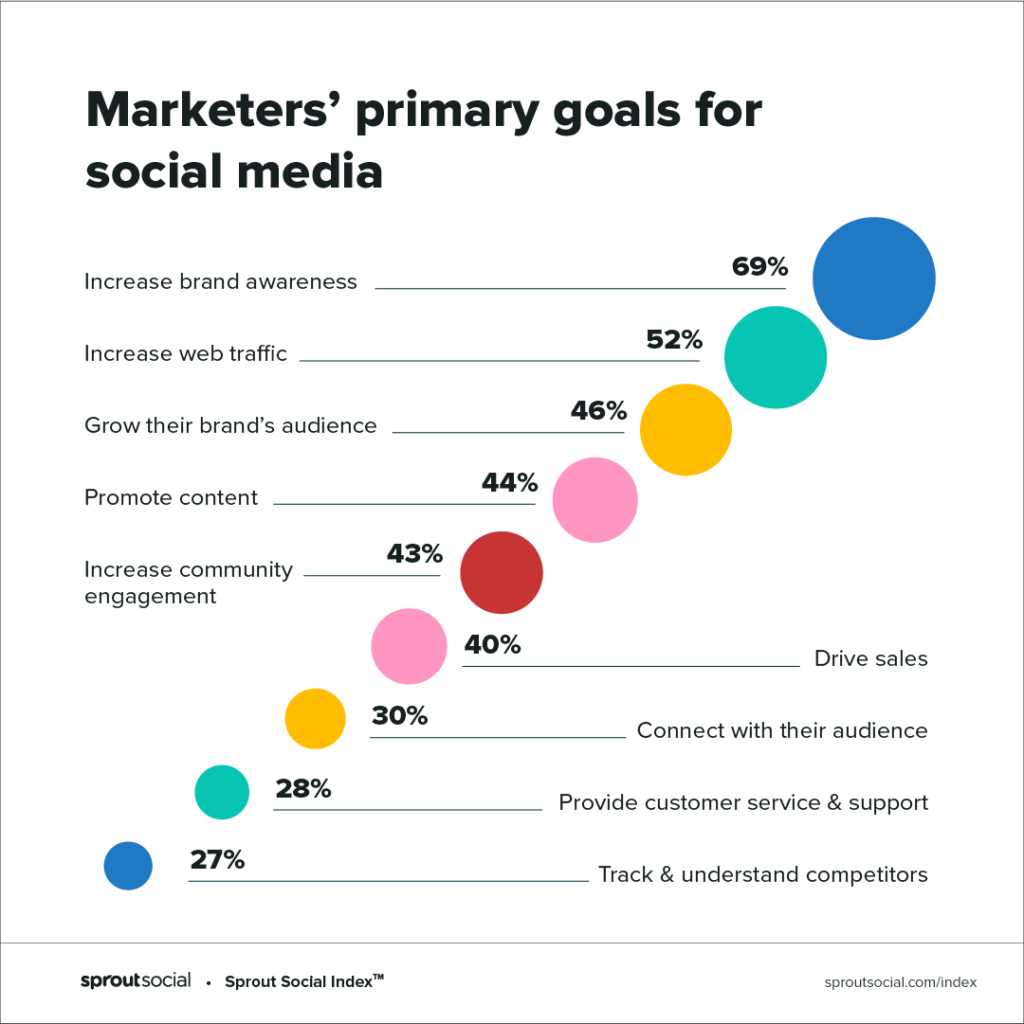 A recent study did by Sprout Social revealed that marketer's primary goal on social media is to increase brand awareness. Almost all the reasons marketers use social media is for promotion – not selling.
Hitting a Social Media Plateau
Soon enough, that initial wave tends to die down. The visibility dips and you could find yourself in a confused state. Google is flooded with articles and videos that talk about getting out of this social media plateau and bring back that mojo.
Don't believe me?
I ran a search volume test on Google's keyword research tool, and the number of people who searched for "how to get followers on Instagram fast" was between a staggering 10K – 100K.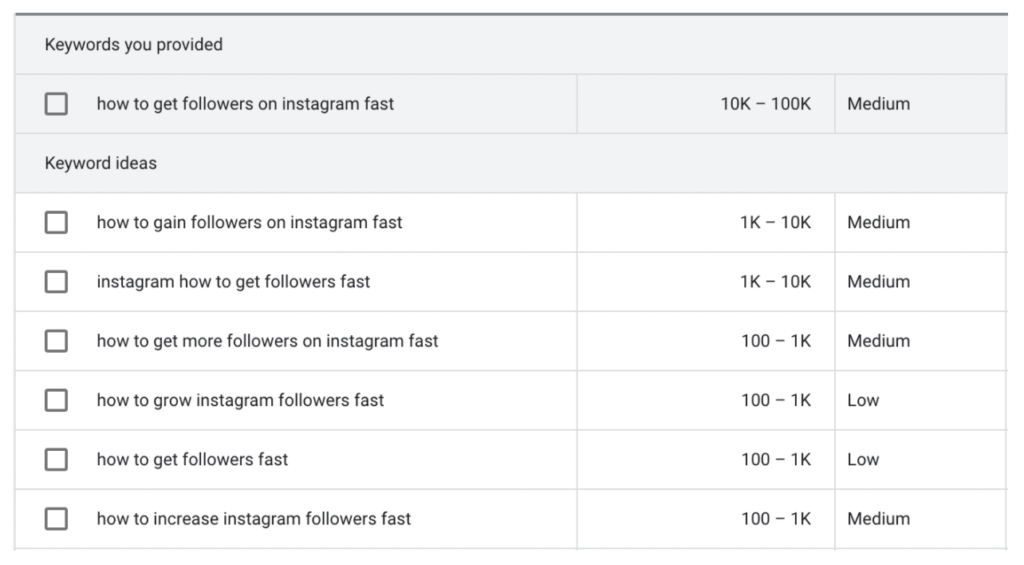 The pursuit(read struggle) to get followers isn't a new thing. While the initial success is attractive, very often, most business owners don't get their expectations matched in the days that follow.
Since social media platforms are used by millions across the globe, it's natural for business owners to assume that it is easy to reach out to them through these channels.

However, what many people don't realize is that building a presence through this channel requires time and patience. A flood of DMs, comments asking for prices, orders pouring in, all of it takes due time.
Moreover, social platforms run and thrive on advertisements. The reach which a business account gets until it runs a paid ad is way lesser compared to a personal account. In essence, you could hope for the desired results if you are ready to invest generously.
Using social media to amplify our business works. Using it to run a business needn't. Let's see why.
When It's Down To Business, It gets Messy!
Here are some of the things we found from our customers who solely used social media to run their online store and business, especially after receiving the threshold social presence they'd hoped for.
Difficulty In Managing Orders From Multiple Sources
Your customers have multiple ways of reaching out to you. It could be a DM on Instagram or initiating a chat on WhatsApp. In due course, it becomes difficult to keep track of orders coming from multiple sources, especially when you scale up.
In this chaos, you end up processing duplicate orders or missing one out. Consequently, a bad customer experience ensues. A customer once lost is hard to get back.
Lack of Unified System to Run Business
Social media platforms are just an auxiliary support system for your business. Their core aim is to advertise and popularize a brand/account.
Therefore, it becomes too difficult to process orders, keep a track of shipment, verify and cross-check orders, and prevent their duplication, processing safe payments. Even if you end up running everything on social media, you'd still require the support of other platforms to run the remaining leg of an order cycle.
Competition could steal your brand name/profile
It's every other day we see pages with great follower count putting up stories calling out fake accounts created in their name. These accounts feature the same products and even the logo as a flourishing business in an attempt to piggybank some orders and even scam customers.
Remember the Kicker copycat of Nestle's?
Source: Reddit
It may not be easy to track down such fake profiles that pose a great threat to your reputation.
Wastage of Resources
Since a lot is going on, you'll find yourself stretched too thin. Running the business becomes hard and it becomes impossible to be at multiple places at the same time- packing, processing, payments. You might require hiring an additional resource which could add to your overhead costs. It's important to note that there are e-commerce platforms that will let you run the show with way less hassle.
In the case where you already have resources, these multiple back & forths would mostly result in underutilizing your resource, when in reality you could use them for something worthy.
Exclusive Ownership Issues
You don't call the shots here, TLDR.
For any disputes or issues that arise on any social media platform, there is a review process. In some cases, accounts get suspended or banned even. Even the copyright infringement scenario if another account steals your identity isn't sturdy enough to prevent the same from the company.
On the contrary, competitors can report your profile, maybe for no reason, and there's a possibility of losing all your hard work overnight.
Moreover, white-labeling isn't exactly on cards when you run a business on these platforms. It's always: /platform/your-store/. That exclusivity is missing! Why is it important, you ask? Two words. Brand Recall.
Business Data Hacking
It's an open secret that our data is not precisely secure across many leading platforms. This could particularly pose a difficult situation for business data security. Your sensitive data could be accessible to others and leaked even. As the platform is yours, you have little to no control over what happens.
So, what are the Alternatives?
If not social media, you might have to set up your own business website isn't it?
To do the same, you would either have to depend on a graphic designer and developer to do the work for you. Couple that with website domain hosting fees, payment gateway charges, shipping & logistics… the horizon doesn't look promising.
Or, you could go ahead with e-commerce platforms that get all this done for you. As it's obvious, in both cases, you need to dish out cash. A good chunk for that matter.
It's not like the free signup you see on social media.
Many a time, there could even be barriers such as technical knowledge required to run a task or to set up the platform the way you want.
For people who are non-tech-savvy or who don't wish for such sophistication, this could easily be a deal-breaker.
How Dukaan can help
We understand.
It's hard when dreams come with a price tag. So let's change that, shall we?
What if we ask you to forget about all the big numbers and problems which we had just discussed? Before you raise your brows, let's tell you why.
With a platform like Dukaan, you can get the best of both worlds.
Like the pandit who runs his consultations and poojas online effortlessly with Dukaan, you can get started with your business today, within minutes.
Dukaan has been conceived with one thing in mind- simplicity.
You can download the app or use the web browse version to signup. Fill in the details of your business, you know, the name, category, and the likes. Add products, set a price for each, offer discounts, and go live instantly.
And, don't worry about payments.
Add your account details and proceed for secure checkouts each time. No data leaks or security concerns. Your customers will be alerted via WhatsApp, right from order confirmation till delivery.
Get all your marketing, payments, invoices, discounts sorted in one place. Add additional plugins to enhance the experience.
Do you still have second thoughts? Let me draw a side-by-side comparison of how things would change from your current WhatsApp business model to Dukaan.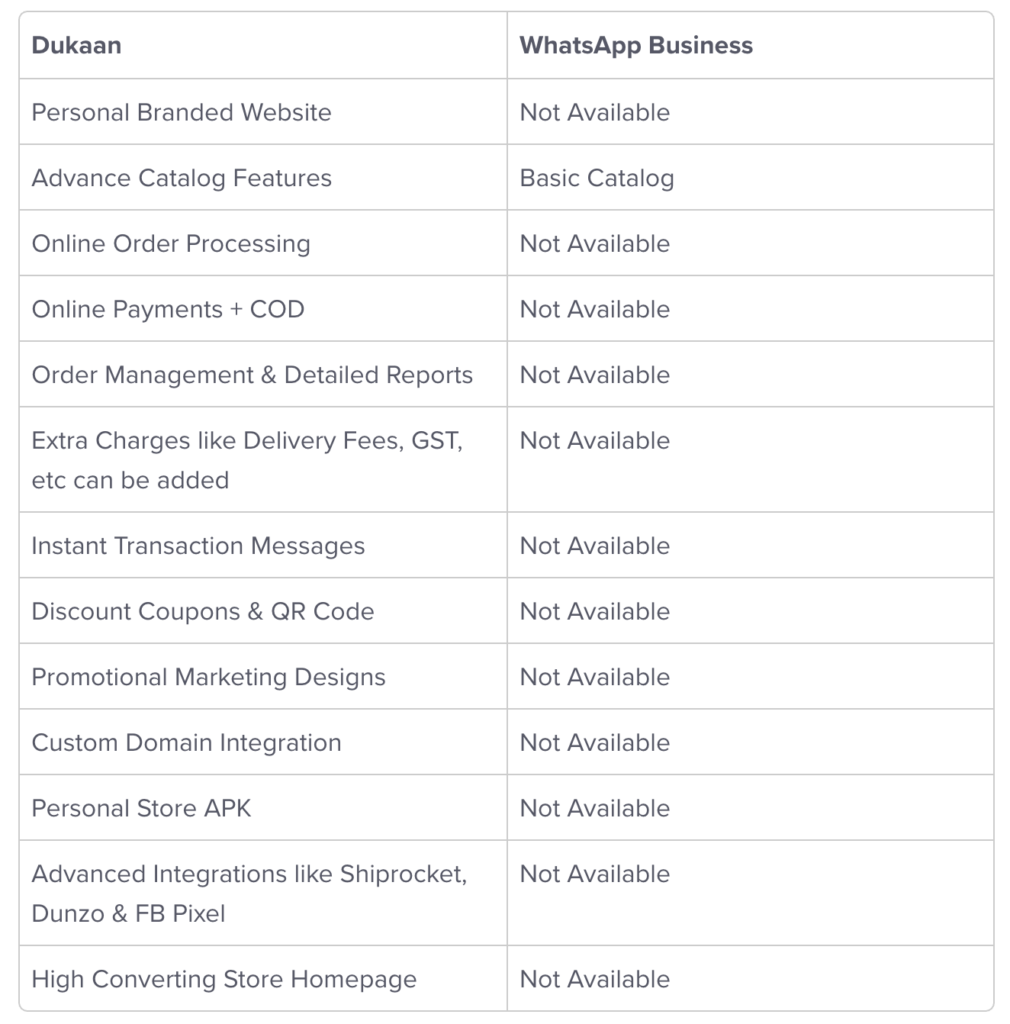 Remember when I said to remove the big amounts of investment from the picture? You can get started for Free on Dukaan!
Now, should you really expend all that energy on multiple channels when you can really simplify the entire process in a single platform? Combine the power of an e-commerce platform with social media.
Amplify your brand, through & through! We'd be happy to help you, should you need anything.
Cheers!
Oh! And we did a video on this as well recently. Check it out.