Want to start a business in the heartlands of the country? Read on to know 25 village business ideas in India that are bursting with potential.
"India's soul is in its villages", said Mahatma Gandhi. Indian villages are living storehouses of a myriad of cultures that have survived the test of time through constantly adapting to change while retaining their valued traditions and skills. With internet penetration in rural areas, it is easier than ever for people living in villages to open a successful business online with zero technical know-how.
Why start a business in villages?
Gone are the days when it seemed like only urban areas were viable for small businesses. There is great potential in setting up businesses in rural areas and there are tons of ideas you can explore to tap into the rural market. Here are some of the key benefits:
Sourcing raw material is a breeze. You will most likely find all the raw materials you need in the village you start a business in and that too at a far cheaper rate than that of urban cities.
Your overhead expenses will be drastically low as compared to your urban counterpart. Utility bills, labour costs and rents are comparatively low in villages. Low overhead expenses mean more profits.
There is less competition in rural areas. It is easier for you to have a customer base as long as you resolve the pain point of the consumer.
You can both, directly and indirectly, help the development of rural areas by generating job opportunities, addressing pain points and contributing to the economy.
Village Business Ideas in India
Here are some of the most lucrative village business ideas in India.
1. Flour mill
The demand for flour is high all year round across the country. Starting a flour mill and supplying freshly milled flour can be a good business idea especially considering the fact that procurement of grains and cereals is easy and economical in villages. You can slowly expand to milling spices too.
2. Kirana
Kirana stores have been a saviour when the pandemic containment measures were in full force. Groceries and FMCG goods have a steady demand, come what may. Starting a Kirana store business can prove to be a profitable idea thus.
3. Agarbattis making
Incense sticks are used on a daily basis across millions of households across India. During festivals, the demand for them skyrockets. Manufacturing agarbattis is a simple and low capital-intensive village business idea- simple machinery, easily available raw materials and cheap labour make agarbattis business one with great potential.
4. Clothing store
Villagers are known to travel to cities to purchase ready-to-wear garments for occasions and festivals. Setting up a clothing store would resolve their pain point while earning you good profits. A little market research before deciding on what clothes you will stock will go a long way if you opt for this business idea.
5. Poultry farming
The return on investment in a poultry farming business takes time but is promising. The fact that no religious taboos are revolving around poultry, makes it a high-demand product. You can start the business in your backyard and then expand into a full-blown commercial venture.
6. Fertilizers/pesticides
With a projected growth of CAGR of 11.9% between 2021-2026, the market for fertilizers looks good. After all, we are the second-largest consumer of fertilizers in the world. The increasing agricultural production rate in the country is proof that a business in fertilizers can prove fruitful with the right approach.
7. Milk/Dairy
The dairy business in India contributes to 4% of its GDP. Milk and milk products are used for multitudinous purposes across the country. The dairy farming industry is growing exponentially and it is only going to get better in the coming years. Starting a dairy farming business will help you earn well while positively impacting several rustic livelihoods.
8. Organic vegetables and fruits
If you own farmland or can outsource vegetable/fruit-growing to farmers on a contractual basis, this business idea can prove fruitful (no pun intended). People living in villages aren't used to eating processed food. Having fresh fruits and vegetables at their disposal will mean convenience for them and success for you.
9. Beekeeping
Apiculture is hot right now. Getting into bee farming and honey processing will not only give you professional gains but will also help the scores of farmers. How? Well, introducing bees into farms by setting up bee farming close to the farms gives a higher crop yield. Seems like a good business idea. Right?
10. Pickles
Pickles are a traditional food item on almost all Indian plates. Introduction of new flavours and new pickling techniques ensure all taste buds are catered to. The best part about starting a pickles business is that it can be started from home and requires very little capital. It is a pretty good business idea if you ask us.
11. Papad
You must be familiar with the sight and smell of papad strewn on long sheets of cloth drying on terraces. Papad making is an age-old tradition in most villages and as a business, it empowers several women. It is an extra source of income in rural households. Setting up a papad making venture is easy albeit time taking – a consider-worthy idea we say.
12. Flower farming ( floriculture)
Floriculture has emerged as a significant agri-business in India. The conducive weather conditions in a country like India make flower-growing a lucrative business idea. Flowers are in demand all year round. They are used across almost all cultures, festivals and events. A good business idea this is.
13. Disposables
Villages are ideal locations to set up manufacturing of small scale businesses such as disposables. The abundance of raw materials and the cheap labour costs make for good profit margins. The products can both cater to the village it is set up in, as well as neighbouring towns and cities. This quick-returns business idea is worth a thought.
14. Mobile accessories
Mobiles have become a necessity and villages are no exception. Phones are no longer just a medium to talk but so much more. Opening a store to cater to the mobile phone needs of the villagers seems like a brilliant idea. The demand is catching on and you will find very little competition.
15. Jute bags
Jute is one of the most inexpensive yet strongest all-natural fibres. Jute bags, therefore, are not only stylish and eco-friendly but are incredibly durable too. Procuring raw materials or finding labour is a breeze for this business. Starting a jute bags business can be both an economically viable and profitable venture hence.
16. Home-made snacks
Snack options available to urban India are unlimited but the rural market for instant snacks is largely untapped. Chips, biscuits, Farsan, the options are endless. Manufacturing cost-effective packaged snacks to cater to the rural public seems like an idea with a lot of potential.
17. Medical store
People living in rural areas generally have to flock to nearby cities for procuring medicines that are uncommon. If you can open a medical store that can address this inconvenience, you are in for a successful business. Sounds like a lucrative idea?
18. Biodiesel
With the oil demand continually rising and the stagnant crude oil output, India is in the need of substitute fossil fuels. Biodiesel can be produced by blending certain oil-bearing seeds with diesel. Atropha seeds are commonly used for the process and they grow in abundance in villages. It is, therefore, a wise idea to start a biodiesel manufacturing business in villages.
19. Cooking pastes
Pastes such as ginger, garlic, tamarind and tomato form the base of a variety of Indian dishes. With lifestyles getting busier than ever, a lot of people are shifting from homemade pastes to ready-made ones. Owing to that, starting a cooking-pastes business might be a wise village business idea. The capital required is low, the manufacturing process is simple and the options for exploration are plenty.
20. Costume jewellery
The market for costume/imitation jewellery is expected to reach a whopping INR 656.2 billion in 2022! That's huge. Thanks to fashion influencers promoting artisanal jewellery, people far and wide across the country are lapping up traditional handmade jewellery. With our villagers being a treasure trove of talent, it's a great idea to tap into it and start a costume-jewellery business.
21. Handicrafts
There have been several iconic handicraft skills that have been passed on from generations, which our village folks possess. Tapping into their prodigious talent and making a business out of it will not only benefit them but also help you strike gold considering the urban population is fast ditching monotonous machine-made goods for handmade variants.
22. Tuitions
There is a dearth of well-qualified teachers in villages that is stunting the academic growth of children. If you have the necessary qualifications and skills to become a tutor or if you think you can find qualified people to do the job, opening a tutoring business could be both satisfying and profitable. You can start with limited manpower and then slowly expand when the going gets good.
23. Woodwork
Wood-carving is an ancient Indian craft. Depending on the local availability of wood, each region in the country developed their distinct woodworking style to create a large variety of artefacts ranging from vessels and toys to sculptures and furniture. These art crafts are in huge demand considering there are aesthetic, useful and eco-friendly. Tapping into the skills of the local wood artisans might turn out to be a great business idea.
24. Catering
Catering services are required for religious events, personal gatherings and celebrations. These happen everywhere – cities, towns and villages. Why not consider opening a catering business?
25. Thrift store
The pandemic has fuelled the demand for second-hand clothing and accessories. Frugality and appreciation of minimalism have led to this new found trend. Online thrift stores have therefore opened up in plenty and are doing great. This brilliant idea can be adopted in villages too.
How Dukaan can help?
Dukaan helps you to set up your online business in a matter of minutes.
That's less time than you spent reading this article!
Whatsmore, you don't need programming skills or technical know-how to do this. You don't even have to cough up a huge amount of money to open your store online.
In 4 easy-peasy steps, you can take your business online.
Step 1 – Sign up for Dukaan – Web Version | Android App | iOS App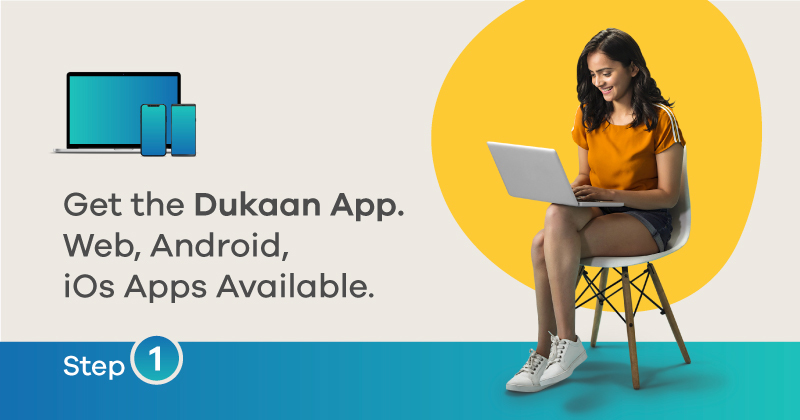 Just give your mobile number, verify OTP and you're in.
Step 2 – Choose your store name and category.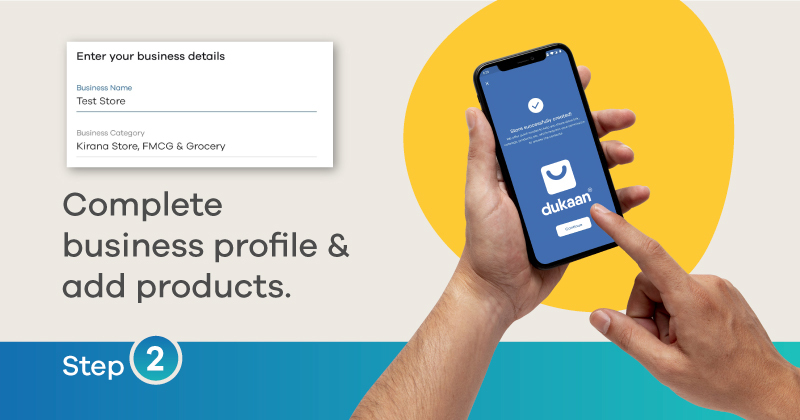 Step 3 – Upload your products.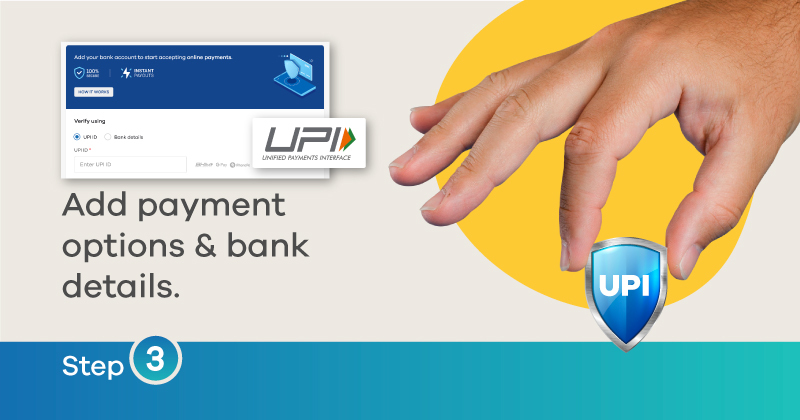 Step 4 – Promote your Dukaan store.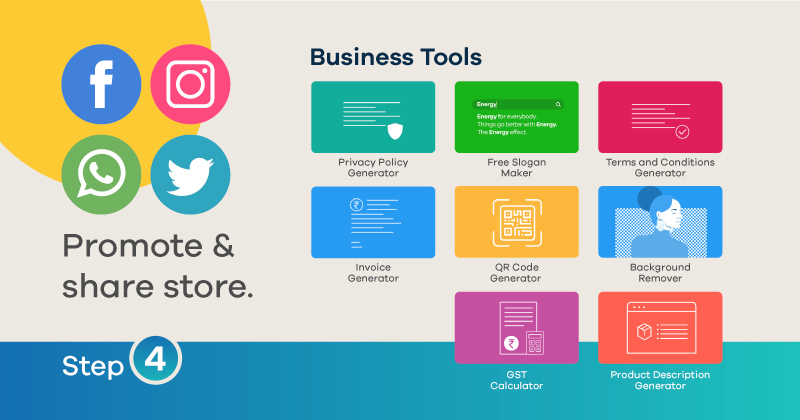 Simple! Isn't it?
Summary
When people in villages will be able to open their own businesses, they will refrain from flocking to cities to seek a better life. They will in turn seek to make the village as economically viable as possible.
The list that you see above are just a few handpicked business ideas. There are hundreds more that you can explore if you have the will and the knack.
Gone are the days when opening a business entailed huge investments in rent and overheads. Nowadays it's easier than ever to start a village business.