Looking to start a business in Hyderabad? Look no further. Here are 23 small business ideas in Hyderabad for the entrepreneur in you.
Hyderabad is the largest city in Telangana, its contributions are highest in state taxes amounting to nearly a third of the total collection. In 2011 alone, the revenue generated in Hyderabad was to the tune of Rs 700,000 million (USD 9.8 billion). The city of pearls, Hyderabad, is also one of the top five productive cities in the country. A growing cosmopolitan city with growing resident wealth, it has a conducive and amicable environment for new businesses to flourish.
Hyderabad is a unique city to start a new business. A burgeoning metropolis, with approximately 8 million citizens, the city is a mix of everything. An old city with its charm and requirements while the younger parts with the high-tech populace, Hyderabad has evolved into a go-to place for global tech companies, educational institutes, manufacturing, and service industry. A vivid diaspora with unique needs lives in the city creating an opportunity for many businesses to flourish.
Various industries have already found homes in Hyderabad. The city offers several opportunities to start businesses for budding entrepreneurs who wish to venture and grow businesses.
Business Ideas in Hyderabad
Here are some of the most lucrative business ideas in Hyderabad to pursue.
1. Cloud kitchen
Starting a cloud kitchen is a great idea, especially during this time. You don't have to worry about your location. All you need is enough space to set up a kitchen. This is a low-investment business, and you can tie up with online food delivery platforms (Swiggy, Zomato) or customer-to-customer delivery platforms (Dunzo, Grab) to send the food parcel.
Decide your menu, stay focused on hygiene and packaging, and get started. You can extend the offering to catering services for small parties.
You could extend to a restaurant or a cafe when you have enough business coming from the cloud kitchen and can expand without financial stress.
2. Customized gifts
India is a vibrant country that celebrates multiple festivals. People send gifts on numerous occasions and there is nothing better than adding a little touch of personalization.
You can start an online gift store with unique offerings like flowers, cards, gift boxes, apparel, and so on, which can all be customized as per customer requirements.
3. Apparel boutique
Apparel is an evergreen business. It could be menswear, womenswear, kidswear, and newborn clothing. You don't need to have every season's lineup; just a small store with unique design inspirations and quality-focused materials to get going. An online store can be used to update items as they get sold, the link of which you can promote using WhatsApp and other digital platforms.
4. Digital marketing agency
Search engines and social media are very powerful. With people spending a good amount of their time every day on social media, advertising on these platforms is bound to improve sales.
A lot of MSME and D2C brands need support with digital marketing and SEO. With a couple of certifications and technical know-how, you can start a business in this space. You can create an online presence and share customer testimonials to gain the trust of new clients and grow your business.
5. Web development
Website design and development are critical to every business. There is always someone looking for a good website designer and developer. If you have skills in this area, you can easily start a business with a website to share your portfolio and services with anyone in the world.
Web development is usually a long-term project with an AMC in place that helps you in generating recurring revenue.
6. Electronics maintenance and repair
More and more electronic devices are sold every day, so there is bound to be an increasing demand for maintenance services. Phones, laptops, white goods (refrigerators, AC's, washing machines, smart TV, other smart devices) keep breaking down now and then. Of course, no one likes to buy new items if they can get the old ones repaired at an affordable rate.
This is a growing area and if you have the necessary expertise, you can start offering services in no time. You can also gather a team of individuals who can perform the repairing tasks.
7. Wedding planner, photography, and event management
This particular market has been booming for the past couple of years and will continue to continue. With the ever-increasing demand for Instagram photos, professional shoots and photography are in great demand.
Weddings constitute an undying business. People got married even during the pandemic. The events were smaller and more intimate, but they still needed planning and photography services.
Event management suffered a setback because almost all the large gatherings and events were postponed due to the pandemic; however, as the economy reopens for business, events will find their place.
8. Bakery and confectionery
Hyderabad is famous for its Karachi Bakery. Needless to say, the people of Hyderabad love baked products. If you love baking, this can be a quick-to-start business. You ought to start with a digital store that allows new customers to find your bakery, see your products, and place orders.
You can showcase all your work, put up customer reviews, take customized orders and have them delivered easily with so many delivery service providers around.
The good news is customers love to try new bakeries and various new items. So, if you are an innovator, you can build a business that's never out of demand.
9. Car rental services
Many young professionals today prefer to use cab rental services rather than buying a car. So, when a person desires to go on a long drive themselves, say for an outstation trip, they need a rental car service. There is a clear business plan here and once the pandemic wanes, this business will flourish.
10. Bespoke tailoring
Who doesn't like a dress sewn perfectly for them? Bespoke tailoring is an excellent example of an age-old business reviving with digital technologies. You can modernize your tailoring store with your complete customer list, sizes and fittings, and all other details in a database.
This will help your regular customers to just log onto your online store, select the style, fabric, and color they prefer, and place their orders. You can then sew the dress and have it ready for them to pick up.
11. Poultry, meat, and seafood store
Hyderabad is incomplete without the mention of its famous biryani. While poultry, meat, and seafood are popular choices of ingredients in various cuisines, there is always a dearth of quality and fresh food.
This is a massive business opportunity to modernize your business and offer clean, ethically sourced, quality-focused fresh food to everyone.
12. Jewelry and gemstone boutique
Jewelry and gemstones have existed since time immemorial. The desire to adorn oneself with precious materials is not going to change anytime soon. It only gets better with numerous, more economical alternatives that can help everyone fulfill their desires.
If you want to start a jewelry business, an online store can host all your latest designs with other relevant details. Start a business with a quick and easy online store setup with the Dukaan app in less than 30 seconds.
13. Bookstore
Though ebook readers have flooded the market, some consumers like the smell of paper and books. You can start your bookstore with a unique collection of books, new and old, and possibly some antiques that you may have gathered over the years.
14. Online pharmacy
Start taking medicine orders from your online pharmacy and offer home deliveries. Don't worry if you do not have a pharmacy license; you can apply for it. Start the online service in a jiffy, add your products, and expand your delivery reach to nearby areas, thereby expanding the business.
15. Grocery delivery
This is one business that has proven to be pandemic-proof. You can start with FMCG goods, fresh fruits and vegetables, and other consumables. In general people in Hyderabad are keen to order groceries online and therefore the high-tech population will quickly get a hang of online deliveries.
An online store for the grocery business will help simplify discovery, ordering, and processing.
16. Matchmaking services
Matchmaking is a lengthy process. It has many stakeholders involved but can be started with basic details being shared via a platform. The matchmaking consultant can get onto the next step of understanding the requirement after the customer subscribes to the services.
17. Shifting services (packers and movers)
A lot of people move to Hyderabad every day to seek new opportunities. Being a growing metro, a lot of people from smaller towns flock to the city in search of jobs, education, and business.
When people change jobs/cities, they move their stuff along. It could be within the city or outside, so packing and moving services is an evergreen business. On most occasions, the services are referred to by word of mouth. However, if you have received great customer feedback, you could put that on your online store page to garner more leads. An online presence could be a game-changer for your business.
18. Design agency
From food shops to manufacturing, Hyderabad is full of business activities. There are a good number of startups as well working in Hyderabad. Almost every business needs designers. Be it stationery for business, design guidelines for a new company, or product packaging design — all of these need designers. If you have the skill, you can easily start your business and promote your work to garner more leads.
Start-ups are a great place to start, and you are bound to get noticed for your work in Hyderabad.
19. Holiday rentals
Long-stay rentals are back in fashion, thanks to COVID-19. Consumers are looking for hygienic stays that offer privacy and comfort. If you own a property or know someone who can lease such properties, you can start a holiday rental business.
It is an asset-light business where you can just monitor the maintenance of the property. Start by getting the property listed on your online service website or app and spread the word about your rentals.
20. Home salon and spa
When people are stuck at home, they need all the services to be delivered to their doorsteps, including salon and spa services. Let alone the situation created by lockdowns, home service in this area was in demand even before the pandemic. While word of mouth can get you started, putting services online could help you break even sooner.
21. Nursing, home care, and physiotherapy
If you are skilled in at-home care or physiotherapy, there is a huge market out there that needs your expertise. It doesn't matter whether you have the required expertise, you can start small by hiring skilled individuals in this space and grow the business. However, an online presence will be critical to expanding your business.
22. Hardware and power tools
When DIY furniture started in India, it also paved the way for tools that could help people set up the DIY furniture. While hardware and power tools are used for numerous other purposes, the stores have traditionally been the brick and mortar ones.
However, they can be run online as well, with all the products being showcased on an app or a website.
23. Selling honey and other high-margin produce
Honey, cash crops, and horticulture produce can be sourced in Hyderabad from nearby areas. With good quality control, you can start an online business for these products and serve the city's population.
With the Dukaan app, you can start selling your products or services in 4 simple steps. Now, isn't that super quick!
Step 1 – Sign up for Dukaan – Web Version | Android App | iOS App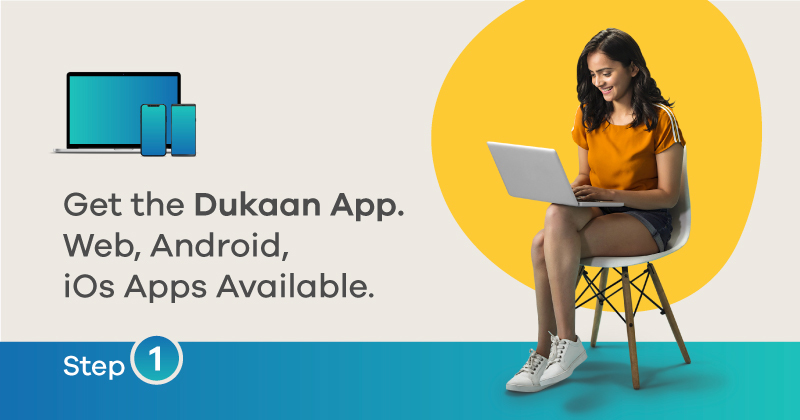 Just give your mobile number, verify OTP and you're in.
Step 2 – Choose your store name and category.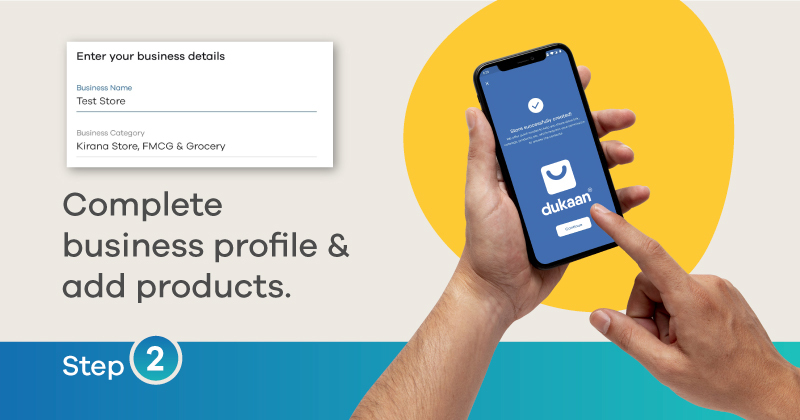 Step 3 – Upload your products.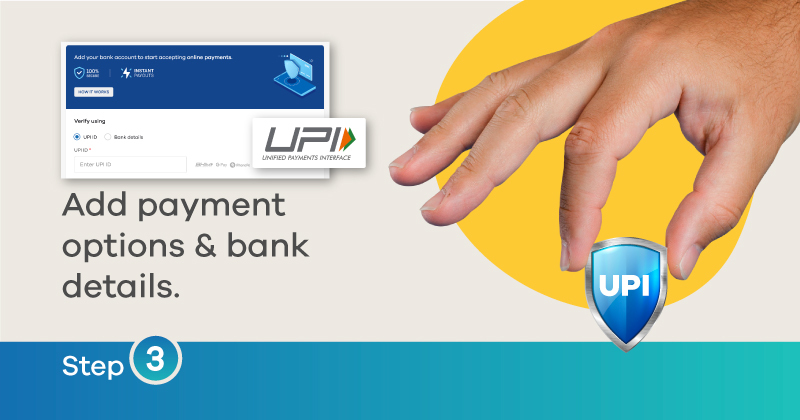 Step 4 – Promote your Dukaan store.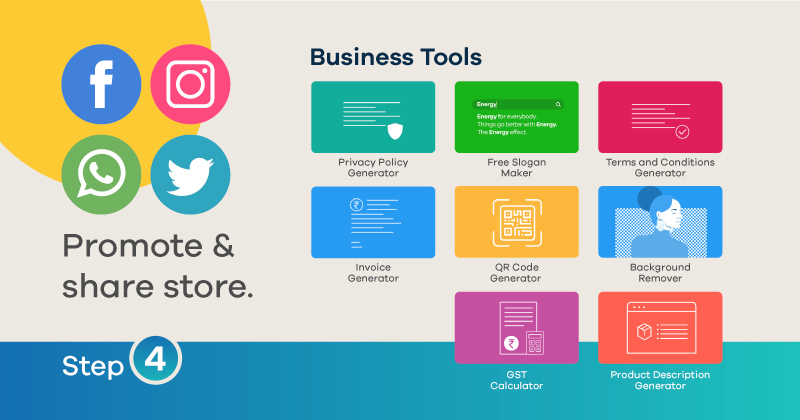 Simple! Isn't it?
FAQs
Which is the best small scale business to start in Hyderabad?
There are many businesses that flourish in Hyderabad, but tailoring is a low investment business that you can start.
What kind of business can I do at home?
Today, you can make a business out of just about anything - online tuition, groceries, food delivery (Hyderabad biryani), restaurant, baking, clothes, art, electronics, etc.
Conclusion
There are many more business ideas in Hyderabad that one can start with low investment and grow with continuous effort. The success of all these businesses is contingent upon an online presence, which facilitates the business. Digital sales are growing every year and digital stores are no longer an afterthought. Entire businesses are being built online like eCommerce, e-groceries, e-pharmacy, etc. The Dukaan App is a convenient, easy-to-use platform that simplifies creating an online store, taking orders, and collecting payments.