Looking to start a business in Punjab? Look no further. Here are 15+ amazing business ideas in Punjab for the entrepreneur in you.
Starting a business takes innovation, creativity, a flair for risks, and a long-term commitment to face the ups and downs of the business. And Punjabis have it all in truck-load. That is why Punjab ranks among the top states with the largest number of small business owners in India.
With business-friendly infrastructure, transportation facilities, and government policies, Punjab is the land of opportunity for anyone who wants to start a business of their own. After all, who doesn't want to be their own boss and take pride in building a legacy for their next generations?
Business Ideas in Punjab
Here are some of the most lucrative business ideas in Punjab to pursue.
1. Organic produce store
Punjab has a large acreage of land under farming, and the economy is still agrarian to a great extent. While a majority of farmers invest in traditional or GM agriculture, organic farming has started catching on. Farmers are adopting certified practices to grown legumes, grains, fruits, and vegetables organically. Here lies a great business opportunity for the new generation of business owners in Punjab.
You can employ your own land in organic farming and sell your produce to regional, national, and international markets. You can avoid mediators or agents and directly sell your organic products by opening a physical store or an online store. If growing and selling are too much to do on your own, then you can simply partner with small-scale farmers and exclusively sell their organic produce in your store.
2. Farm to home delivery
Organic farming seems too over the top for you? Then maybe you can explore the farm-to-home delivery concept. Health-conscious consumers are always on the lookout for freshly sourced fruits and vegetables. They are even willing to pay more than what they would pay at a mandi, as long as there is a guarantee of quality and freshness.
You can turn this market need into a business by setting up a farm-to-home delivery service. Set up an online store wherein customers can view the farm-fresh produce that you can source from your own or partner farms. Give customers the benefit of placing curated orders and deliver the freshest products to them at premium prices.
3. Dairy store
Much like greengrocery, fresh milk and dairy products also attract a lot of customer interest. Millions of customers prefer buying fresh milk, curd, and paneer (a Punjabi favourite) from the local doodh-wala rather than the pasteurised packets available at supermarkets. The business idea is not to become only a doodh-wala; although there is nothing wrong in setting up your dairy, it's to become an enabler.
You can tie up with several local doodh-walas in a city or region and start selling their products online. You can introduce quality check measures, eco-friendly and reusable packaging, as well as product varieties in your online dairy store. This way, your customers will get not only the freshness and quality of a local dairy but also the service and consistency of a brand.
4. Meat and poultry store
Another business that can thrive by collaborating with local farmers in Punjab is a meat and poultry store. Investing in your own animal husbandry setup, poultry farm, or building your own meat processing unit can prove to be very capital-intensive activities. They may also take a lot of technical know-how, and it will be long before they are profitable.
Instead, you can enter this space by setting up a processed meat and poultry store and selling quality products online. Source different varieties of meat and eggs from local poultry farmers. Package them on your own or get pre-packaged products to brand and sell through your online store.
5. Seed and feed store
While all the business ideas we've so far mentioned are about buying from producers and selling to consumers, how about selling something to producers? You can start a business selling plant seeds, grafts, animal feed, fertilisers, and pesticides to farmers. Yes, most farmers like to buy this from their neighbourhood stores. But there is a new generation of internet-savvy farmers coming in.
Furthermore, many end consumers who like to maintain a kitchen garden or breed a cow or two also need quality seed and feed for their efforts. An online store that sells these products at the best quality and in good variety can genuinely click with customers in Punjab.
6. Farm equipment leasing service
This is a business idea that will benefit you and go a long way in helping out small farmers who can't always afford to buy new farm equipment. Invest in most used farm equipment like tractors, sprayers, threshers, etc., and lease them out to small farmers. You can lease out your equipment on an hourly basis or daily basis, maximising the return on your initial investment.
Although this business will require substantial upfront investments, you can make the most of your assets by setting up an online leasing store and reaching a larger market.
7. Bakery
Punjabis are also known for their love of food. In fact, food is one industry that is almost recession-proof in Punjab. So, if agriculture-related businesses are not your cup of tea, then you can try your hand at opening your very own bakery. Along with the traditional baked goods like cakes, pastries, and cookies, you can also sell gourmet baking concepts like gluten-free cakes, vegan cookies, keto cakes, cookies, etc.
Remember to set up an online store for your bakery to serve the entire city and not just your immediate locality. There are many health-conscious food lovers in Punjab for your baking business to thrive! Not to mention, an online bakery would be the easiest way for emigrated Punjabis to gift someone home with delicious delights.
8. Cloud kitchen
Like bakery, there is a lot of scope in selling Punjabi-fied food, be it paneer-dosa or greasy Chinese. But instead of opening up a full-scale restaurant, you can start a cloud kitchen to cater to the delivery-only market.
A cloud kitchen is a place where you can prepare food and then deliver it to your customers' doorstep by taking orders via phone, mobile app, or online. You only have to invest in food production, order taking, and delivery. No need to invest in a dine-in facility.
9. Catering services
Another take on the cloud kitchen is taking the whole cooking and service setup to your customers. Especially when they need a bulk order fulfilled, you can start a catering service for private and professional gatherings.
Simply invest in cook and serve setup, and then take your business live by opening an online catering store. If you are good at cooking, you may take care of the food preparation side of the operation yourself. Otherwise, you can hire a chef and servers and take care of the marketing and management side of the business.
10. Event organizer services
While food is a significant part of most events, they also need décor, planning, and entertainment. And who better to do that than an event organiser? Set up your online event organiser store by creating a portfolio of events handled. From weddings to birthday parties, from baby showers to bachelor parties, offer exclusive services to customers who want the best of everything without any hassle!
11. Beauty and wellness products
If makeup and personal care have always been your thing, you can start a business in this sector too. All you need is to source the best beauty and wellness products from wholesale suppliers and set up your online store to sell them.
To add value to your customers, you can also provide product use advice or offer products with unique features such as ayurvedic, paraben-free, cruelty-free, organic, no-plastic packaging, etc. With a large enough customer base, you can also develop and launch your very own line of personal care products (like Sugar or Shehnaz Hussain!)
12. Car/Bike rental
Punjab attracts thousands of tourists every month for its food, history, and cultural scene. And to make the most of this tourist populace, you can start a car or bike rental business. With some upfront capital investment, you can create your own fleet of cars and bikes and rent them out at affordable prices.
To book orders even before the tourists have landed in your city, create an online store and list all the vehicles in your fleet for bookings.
13. Printing and publishing services
Several small and medium businesses need affordable printing and publishing partners for their internal business and marketing requirements. While the market is competitive in this sector, you can start a successful printing and publishing business by coming up with standardised designs and packages.
You can also offer self-publishing services to budding authors or handle customised printing orders for cards, wall décor, etc.
14. Full-Service sporting goods store
Punjab is a hub of sports goods manufacturing and trading. So, it's not a unique business idea anymore. But you can give it an innovative touch and open a full-service sporting goods store. Customers can come to explore sporting goods and engage with your fully trained staff to understand which equipment is best for their needs.
You can even take the whole sports store online and sell sports equipment, apparel, accessories, and athleisure to mass-market.
15. Warehousing
If you don't want to invest in machinery and manufacturing space but have excess space lying around, warehousing can be the best business. Build a primary storage facility, or a full-service warehouse, or a specialised area with a cold-storage option on your property. Then lease or rent it out to individual and institutional customers online.
16. Art gallery and store
Want to do something different? Then try starting a business selling art and handicraft products. Source folksy prints and phulkari products from local artists and give them a unique platform to sell to art lovers.
Reach a larger market by opening an online art gallery and selling all over the world.
18. Content and graphic design studio
This is another emerging business that you can try with minimal investment. All you need is the right talent, and you can start selling services like graphic designing and content writing in no time. Set up an online store to showcase your portfolio and sell these services to businesses of all sizes.
18. Home décor services
If you have a keen eye for décor and aesthetics, then this is a low investment business that you can try out. All you need is a keen eye for exceptional home décor and a network of vendors who can provide you with the right products.
19. Pet sitting and grooming services
Take your love for animals to the next level and open a pet sitting and grooming service right in your backyard. Although a niche market, Punjabis do love their pets a lot and are willing to spend a fortune to give them the best treatments that money can buy! All you need is some essential equipment to groom pets, space to house them, and professional expertise in handling animals of all kinds.
Get started with your very own online store with Dukaan and see your business idea evolving into a successful business. The Dukaan app has one of the most accessible designs and processes to help you set up your very own online 'Dukaan'! There is no need to waste time learning hours of tutorials and standard procedures before listing a single product online.
Create your online store in 4 simple steps and reach millions of customers in Punjab with the Dukaan app.
Step 1 – Sign up for Dukaan – Web Version | Android App | iOS App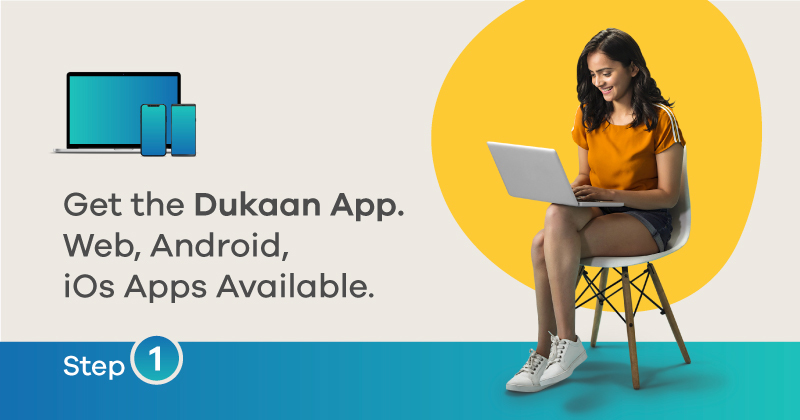 Just give your mobile number, verify OTP and you're in.
Step 2 – Choose your store name and category.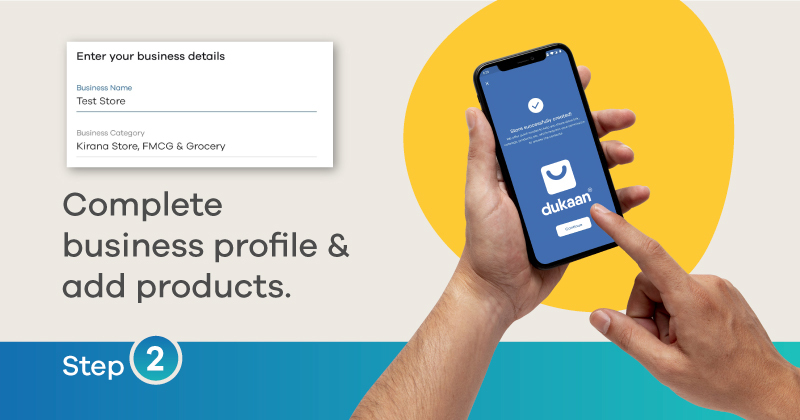 Step 3 – Upload your products.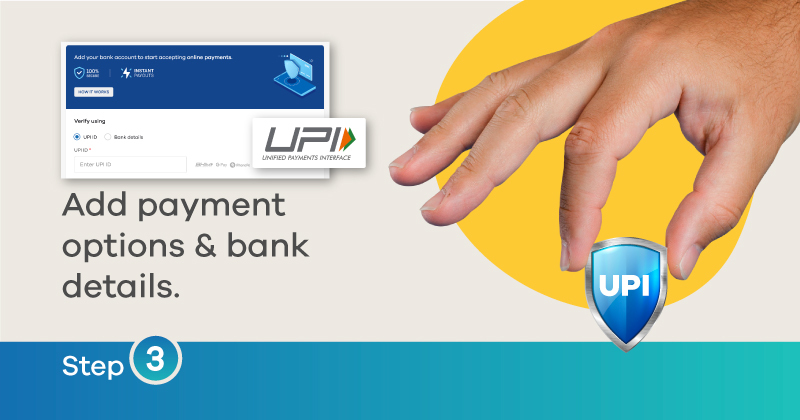 Step 4 – Promote your Dukaan store.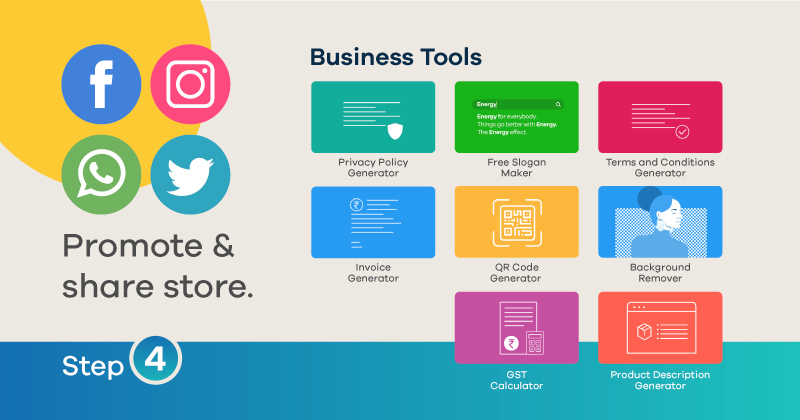 Simple! Isn't it?