Assam is the center of commercial activity in the North-East Region. Let's take a look at some best business ideas in Assam.
Assam as a state has commercially flourished in diverse areas like tea, petrochemicals, food processing, personal care products, apparel, handloom amongst others.
A study has charted out the scope for MSMEs in India as follows, with 'Trade-related' businesses being on the lead at 36%.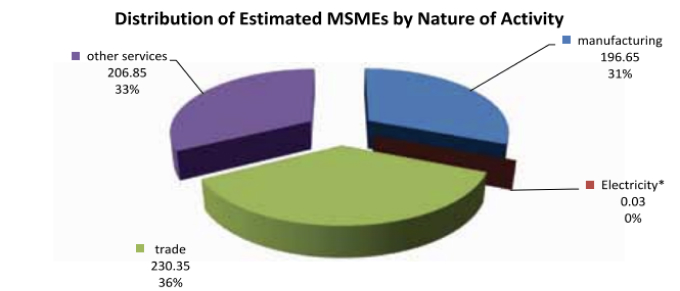 It is also the right time to dabble into your entrepreneurial skills as the Indian government has been coming up with amazing schemes to support MSMEs.
MSMEs are the economic growth engine of New India. Our government has initiated various schemes and undertaken several important reforms to strengthen the MSMEs and encourage the entrepreneurial spirit among the youth of our country.
Narayan Rane, Union Minister of MSMEs
When it comes to Assam, most people fixate on the tea business in this state. Well, we are here to tell you that there are a lot more business opportunities in Assam.
Let's get started!
Business ideas in Assam to Try in 2022
Here are some of the most lucrative business ideas in Assam to pursue.
1. Start an online store
With good internet penetration in Assam comes the ease of taking your business online and reaching out to the global market.
If you have a product that you feel has good demand, not just in your locality, but anywhere in the country, you can benefit by creating your own online store to sell your products.
This video could help you understand how easy it is to get started on your online store.
2. Start selling Tea
Probably the most obvious pick for the best business in Assam is the tea industry. Also, tea is a staple drink for Indians.
This means that you have multiple options for developing a business around tea like tea café, selling packaged normal or specialty teas, flavored tea, loose tea in bulk, and more.
3. Start an Education and Training center
Quality education provided in Assam will attract not only local students but also from other North-Eastern states.
You can start and run tuition classes, coaching for examinations like engineering, medical, management, or IAS.
Thinking of starting your own online tuition business at home, here is an article to get you started!
4. Start your own Bakery
Bakery businesses are doing extremely well with limited investment and are one of the most profitable businesses in Assam.
From small bakery shops to women who bake cakes from their homes, this segment has a lot of demand.
Here's a quick guide on how to get started on an online bakery business!
5. Start waste management business
Waste disposal and management is a big field. In fact, one of the best small business ideas.
You are not only helping build a greener and cleaner environment but also creating a business out of it that has a really high potential.
😎 
Get Inspired
–
Rupjyoti Saikia Gogoi
who lives near Kaziranga National Park in Assam and has attracted worldwide attention for collecting plastic waste and turning it into traditional handloom products.
6. Start a grocery or FMCG store
The pandemic era has shown that there is one business that is essential for the survival of humanity.
One can set up a variety of FMCG and grocery stores. It can be developed like a mini-supermarket, or it can be a godown where customers can place an order for home deliveries.
One can also be a supplier with a focus on specific, big customers. You may stand out by being an exclusive distributor of a particular product.
7. Start a clothing business
If you look at clothing and apparel there is a huge customer base for this category but at the same time, there is huge competition as well.
That is where your unique ideas and eye for fashion can come into play. You can specialize in the fabrics of the state and create your own fashion line!
This article can help you take your clothing store online!
😎  Get Inspired – Sanjukta Dutta is an Assamese fashion designer who works towards reviving the Silk of Assam. Her latest collection was showcased in the New York fashion week 2022.
8. Start a local handloom store
Handloom products in Assam range from sarees, outfits to bags, footwear made of local fabrics, and materials like Eri silk, Muga silk, cane & bamboo strings, etc.
If you specialize in handloom, this could be a great business idea to create unique products and reach out to the global market through an online store.
Agarwood is a fragrant resinous wood type that is used in making scents, perfumes, essential oils, etc.
Since this raw material has tremendous supply and development in Assam you can have a store selling these products.
🤔  Did you know – The governor of Assam has created the 'Assam Agarwood Promotion policy' in January 2021. This is a 5-year plan aimed at cultivating agarwood plantations as well as supporting MSMEs selling Agarwood products!
10. Start a restaurant
While in the pre-internet era, the location was the main differentiator in the success of the food business, now anyone who starts such a business will get customers.
If you are already a successful offline business, you can easily add more customers by building an online store.
If you need some help starting an online food business, this article can help you out.
If you are looking for other food business ideas to get you started, here is an article.
11. Sell Electronics
Now, mobile phones and laptops have become an integral part of survival for almost everyone.
Demand for mobiles and electronics has always been on the rise in Assam. You can easily find your target market with a little marketing and social media presence.
To add more customers to your store, you can create an online store. For all you know, it could be your main source of customer traffic.
Probably the most sought-after low investment business in Assam is the Tourism business.
Hotels, homestays, bed & breakfast are easy to set up in Assam. Tourists from all over the world can make bookings when you take your business online.
😎 
Get Inspired
–
Prabahan Puzari
, Founder of Wildberry holidays runs the most successful tourism business in Assam. He is known for being vocal about the popular tourist locations in Assam as well as some hidden gems in the state.
13. Become a yoga & fitness trainer
The demand has exploded for yoga and various other fitness services, not just in Assam but all over India. India is the land of Yoga, and tourists who visit the country also like to explore yoga and fitness.
Being a personal yoga and fitness trainer can be a really profitable business!
With a little bit of online presence, you can attract customers very easily and efficiently!
14. Start a healthcare business
Today, medical stores are going online. Several startups have come up that are competing with traditional pharma companies.
A range of products can be sold in this sector ranging from ayurvedic and organic ones to new age allopathic medicines. Innovation has also set in and it is the right time to get started on this business.
😎  Get Inspired – Assam has produced several star entrepreneurs such as Ghanshyam Das Dhanuka in the healthcare field.
15. Offer interior designing services
In the pandemic era, you might have seen on social media people undertaking long-pending interior design or decoration work for their customers. Almost every assignment comes with a sizable sum.
Thus, it makes sense to explore this opportunity in Assam, where both residential and commercial construction activity is big.
16. Open a Coffee shop
Tea may be the favorite beverage in Assam, however, there are a lot of coffee-lovers as well.
Starting a cozy little cafe can be a really profitable business, especially considering the amount of tourism that Assam attracts.
17. Manufacture cotton wicks
India prides itself as a very spiritual country. Across all religions, we usually start our prayers by lighting a lamp.
So, manufacturing cotton wicks can easily be a profitable business idea. You can supply the cotton wicks to retailers and wholesalers through an online store too.
Looking for more manufacturing business ideas, here's a great read for you!
18. Open a beauty salon
There are a lot of talented beauticians in Assam who are looking for professional opportunities in the beauty industry.
By starting a beauty salon, you can create an income opportunity closer to home for them while making a profit yourself.
19. Become a massage therapist
With more and more young people suffering from stress-related physical ailments, a massage parlor is a pretty lucrative business idea anywhere in the world.
You can offer specialized ayurvedic massage combined with aromatherapy and other modern-day treatments to attract tourists and locals alike.
20. Start a candle making business
Candles are not just for lighting up a dark room anymore.
They're used for therapy, yoga, setting a mood, with baths, and even spiritual purposes, among others.
You can start making candles at home and easily scale your business through your online store.
21. Begin fish farming
With over 2.86 lakhs water resources, which consists of 53 tributaries from rivers, the Fishery sector is considered a very profitable business in Assam.
Missing out on such a profitable business idea doesn't seem smart!
So there you go, with 21 business ideas in Assam that you can get started with a low investment.
How can Dukaan help expand your business?
If you are still in the planning stage of your business, we're here to tell you that things do not get done unless you get started.
With Dukaan, getting started on your online store is as easy as creating a WhatsApp group.
Check best business ideas in following cities: