Looking to get your offline store online? Now's a great time to make that shift!
Over the last year, the pandemic has transformed lives and businesses to a great extent. With consumers unable to venture out and visit their favorite stores, retail businesses have taken a big hit. Business owners are left wondering how to keep their stores alive.
With everyone getting used to shopping online, now is the right time for the brands to ditch physical stores and sell online. Given our current pandemic scenario, moving a business online is more of a need than a desire. The move can be hugely beneficial. Thanks to the internet and smartphone penetration, e-commerce has transformed the way business is done in India.
The Indian e-commerce sector has been on a positive growth trajectory even before the pandemic hit.
By 2032, India is estimated to be the second-largest e-commerce market ahead of the US.
Seeing this promising growth, many businesses – small and big, are quickly adapting to capture the online market. So, are you ready to take that next step? Though it might seem to be challenging in the beginning, it will be very rewarding in the long run. And we're here to make your offline to online shift as easy and as hassle-free as possible.
How to Take your Offline Store Online
Here are 3 tips to help you start your online store. Let's dive right in:
1. Choose a platform
Once you have decided to start selling online, the first thing you will need is a platform where you can showcase your products to attract your customers. And having the right platform to do so is essential.
One way to go about is to have an independent platform or an own website wherein you will have to take care of the web development, designing, hosting etc, all by yourself.
Building your own website can take time and get too taxing. Also, expensive.
The cost for building your own website, can go anywhere from Rs.25,000 to Rs.50,000! And of course, comes with additional requirements like having to hire an agency, web designer, hosting and the like. This is a huge bottleneck for many budding entrepreneurs.
Even with all the investment you make in getting a website etc, there is no guarantee that it will work out or give you the results you need.
The other way is to choose third party platforms that are readily available to sellers. An easy-to-navigate e-commerce platform is the best – not only for you but also for your customers.
Once you've chosen your platform, you ought to design it.
Here are some tips to keep in mind while designing your store:
Theme – Designing your platform is essential to attract your potential customers. Choosing the right theme and design with a good-looking logo is a must. This is an important aspect that should not be overlooked.An impressive store builds a sense of trust with the customer. And this trust can lead the shoppers to buy your product.Make sure you spend some time choosing the right design and theme that go with your products.
Tabs – So you've got the basic layout ready, you can now start adding the important tabs which will help buyers easily navigate through the store. This can get overlooked at times.For eg, if a customer is trying to find the help center for some clarification and can't find it, he or she may not stay on the page for long or browse any further. Make sure your online store is user-friendly and ensure that you have tabs like:
Homepage – Homepage is the first page that pops up when a customer views your store. Make sure it gives them a quick impression of your business with high-quality visuals.
About Us – Talk about how you started your business and your vision behind it. Telling a story on your About Us page is a great way to build trust with your potential customer. You can also add a photo of you and those behind the business.
Contact us – Give the necessary details that will help customers reach out to you. You can add your email address, phone number and even social media handle on this page.
Return policy – Have clear details on the return/ exchange policy and make sure it's easy to find.
Checkout/ payment details – provide your customers as many options as possible when it comes to payment methods. Giving them fewer options may put them off, leading to abandoned carts.
Help center – In case of any issue or questions regarding orders, customers will appreciate a working hotline number answered by someone who can find a quick fix to their problems.
FAQ – You can put a 'Frequently Asked Questions' tab with various kinds of questions that you feel are usually asked by customers.
You may add some additional tabs like terms and conditions, privacy policy, and a chat option for immediate help as customers shop and various other tabs for your product-related queries.
While a lot of online stores provide you with the basic platform, most of them assume that the sellers are technically savvy and that is where the gap is. in most case the lack technical knowledge becomes a hurdle.
Dukaan, on the other hand, strives to make the whole process as easy as possible. It allows sellers to set up their online stores in three simple steps that takes under 30 seconds.
You don't have to worry about creating pages on your store.
Focus on what matters. That is keep adding products, and Dukaan will automatically add them to your store in a professionally looking design.
Look at this store made on Dukaan, for example, with product categories and listings done right. Shanaz Fashon Factory.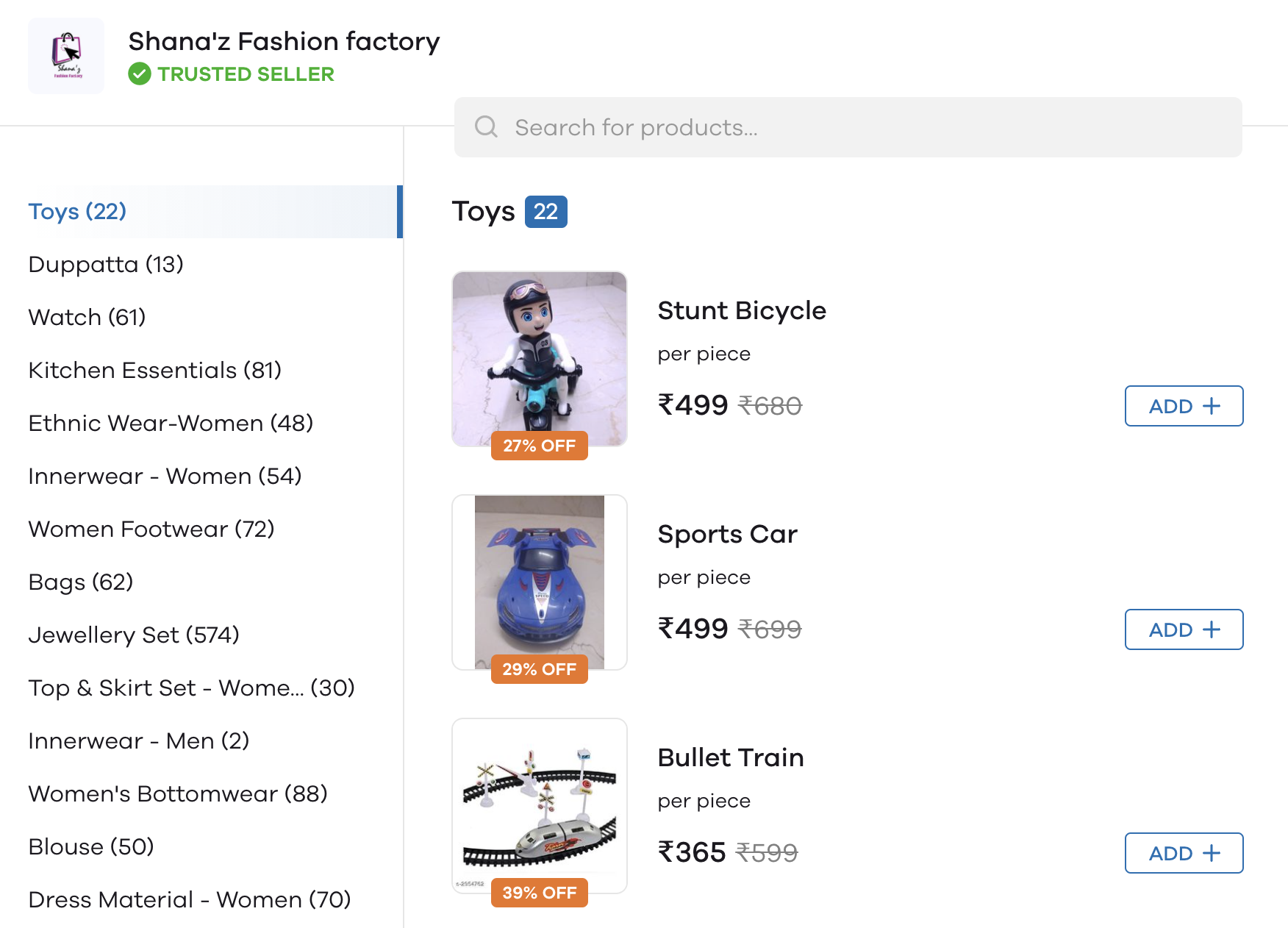 It even offers additional features like Privacy Policy Generator, Free Slogan Maker, Terms and Conditions Generator, and Invoice Generator.
2. Add your products
Now you can start adding your products. You can start with adding photos of your products.
Make sure they are high-resolution images that show exactly what the product looks like, to give the customer a clear understanding. Add names to each of your products so they are easy to find.
Next, add a detailed description that explains everything the customer needs to know about the product. You're not going to meet your customers in person, so a well-written description is a must.
Also, you can place suggested items below the product the customer is going for. This can lead to more sales.
Clear details on shipping/ delivery charges should be added. Customers should get a clear view of any additional costs before they checkout.
3. Enable online payments on your store
The biggest and the most significant step in setting up your online store is to enable online payments on your store.
Technically, they are called "payment gateways" (technical term – don't worry).
Payment gateway is a technical feature on your website, that allows you to accept payments online from your customers.
And today, there are different types of payment options available. Like UPI, Credit Cards, Cash on Delivery etc.
A popular online store has to accept any kind of payment mode the customer demands.
And a good online payment gateway has to support it all. The problem is that getting an online payment gateway for your website can get tricky and cumbersome a process.
Most payment gateways come with lengthy approval processes, hidden charges and commissions and even payment limits.
This could be a problem for budding online businesses. So much that it becomes a bottle neck to grow.
Dukaan, just made it super easy for you.
To start accepting payments on Dukaan, all you have to do is give in your bank UPI id, or give your bank account number, IFSC code details and that's it.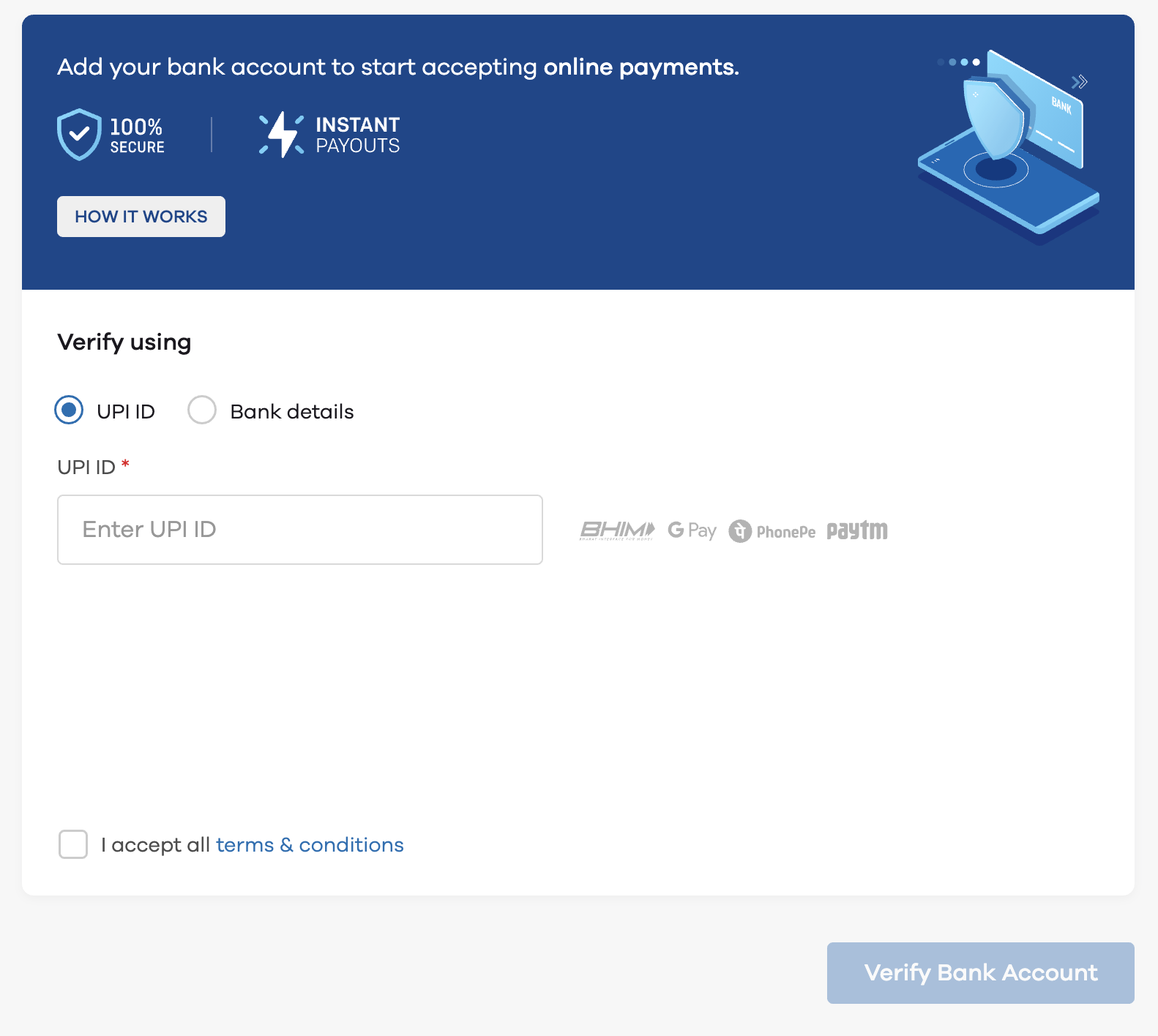 Your bank will be instantly verified, and guess what? You can start accepting payments from your customers in whatever mode (UPI, Debit Cards, Credit Cards etc) instantly!
It can't get easier than this.
4. Plan your shipping and delivery
Now that you've chosen a platform, you must carefully plan the logistics to complete the process. Here are some points to consider while choosing a delivery service.
Costs – Choose a company that offers its services at a reasonable price. Mainly customers will look at the additional charges involved and decide whether to proceed with their purchase. If the charges are higher, customers might rethink buying the product. Take your time and choose the right service that best fits you and the customers' needs. Do some research on the available options around you.
Also, make sure the delivery company handles the product with care. Customers should receive their purchases without any damages.
Delivery time – After the price, another important aspect is the time/ days taken for delivery. Get clear information of the expected time products will reach your customers. A clear description of the product is important.
Return/ Exchange policy – Give clear details on the return/ exchange policy. Customers should be able to find it easily on the page. Never catch them on surprise when it comes to details like these.
Updates – Make sure your customers get order updates via email and message.
While many platforms expect you to take care of the delivery yourself, Dukaan offers multiple options for delivery. It offers three different partners depending upon your delivery locations. You can choose such integrations from the plugin store on Dukaan.
For local delivery, you can opt for Dunzo and for shipping anywhere in India, you can use a partner like Shiprocket.
5. Market your online store
Now that your online store is ready to go, it's time to reach out to people and market it. Here are a few cost-effective ways to market your business:
Social Media – Nowadays, everyone spends most of their free time on social media. This is a great place to take the first step to promote your business. You can start with having pages specifically for your business on social media platforms like Instagram, Facebook etc.
Add the link in the bio, share it on your stories, and post it on your feed with photos and a caption. Be regular with posting on your pages, you can plan certain days to promote as well. Keep updating your pages with what's new in store for your customers.
Ads – Media platforms also have an option of paid ads that you could use to promote your business. It's a great way to acquire new customers.
There are options to even boost your ads on these platforms for increased engagement and to ensure a vast reach for your profile. These platforms can be linked to each other, so you can post it once and it gets shared on all the platforms it's linked with.
Messaging – With apps like WhatsApp being used daily by people, messaging might be the easiest and most efficient way to promote your business. With a 'WhatsApp for Business' account, you can write an introduction of what your business is about, attach a link at the bottom and even showcase your catalog of products.
Family and friends can help you spread the word about your business among their friends. You also have the WhatsApp story option for sharing more.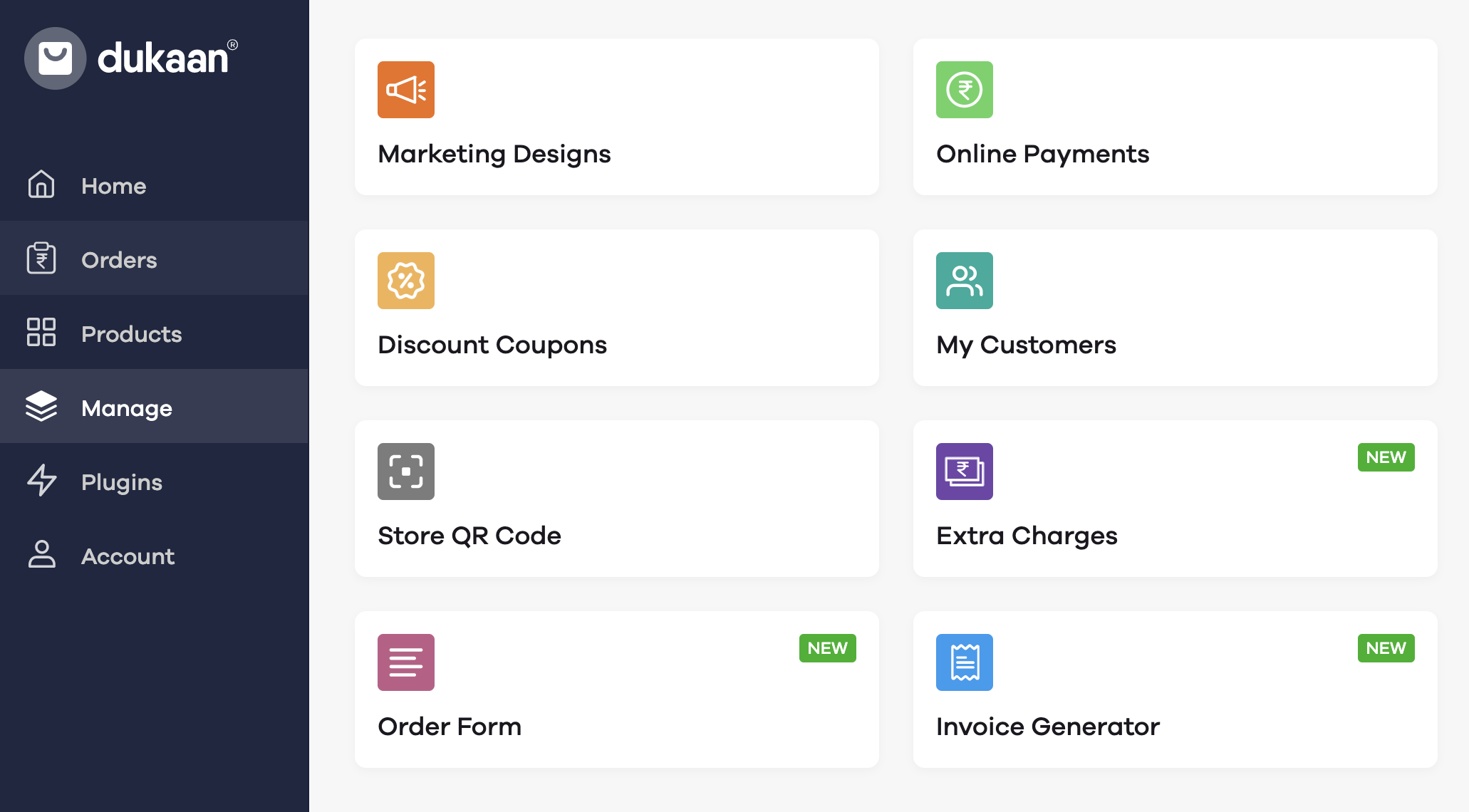 If you choose to set up your online store on Dukaan, marketing it is quite easy. With different templates and social media integration options, amplifying it across channels is as easy as a child's game! Dukaan also offers free business tools that can be leveraged to market your store across social media channels.
Advantages of taking your offline store online
Expand your target audience & area : With your online store available to everyone with an internet connection or a mobile phone with internet, anyone could be your buyer.
Opportunities to increase profits : With more customers, you have the opportunity to increase profits.
Easy store management : With online platforms like Dukaan, store management, order placement etc just got easier like never before.
Get edge over your competition : Having an online store instantly puts you ahead of your competitors as it gives you the advantage of streamlined processing, payment processing and of course reach.
Accept payments from anyone : With an online store, now you can accept payments from anyone anywhere.
Things to be cautious of when going online
Ensure you choose a platform that is easy to use, and at the same time, offers you the features you want.
Ensure there aren't any hidden charges, or extra "addons" you need to buy.
Ensure that your store can be accessed by anyone, anywhere, like for example through a smartphone.
Ensure that there aren't extra charges/commissions on online payments.
Ensure that your expenses are in control and you can focus on more sales and your customers.
The online world is full of business opportunities and that both small and big businesses can leverage to their own benefits and success. With the whole world on a digital transformation journey, there is no better time than now to take your business online and flourish.
It may seem challenging but we at Dukaan are here to help you make this transition, an easy one. Our mission is to help business owners like you to start your online business in the most efficient and hassle-free way.
With our easy-to-use platform, you can now take your offline store online and it takes under 30 seconds and we are not even kidding!