Ever since the industrial revolution when marketing as a concept began to be applied practically on a large-scale basis, it is, to date, known to be a key driver in any business.
Early on as competition began to cause a stir in the marketplace, governments, merchants and their businesses, and local farmers and craftsmen, all began to see a significant need to publicize and promote their inventions and products. From what began with simple personal communication or word-of-mouth to local and then global outreach of newspapers and magazines, businesses were finding new, unreachable heights through this new marketing model.
Since then, as the market evolved from being solely production-based to sales to relationship to now the very recent social-based marketing it brought about numerous marketing approaches and strategies.
Today though the scenario is clear for all to see. The modern day's reliance on digital technology coupled with social media being an integrated part of daily routines has most certainly changed and shaped the way businesses navigate through the market. Additionally, with the modern marketing approach focusing more on the relationship and social interactions between the product and consumers, marketing strategies are centered around social media.
One such strategy that has been flourishing recently is influencer marketing.
According to an article by SocialMediaToday, this marketing strategy is said to be 11 times more effective in generating a higher return on investment than traditional forms of marketing.
What is Influencer Marketing?
Influencer Marketing is a form of social media marketing where people who have influence and reputation, promote the products with their audience.
But influencer marketing is nothing new. Even back in the 20th century before the social-media took over, brands and businesses used various individuals of high stature to promote and advertise in the hope of convincing the public to buy their products. It began with people with political power from fictional characters to then famous film and television personalities. The idea was simple – these individuals came with a massive public following and with them being the face of a product or brand, this would not only expand the product's reach but also influence people to buy that particular product.
Fast forward to today, even though the idea is the same, the approach is very different. With celebrity endorsements, many people eventually started to lose interest as they weren't able to relate to their favourite celebrity's luxurious lifestyle. And as social media quickly began to take center stage, "ordinary" people popped into the fray due to their engaging and relatable content.
It not only turned the eyes of global netizens but also businesses, as it gave them a new opportunity to authentically reach their audience. Now the concept of influencer marketing is funneled into the narrow spectrum of social media. And that alone changes the definition of who an influencer is.
Who is an Influencer?
In very simple terms, an influencer is an individual who can influence others through their position, authority, or knowledge. In social media terms, an influencer is an individual who wields their influence through various social media platforms and can affect purchasing decisions of their followers or social media users as a whole.
Influencers not only come with a decent following but unlike celebrity endorsements, these people over time build a much more dedicated and enthusiastic community through their engaging and relatable content and most importantly, their regular interactions.
It is through this that social media influencers develop a high level of trust amongst their followers and when partnering with a brand or business, their promotions and recommendations serve as trustworthy social proof ultimately convincing followers to buy the product or service.
Types of Influencers – (nano, micro, macro & celebs)
Nano Influencers – A social media account with a follower count of 10,000 or less.
Micro Influencers – Social media accounts that have between 10,000 to 100,000 followers.
Macro Influencers – Social media accounts that have between 100,000 to a million followers.
Celeb Influencers – A social media accounts with a follower count of 1 million and above.
How to Find the Best Influencers?
Now that the basic understanding of influencer marketing is out of the way, let's look at how to use this marketing strategy to the best of its potential and how to find the best suitable influencers for your business:
Look within your followers
If you already have a social media account for your business, looking through your own set of followers would be a brilliant start. There is an obvious reason of interest why your current catalogue of followers follow your page and choosing an individual within your following list can be initially highly beneficial for both parties.
Go through and record all those followers with a decent follower count and narrow it down to those pages that post relevant and attractive content. The individual you choose already knows and has a dedicated interest in your brand and this would mean an honest and well-put promotion of your product or service.
Use Influencers Lists in your niche by searching on Google
It is not always necessary that an influencer needs to be related to your industry, meaning the content of the individual post related to your product or business. But finding and partnering with influencers who have a similar niche to your business could be very fruitful at least during the initial period.
One common way to find relevant influencers is through hashtags. But usually searching through hashtags could be extensive work.The simpler and more effective alternative is through a Google search.
If you are looking for influencers on Instagram all you need to type is – site:Instagram.com "dm for collab"
This search query drops a plethora of Instagram profiles with a follower count of over 1000 followers which makes things a lot more efficient. Furthermore, say for example, you run a fashion business, to narrow the search down to your business' niche all you add is a related hashtag to the above-mentioned search query.
Eg – site:Instagram.com "dm for collab" fashion.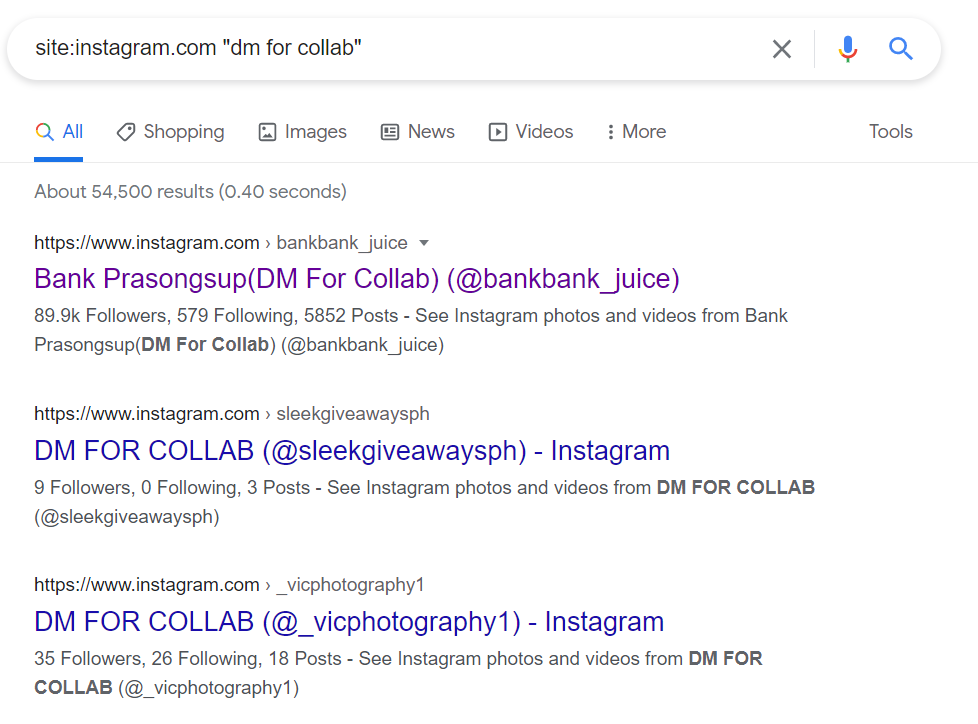 You can also change these words – "dm for collab" – and try out other things that influencers use in their bios. For example, "paid partnerships", "sponsored posts" etc.
Personality Match – do influencers and your brand strike a chord?
Influencers come in all shapes and forms, some come with a massive following, some with a few thousand, a variety of belief systems, some with extra perks, some come with their own set of controversies and the list goes on.
Every influencer has a unique set of personality traits but so does your brand and to ensure that you, as a brand, are creating the right perception among consumers, it is of utmost importance to partner with influencers who strike a chord with your business.
When listing down potential influencers, dig in deeper and analyse how the particular influencer is perceived amongst their followers. Additionally, go through their digital footprint and see if it matches your brand's personality.
Influencer Marketing Campaigns
Once you have chosen an influencer, the next significant phase is executing a marketing campaign. This is where you see the influencer through content be it a blog, photo, or video, promoting your product. There are a tonne of fun ways to request your influencer partner to advertise your product but here are the most commonly used campaigns –
Video product review
Currently, one of the go-to campaigns, video product reviews, paints a better picture of the product as compared to text-only or even photo reviews. Moreover, with eCommerce and online shopping flourishing, people find themselves watching product review videos to ensure that they are buying a reliable product online.
Reviews are known to increase a brand's online presence and a thorough video detailing the product as a whole can create credibility and convince potential customers that they are making the right decision by buying that product.
Most of the big social media personalities (a good example being tech YouTubers) have built their name reviewing products making this a very effective campaign for both parties involved.
Giveaways
Another simple yet effective campaign is giveaways. Giveaways when executed well can really propel growth both towards the influencer and also the brand. Products are supplied to the influencer, who then through events, contests, and lucky draws give the product over to the winner.
A productive method is by asking people to share or tag their friends in the comments of related posts and then randomly selecting a winner. It is obvious that it builds a following of people who are only in it only for the prize but by being creative and most important clear-cut with the giveaways, this campaign can potentially generate a decent ROI.
Unboxing
Product unboxing videos have become a popular trend in recent times. In fact, they are so popular that YouTube created a separate specific genre for such videos.
Around 200 videos on youtube having the term "unboxing" in their title had over a million views in the past year. The annual google consumer survey records that 62% of the users watch an unboxing video when looking for a particular product further solidifying its reach and rewards.
Unboxing videos are basically individuals recording their experience of unpacking a brand new product. They create for their viewers a virtual journey by going through the various contents of the products and giving their opinions on the same. This not only gives for a pleasant watch but also provides viewers with a straightforward decision on whether they want to buy the product or not.
Offer discount to influencer's audience
Another fruitful promotion method that once again provides mutual benefit is by offering discount codes. These codes can be shared by the influencer over a post or story, creating a direct call to action directing to the brand's website or social media page.
Discounts have always been able to attract a good amount of not only new customers but also bring back previous customers. They are a great way to seek attention as brands usually gain increased online traffic and increased online traffic means people become aware of your brand's other products ultimately increasing sales.
Conclusion
The fact that marketing is virtually everywhere is quite indicative of how marketers and businesses are finding means to not only adapt but also prosper in today's vast free-market economy.
The current buzzword in the digital marketing scene, influencer marketing, provides endless possibilities. And as people continue to turn to social media and online shopping, influencers will continue to have a say in the business and marketing setup making this strategy exceptionally exploitable.